SportsNation Blog Archives

NFL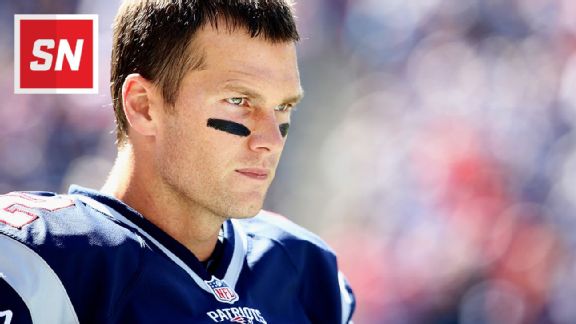 Maddie Meyer/Getty Images
After a critical Boston Magazine article about his trainer, Alex Guerrero, was published last week, Tom Brady appeared on local radio and responded, giving a lengthy defense of Guerrero's techniques.
As part of that defense, Brady advocated for an alternative approach to nutrition and training. (You can read a full recap on WEEI's website.) And Brady disagreed with the things many Americans eat and drink.
"That's not the way our food system in America is set up," Brady said of his own approach. "It's very different. They have a food pyramid. And I disagree with that. I disagree with a lot of things that people tell you to do. You'll probably go out and drink Coca-Cola and think, 'Oh yeah, that's no problem.' Why? Because they pay lots of money for advertisements [so you] think that you should drink Coca-Cola for a living. No, I totally disagree with that. And when people do that, I think that's quackery. And the fact that they can sell that to kids? I mean, that's poison for kids. But they keep doing it. And obviously you guys may not have a comment on that, because maybe that's what your belief system is. So you do whatever you want, you live the life you want."
Coca-Cola's response, per Fox Business: "All of our beverages are safe and can be enjoyed as part of a balanced lifestyle. ... We offer more than 200 low and nocalorie beverages in the U.S. and Canada and a wide variety of smaller portion sizes of our regular drinks. As a responsible beverage company and marketer, we prominently provide calorie and sugar information for our beverages so people can choose what makes sense for them and their families."
Brady also went after Frosted Flakes -- "[Americans] believe that Frosted Flakes is a food," he said -- and Fox Business had Kellogg's' response.
H/T WEEI / CBS Sports
One day after his brother, Martellus Bennett, made a rather outlandish comment about Jay Cutler, Seattle Seahawks defensive end Michael Bennett might have one-upped him.
After his team's controversial win over the Detroit Lions, Bennett went in on opposing quarterback Matthew Stafford ... in a rather odd way.
Michael Bennett: "I don't like Matt Stafford much. He's from Dallas. They killed the President (JFK). ... I hold it against him."

— Curtis Crabtree (@Curtis_Crabtree) October 6, 2015
Now, we've heard quite a few JFK conspiracy theories over the years, but bringing in someone who was nearly 25 years from being born is a new one.
Is Jay Cutler criticized too much?
After Chicago's oft-maligned quarterback delivered a gritty come-from-behind win over the Raiders on Sunday, that question was posed to Bears tight end Martellus Bennett.
is Jay Cutler too often criticized? Martellus: "They threw rocks at Jesus, & Jesus was an excellent guy who did a lot of awesome stuff."

— Patrick Finley (@patrickfinley) October 4, 2015
Before comparing Jay Cutler to Jesus, Martellus Bennett compared him to Keanu Reeves in the movie 'The Replacements'

— Patrick Finley (@patrickfinley) October 4, 2015
It's safe to say the tongue-in-cheek Bennett is having some fun here, but what an answer.
The quotes predictably earned some laughs and retweets on Twitter, and good on Chicago Sun-Times reporter Patrick Finley for posing the question to Bennett -- the self-proclaimed "black unicorn" -- who's always a good quote.
In a league that has increasingly devalued three-down, do-it-all running backs, Alfred Morris is an outlier. He can bruise inside, speed to the corner, catch, block, and make Pro Bowl selections look easy.
So one would be forgiven for thinking Morris, in his fourth year as Washington's bellcow, believes he deserves a little preferential treatment.
Not so.
In a warm, revealing blog for the Washington Post, Dan Steinberg discusses Morris' unique pregame routine, one that has made him a local favorite in and around FedEx Field. Before each home game, the running back gathers with stadium ushers and security guards in the corner of an end zone and just, well, talks to them.
Here's Steinberg:
He calls them "my Stadium Fam," and if you think there isn't peace and happiness at FedEx Field on fall Sundays, you've never observed these 20-minute sessions, which start with laughter and end with a prayer.
It sounds silly: work chit-chat like this is newsworthy? But on the Mount Olympus where successful, talented NFL players reside, the bond that Morris shares in these meetings, which he's joined since his rookie year, are rare.
"My first reaction was, 'Dang, this is Alfred Morris.' You know what I'm saying?" one stadium attendant is quoted as saying. "But seeing how cool and relaxed he was in talking to us, it made us feel cool and relaxed and easy talking to him."
It's not Morris' only humble quirk. He also cruises around in a restored 1991 Mazda he calls Bentley:
September 10, 2015
Sep
10
The Pittsburgh Steelers' Antonio Brown might be the best receiver in the league.
He might also have the wildest haircut in the league -- or at least he appeared to during an interview before the NFL's opening game between the Steelers and New England Patriots.
Great catch... Better haircut? #PITvsNE #Kickoff2015 pic.twitter.com/69sfwlc7Y0

— NFL (@NFL) September 11, 2015
We see you, Tony, paying homage to LEGO Man (or Devo).
(P.S. We love it.)