SportsNation Blog Archives

NFL
The NFL and its teams are known to be rather strict.
But if Von Miller's claims are true, the players themselves can be downright draconian. Nicki Jhabvala of The Denver Post describes a fine system devised by the players:
Von Miller said the Broncos have a fine system for, um, flatulence in meetings. Said he thinks he's been fined the most.

— Nicki Jhabvala (@NickiJhabvala) June 3, 2015
Wait, what? Look, it's not great to let it go in confined spaces, but isn't the shame of committing a social faux pas enough?
Miller elaborated:
Since I've received numerous inquires about the Broncos' Fart Tax, I'm gonna let Von explain. NFL dieting ain't easy. pic.twitter.com/OTAAaI8t82

— Nicki Jhabvala (@NickiJhabvala) June 3, 2015
Miller is right! Although a cursory search turns up no scientific studies on such a thing, physicians from the University of Copenhagen, via the New Zealand Medical Journal, said the following in 2013, according to the University of California, Berkeley's Wellness website:
"Holding in gas can cause bloating, indigestion, heartburn and, sometimes, even pain, they noted. Intestinal distension resulting from trapped gas may also increase blood pressure and heart rate. Then there's the mental stress of trying to keep the gas from escaping. The doctors' advice: Just let it go."
You see that, Broncos players? Your policies are endangering your own health! Add to this the possibility of wrongful accusations, and it's a wonder this team hasn't fallen apart.
H/T Bleacher Report
The Cleveland Browns had appeared to be the primary target for the next series of HBO's "Hard Knocks," but according to sources, the Browns balked at the idea, in part due to quarterback Johnny Manziel's rehab treatment.
With Cleveland out of the running, four teams -- the Bills, Texans, Giants and Redskins -- are the rumored favorites to be featured on the hit show.
With all of them boasting the requisite star power and affable personalities to captivate audiences -- unlike last season's Falcons -- we assess the entertainment value of each rumored "Hard Knocks" finalist:
Houston Texans
• Pretty much everything J.J. Watt does ends up on a highlight reel, or trending somewhere, such as his
faux breaking news
, attending the NCAA basketball tournament with
tennis star

Caroline Wozniacki
, and especially when his thigh injury
resembles the meat Rocky sparred with
. If the NFL All-Pro and all-around showman is involved, trust us, people will tune in.
• The Texans don't have a sexy quarterback camp battle, but it remains sports' most glamorous position, and the competition between Brian Hoyer and Ryan Mallett should be a fierce one.
• Texas is BBQ country, so here's hoping jovial big man Vince Wilfork cranks up the old grill for more of this:
• • •
Buffalo Bills
•
"Let's go get a god damn snack!"
is an iconic Rex Ryan quote that resides near the top of the pantheon of "Hard Knocks" quotables. With the bombastic coach now calling Buffalo home, fans would certainly welcome some fresh Rexims.
• Chip Kelly canceled the LeSean McCoy show in Philly, but the running back's silky smooth game and penchant for expressing whatever's on his mind makes his Buffalo reboot must-see TV.
• A cameo from Buffalo legend Jim Kelly will display the human element of football, as his battle to overcome cancer was truly inspiring to the team and fans across the world.
Note: A Bills source told ESPN.com's Mike Rodak that the team is not interested in the show, but we can still dream, can't we?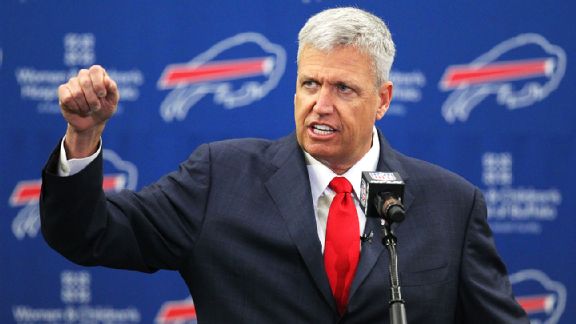 AP Photo/Bill Wippert
New York Giants
• Receiver Odell Beckham Jr. just exudes swagger and is in the midst of an NFL takeover that has seen him reel in the catch of the year and land the "Madden 16" cover. Next, America gets an inside look at his meteoric ascent and all the insane grabs previously not privy to cameras.
• How red can Tom Coughlin's face get? We're sure to find out as rookies bungle drills and draw the ire of the fiery coach.
• Manning face! Manning face! And more Manning face!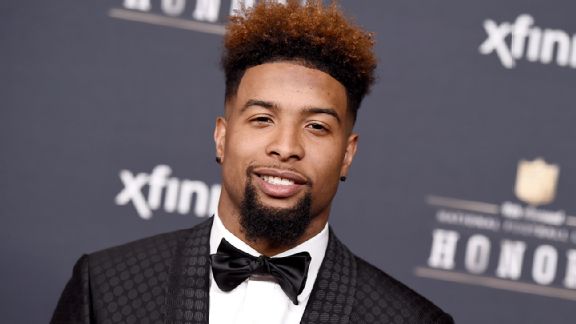 Jordan Strauss/Invision for NFL/AP Images
Washington Redskins
• Think Shady had some heat for his former coach? Wait until DeSean Jackson, who was released by Kelly, gets miked up.
• Jon Gruden has a knack for saying something that will leave you scratching your head. Here's hoping his brother Jay shares that enigmatic factor and continues the NFL's version of the "Odd Couple" with his co-star and starting QB -- for now.
• This may be Robert Griffin III's final shot at re-capturing the hearts of fans in the nation's capital? We're not sure how he'll look in camp, but an appearance by his adorable new baby girl, Reese Ann, will surely help his cause:
-Jeremiah 29:11- Reese Ann Griffin was born today! All 7lbs 9 oz. of her! Life Changer! #Blessed #ReeseAnn pic.twitter.com/liQUJUILMr

- Robert Griffin III (@RGIII) May 21, 2015
Note: A high-ranking Redskins official told ESPN.com's John Keim that the team is not a possibility to appear on the show, but again, we can dream, right?
By
SN Staff
| Tory Barron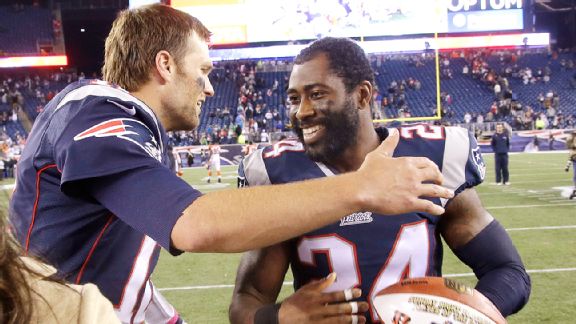 AP Photo/Stephan Savoia
Darrelle Revis might have won a Super Bowl ring with New England Patriots, but that doesn't mean he's displaying undying devotion to his now-former team (he's back with the their archrivals, the New York Jets, after a two-season hiatus, one spent with the Patriots).
Specifically, he has no sympathy for Tom Brady. Revis spoke to Manish Mehta of the New York Daily News, suggesting the franchise's history of rule-breaking likely played a part in Brady's punishment:
"Everybody's blowing it [Deflategate] up because it is Tom Brady. I understand that. But if [the NFL] feels he did the crime or he did something and they want to penalize them, then that's that. [The Patriots] have a history of doing stuff. You can't hide that. ... Tom was there when they did that stuff in the past. ... Stuff repeatedly happened through the years. You got Spygate, you got this and that and everything else."
Spoken like a true Jet (or at least someone who has wiped his hands of his former team). Revis certainly has no responsibility to defend the Patriots, but it does make us anticipate the two matchups between the storied foes this coming season even more than usual.
(H/T New York Daily News)
The punishment is here. For the Deflategate scandal, the NFL is suspending Tom Brady four games, while fining the New England Patriots $1 million and docking them two draft picks (a first-rounder in 2016, a fourth-rounder in 2017).
Naturally, NFL players current and former had some thoughts.
His teammates were not happy:
THIS IS ABSOLUTELY RIDICULOUS!!! SMH =! #PATSNATION STAND UP!!!!!

— LeGarrette Blount (@LG_Blount) May 11, 2015
=!

— Chandler Jones (@Chan95Jones) May 11, 2015
.....=

— Dont'a Hightower (@zeus30hightower) May 11, 2015
Wow

— Chimdi Chekwa (@ChimChek) May 11, 2015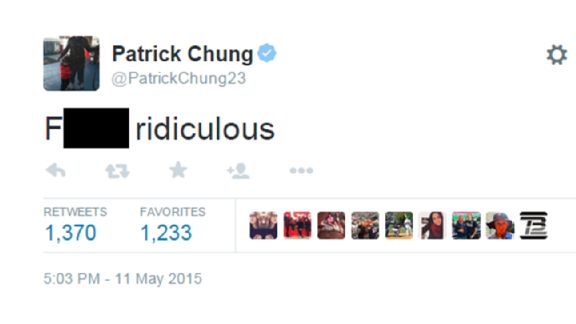 @PatrickChung23/Twitter
Others reacted with a mixture of surprise and outrage:
May 11, 2015
Ouch

— Marcus Gilbert (@MarcusGilbert88) May 11, 2015
Did not see that one coming a milli and 4 games=

— Jameel McClain (@JameelMcClain) May 11, 2015
I honestly feel bad for Tom Brady!! I know first hand the type of competitor he is & how much work he puts in... Came down too hard on him!

— DonteHitner (@DonteWhitner) May 11, 2015
To win four Super Bowl is outstanding. I know Tom Brady is a great competitor and leader. I feel sorry for him and patriots nation!

— Jerry Rice (@JerryRice) May 11, 2015
Tom Brady suspended 4 games.... That's just ridiculous. They are comparing it to steroid use. Preposterous! What are your thoughts?

— Steve Weatherford (@Weatherford5) May 11, 2015
If the NFL is so worried about the integrity of the game then the league should issue all balls for all games. #DeflateGate #BaseballDoesIt

— Antonio Garay (@antoniogaray71) May 11, 2015
T. Brady suspended 4 games for violating integrity of the #NFL. T.Pryor suspended 5 games in NFL for Tattoos while in college. AMAZING!

— Charlie Batch (@CharlieBatch16) May 11, 2015
Apparently "probably" deflating footballs is worse than DV...? https://t.co/oQdgh7tzVI

— Brady Quinn (@3rd_Goal) May 11, 2015
4 games?? What a joke! Tom Brady's getting the same suspension as PED users... Crime does not match the punishment #lostmorerespectfortheNFL

— Jake ballard (@TheJakeBallard) May 11, 2015
While some felt it was the right call, or at least the cost of doing business:
Well done @NFL ..........#DeflateGate

— Patrick Peterson (@RealPeterson21) May 11, 2015
It's a good thing the @nfl suspended Tom Brady now everyone knows that NOBODY is above the system #NFL #FairGame

— Shawne Merriman (@shawnemerriman) May 11, 2015
I think the suspension is warranted, they came down hard on the organization though. #Deflategate

— Sean Weatherspoon (@SeanWSpoon56) May 11, 2015
The Patriots are habitual rule breakers, and that's why they win championships.

— Phillip Buchanon (@PhillipBuchanon) May 11, 2015
They lose a million dollars, which is nothing to an NFL franchise, and a first round draft pick but they still got a championship haha..

— Phillip Buchanon (@PhillipBuchanon) May 11, 2015
You have to the love the patriots . They do anything to win a Super Bowl . #mytypeofteam=

— DARNELL DOCKETT (@ddockett) May 11, 2015
Our own Damien Woody? Fresh off a debate on our airwaves with former teammate and ESPN colleague Tedy Bruschi, the ex-Patriot simply posted this:
May 11, 2015
By
Tory Barron
| ESPN.com
Philadelphia is notorious for its pretzels; the city also is notorious for its avid sports fandom.
Unless you've been living under a rock for the past week -- no, let's take that back, even people under rocks have heard the news -- you know that in another one of Chip Kelly's interesting offseason moves, Tim Tebow has been signed to the Philadelphia Eagles.
Tebow joins the Eagles contingent of misfit quarterbacks assembled by Kelly (including Tebow's former Jets teammate, Mark Sanchez). Needless to say, the people of Philadelphia took action to properly acknowledge his arrival:
Welcome to Philly, @TimTebow! pic.twitter.com/2A3UCH47Vy

— PhillyPretzelFactory (@PPFpretzels) April 20, 2015
Yes, thanks to the good folks over at the Philly Pretzel Factory, you can now enjoy chomping down on a "Tebowing" Tim Tebow treat whenever you please, for only $1 (as advertised on Twitter).
Naturally, this token of Tebow affection couldn't go unanswered by the haters. Those in Philadelphia who are A.T. (anti-Tebow) acted quickly to counter the sweet gesture by the pretzel factory. This is where the "No Tebow" pretzel comes into play. We wonder what it would be like to have a pretzel invented with the sole purpose of trolling you. Is that when you know you've made it?
As expected, there are now "No Tebow" pretzels in Philly pic.twitter.com/FhtqvObfCZ

— Darren Rovell (@darrenrovell) April 23, 2015
Simply because the Internet is a cruel place, someone was inspired by all the Tebow pretzels, and thus decided to introduce the "Sam Bradford" pretzel, in reference to the Eagles' other new QB. We're just going to leave this here. ...
OMG A Sam Bradford pretzel. pic.twitter.com/SYF4EOYfEz

— Michael Tanier (@MikeTanier) April 21, 2015