SportsNation Blog Archives

NFL
For her third birthday, Riley Curry -- daughter of NBA MVP Stephen Curry-slash-probable most famous person related to basketball -- melted hearts and servers by breaking out The Whip and the Nae Nae.
Well, Leah Still -- ESPYS Jimmy V award honoree and daughter of Cincinnati Bengals defensive tackle Devon Still -- was not about to stand by silently.
In the paraphrased words of Billy Zane, it's a dance-off!
Now, we're not experts so we can't possibly pick a winner. But watch this space; this challenge might escalate.
Brian Urlacher left the NFL in 2012, after a 13-year, eight-Pro Bowl, defensive player of the year-winning career with the Chicago Bears.
Let's check in on what the former linebacker is doing now, via his Twitter account:
Good day on the linebreaker! #americanredsnapper pic.twitter.com/inkGKm0Fze

— Brian Urlacher (@BUrlacher54) June 29, 2015
June 29, 2015
Yup! She caught it! #linebreaker #blackgrouper pic.twitter.com/zIWfTbXNkD

— Brian Urlacher (@BUrlacher54) June 29, 2015
Mine is Bigger!! #Muttonsnapper #Brandon pic.twitter.com/PeYkUMr9OD

— Brian Urlacher (@BUrlacher54) May 25, 2015
Fishing with my homies! #smashingAJs pic.twitter.com/1aqKvbDwYt

— Brian Urlacher (@BUrlacher54) May 3, 2015
Yes, Urlacher is pretty into this fishing thing. According to the Naples Daily News, he and some business partners own a charter boat called "The Linebreaker" and based in southwest Florida.
The name isn't just a simple play on Urlacher's former position. Via Kelly Merritt, in 2011:
On a fishing trip prior to Urlacher purchasing his boat, the line kept snapping from the big fish they were catching. One of the guys on the boat said, "You're not a linebacker -- you're a line breaker," and the name was born.
It doesn't seem the line was breaking too much on those catches, though.
H/T For The Win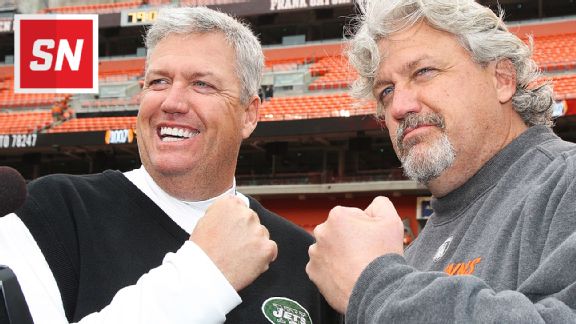 Al Pereira/New York Jets/Getty Images
We know twin brothers Rex Ryan and Rob Ryan are characters.
But this story from The Buffalo News takes it to another level.
The setting: Southwestern Oklahoma State, where the now-Buffalo Bills and former New York Jets head coach and New Orleans Saints defensive coordinator were both playing football.
The situation: Rob had a date, and he wanted Rex to be his wingman.
We'll let The Buffalo News' Tim Graham and the Ryan brothers take it from here:
Rex wasn't down for the mission because he'd already met Micki, the woman he would marry.
Rob: "I was a solo rider and had a babe on the line. But she had a friend. I said, 'You know, come on. Be a team player.'"
Rex: "I said, 'Dude, I'm staying at home today.'"
Rob: "So after a few hundred beers I said, 'You need to help out.' He didn't, so I was pissed and got in a wrestling match with him. I think he was a lot more sober than I was."
Rex: "I was bigger and was just going to throw his ass down. But he reversed me and got on top. So we went at it. We ended up outside, and here he comes."
Rob: "I ran after him, and he had a right hand waiting for me. I never saw it coming. Still haven't seen it."
Rex: "I got him good, and it was over. I felt terrible. I couldn't believe I hit my brother like that."
Rex was furious and, as keeper of the car key, drove off to clear his head. Tatters of a bloody shirt hung off him.
"I get pulled over by a cop. He sees me and doesn't know what he's got," Rex said with a gleaming-white smile. "I said, 'I just got in a fight with my brother. You can take me back there, and he'll explain it.'
"They take me to jail and then called my brother. He said, 'Nah, leave him in there.' "
Rob's ankle was broken during the wrestling portion of the match, and his nose broken during the boxing portion. When they arrived in New Orleans for Super Bowl week, Rob's ankle was in a cast. "We both had black eyes," Rob said. Buddy [Ryan, their father, who was days away from leading the Chicago Bears' defense in the team's Super Bowl XX win] wasn't amused.
Now, we had heard the brawl story before. But not, to our knowledge, at this level of detail.
In short: Just more evidence of Ryans being Ryans.
Read the rest of the Ryan brothers profile in The Buffalo News.
The NFL and its teams are known to be rather strict.
But if Von Miller's claims are true, the players themselves can be downright draconian. Nicki Jhabvala of The Denver Post describes a fine system devised by the players:
Von Miller said the Broncos have a fine system for, um, flatulence in meetings. Said he thinks he's been fined the most.

— Nicki Jhabvala (@NickiJhabvala) June 3, 2015
Wait, what? Look, it's not great to let it go in confined spaces, but isn't the shame of committing a social faux pas enough?
Miller elaborated:
Since I've received numerous inquires about the Broncos' Fart Tax, I'm gonna let Von explain. NFL dieting ain't easy. pic.twitter.com/OTAAaI8t82

— Nicki Jhabvala (@NickiJhabvala) June 3, 2015
Miller is right! Although a cursory search turns up no scientific studies on such a thing, physicians from the University of Copenhagen, via the New Zealand Medical Journal, said the following in 2013, according to the University of California, Berkeley's Wellness website:
"Holding in gas can cause bloating, indigestion, heartburn and, sometimes, even pain, they noted. Intestinal distension resulting from trapped gas may also increase blood pressure and heart rate. Then there's the mental stress of trying to keep the gas from escaping. The doctors' advice: Just let it go."
You see that, Broncos players? Your policies are endangering your own health! Add to this the possibility of wrongful accusations, and it's a wonder this team hasn't fallen apart.
H/T Bleacher Report