SportsNation Blog Archives

NFL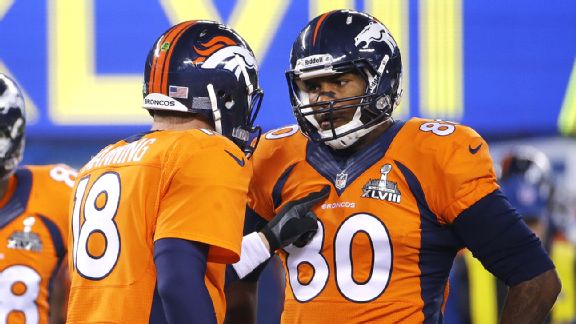 AP Photo/Matt SlocumPeyton Manning to Julius Thomas: "See ya, Julius. But leave the stats; take the money."
Big-name pass-catchers fortunate enough to hit the free-agent market have been known to gamble away their on-field success in favor of stacking some extra chips in their pockets. That pursuit of riches often lures them to destinations with, to put it nicely, shaky quarterback situations, which in most cases leads to a significant drop-off in production and accolades.
Does a similar fate await prized red zone target Julius Thomas?
The Pro Bowl tight end's free-agent paper chase culminated in a five-year, $46 million deal with Jacksonville. While the Jaguars shelled out a lot to acquire the athletically gifted weapon for rising QB Blake Bortles, Thomas may wind up paying the heaviest price. His numbers may fall off the proverbial cliff after swapping the chance to haul in touchdowns from surefire Hall of Fame QB Peyton Manning for the unknown prospects of playing with Bortles, who connected with more opposing DBs than his own targets in the end zone.
Thomas' defection got us thinking of other star pass-catchers whose game went broke chasing riches.
With Manning:
Decker recorded career highs of 87 catches, 1,288 yards with 24 TDs over his final two seasons in Denver.
With Smith:
After signing a $36 million deal, Decker became a casualty of the Jets' QB and franchise circus, failing to eclipse the 1,000-yard mark while reaching pay dirt only five times.
With Rodgers:
In three full seasons with his MVP QB delivering darts on the money, Jennings compiled 25 scores while averaging 1,223 yards.
With Ponder & Co.
Ponder rarely found the field during his tenure, and inept QB play has left Jennings lost on offense. While the $47.5 million WR says he doesn't regret leaving Green Bay, his stats since (no 1,000-yard seasons, 10 total TDs) would say otherwise.
Laurent Robinson: From Tony Romo to Blaine Gabbert
With Romo:
On the heels of a surprising 11-touchdown output as Romo's No. 2 WR, Robinson parlayed his one season in Dallas into a five-year, $32.5 million payday.
With Gabbert:
Robinson had minimal impact in his uninspiring seven-game tenure before concussions ended his season and, quite likely, his career.
Alvin Harper: Troy Aikman to Trent Dilfer
With Aikman:
Harper emerged as a potent deep-threat complement to Hall of Famer Michael Irvin, as his 20 YPC average made him a key component in the offense of the '90s Cowboys.
With Dilfer:
The tantalizing Harper was miscast as a leading receiver, lasting two lackluster seasons in Tampa Bay after banking $10.6 million in free agency.
With Roethlisberger: Wallace's deep-ball prowess combined with Big Ben's downfield touch made this duo lethal to teams daring enough not to keep a safety over the top.
With Tannehill: The Wallace-Tannehill union has been a mixed bag that appears to be on an upward trend despite rumors of a schism, but has yet to yield the type of success that landed the speedy WR in the 2011 Pro Bowl. Honorable mention:
James Jones: From Rodgers to Derek Carr
David Givens: From Tom Brady to Kerry Collins
Javon Walker: From Jay Cutler to JaMarcus Russell