SportsNation Blog Archives

NBA
When LeBron James left the Cleveland Cavaliers for the Miami Heat, Dan Gilbert wrote a nasty letter in response.
Well, now that James has returned, and returned the Cavs to the NBA Finals, Gilbert has changed his tune. The proof? This totally real (note: totally not real) updated version of that infamous screed, which we at SportsNation recently "found."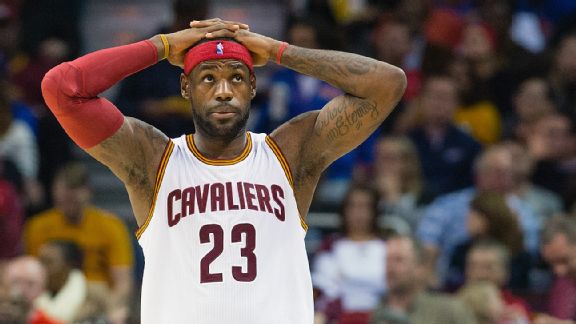 Jason Miller/Getty Images
LeBron James might have led the Miami Heat to two titles and a string of four straight NBA Finals appearances, but that doesn't mean the Sunshine State is entirely in the King's corner.
We asked two questions recently to SportsNation regarding LeBron, and while some states -- particularly the home of his Cleveland Cavaliers -- voted in his favor, Florida went the other direction on both (results as of 7:30 p.m. ET on Tuesday).
First, after Bill Russell beat out LeBron on a graphic as the "best player to wear No. 6" ...
SportsNation
Then, after Shaquille O'Neal said he would choose Kobe Bryant over LeBron in their primes ...
SportsNation
It must be said that the South Florida region accounts for less than one-third of the state's population, according to 2014 estimates. So a county-by-county breakdown might see LeBron carry Miami-Dade, Broward and Palm Beach but lose significantly elsewhere. Also, those are significantly small samples -- perhaps a few thousand more votes would change things.
Still, those are significant margins in both Russell's and Kobe's favor.
In other words: That's unseasonably cold, Florida.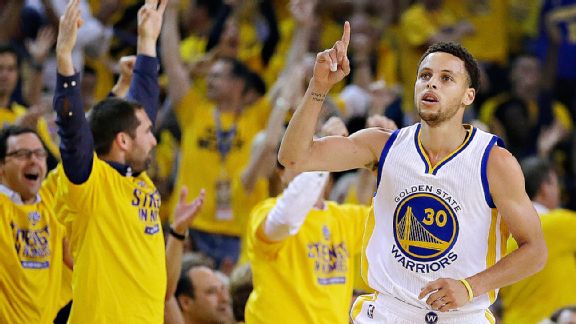 AP Photo/Ben Margot
Stephen Curry is the 2015 NBA MVP. He has favored to be an NBA champion. And yet, he's 6-foot-3, 190 pounds and plays a position that doesn't often dominate games.
What's behind his effectiveness? One of the reasons is his prodigious shooting ability. The son of great NBA marksman Dell Curry put up a 48.7 field-goal percentage/44.3 3-point percentage/91.4 free-throw percentage line this season, while attempting 17, eight and four per game, respectively.
All of this got Ric Bucher of Bleacher Report to ask five of the NBA's greatest shooters ever -- Steve Nash, Rick Barry, Kiki Vandeweghe, Chuck Person and Dana Barros -- where the man some call "Chef" ranks among the league's greatest long-range cooks.
According to Nash, Vandeweghe, Person and Barros: He's probably No. 1.
Barros: "You could make a case for him as the best ever. You'd have a harder time making the case against him."
Person: "I don't think there's ever been anybody better."
Vandeweghe, on Curry's 2014-15 season in particular: "Comparing year to year, people at their peak, I've never seen anyone better."
And Nash: "Truly, from the eye test, he's the greatest there's ever been."
They went into a lot more detail about what makes Curry truly special; check out the full piece here.
Who are the best NBA players ever to wear each jersey number?
Apparel company Mitchell & Ness took this question and figuratively ran with it, creating a graphic that lists the best player to wear every number that's ever graced the front and back of an NBA uniform.
Mitchell & Ness
Some notes:
• There are a few incontrovertible choices: No. 23 for Michael Jordan (unless you're Kendrick Perkins or Bill Laimbeer), No. 45 for MJ (even if he wore it for just a few weeks in 1995), No. 00 for Robert Parish, No. 1 for Oscar Robertson, and a few others.
• There are heated debates for other numbers, particularly the overloaded No. 33, where Kareem Abdul-Jabbar edged Larry Bird, Patrick Ewing, Alonzo Mourning, Scottie Pippen and others. (This writer's opinion: Kareem was the absolute right choice).
• Late-career changes helped squeeze excellent players onto the list in numbers they're not always best known for. Karl Malone (No. 32 with the Utah Jazz) gets on for his one year as No. 11 with the Los Angeles Lakers, since he was never going to overtake Magic Johnson. Shaquille O'Neal wore 32 (Magic), 33 (Kareem) and 34 (Hakeem Olajuwon) at points in his career, but gets on the list with his Boston Celtics No. 36. And Kevin Garnett, who probably wouldn't have edged Tim Duncan out for No. 21, thankfully had the No. 5 spot all to himself for his post-Minnesota Timberwolves stint with the Celtics.
• The end of this list is absolutely wonderful, with Scot Pollard, Jason Kapono, Shawn Bradley, Vladimir Radmanovic and DeShawn Stevenson bringing back so many memories. But it also contains some great significance: Jason Collins, the NBA's first openly gay player, wore No. 98 as a tribute to Matthew Shepard.
• The Panda's Friend? More like The Oddball Jersey Number's Friend! Yes, Ron Artest, aka Metta World Peace, shows up a list-topping four times here, for Nos. 37, 51, 93 and 96, edging out equally eccentric talent Dennis Rodman (three: 70, 73, 91).
• Biggest omission from the list? LeBron James. Sure, he's not going to overtake Jordan (see above) for No. 23. But No. 6? That spot was given to Bill Russell, who wore his signature number for the Celtics while winning 11 championships. But some -- maybe even this writer (bring out the haters!) -- believe James, who wore No. 6 during his four-year stint with the Miami Heat, is/was the better player.
What is Metta World Peace up to these days?
Done with his run in the NBA -- and subsequent stint as Key & Peele's main newsman -- the man formerly known as Ron Artest signed in March with Italian Serie A club Pallacanestro Cantu. The often-fiery 35-year-old even talked up his maturity.
"When you play angry you can't focus," he told the Associated Press. "I've got five more years to have a great time, so I will be playing with a lot of fire but not anger, just passion."
So much for that. In the decisive fifth game of their quarterfinal with Reyer Venezia Mestre, World Peace got involved in a skirmish (what a great series of seven words) and was booted in the fourth quarter with his team down eight. Here it is, from the Italian broadcast.
Espulso Metta!
Not only was Metta World Peace ejected, according to the play-by-play he was charged with five fouls in less than a minute (although not in a hack-a-DeAndre sense, as evidenced in the video).
Cantu went on to lose 88-73, while their opponents advanced to the semifinals. According to calcioweb.eu, World Peace will be suspended two games if he returns to Italy next season.
But not all was lost: The best item to emerge from this video was the fact that World Peace, as promised, wore a jersey that said "The Panda's Friend" on the back (even though he's still officially listed under World Peace).
Pallacanestro Cantu Basketball
Fiery, not fiery, mature or immature, The Panda's Friend will always be our friend.
H/T The Big Lead