SportsNation Blog Archives

NBA
September 21, 2015
Sep
21
Brandon Armstrong does spot-on impressions of NBA players, but that's not all. Another game of Armstrong's is impersonating "those guys" you see in pick-up hoops.
His target Monday: point guards who never, ever, ever ever ever, seem to shoot.
It's perfect: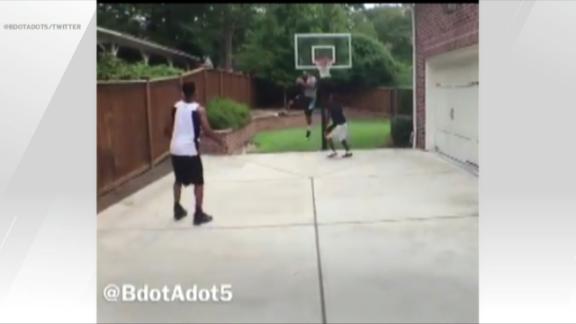 Now, this might remind you of certain NBA players, too. When sharing the post on Twitter, Armstrong dropped the name of a certain Sacramento Kings ball-handler who once won a ring with the Boston Celtics (and, oh yeah, whose name is in the headline of this post).
That one PG who NEVER shoots the ball aka @RajonRondo = w/ @That_Guyy23 @Doitlikederrick #NotTheOfficialRondoBeLike pic.twitter.com/YrCiXpwH2j

— B.A. (@BdotAdot5) September 21, 2015
Note, though, this isn't his official impersonation of Rondo. After all, he didn't do this.
September 14, 2015
Sep
14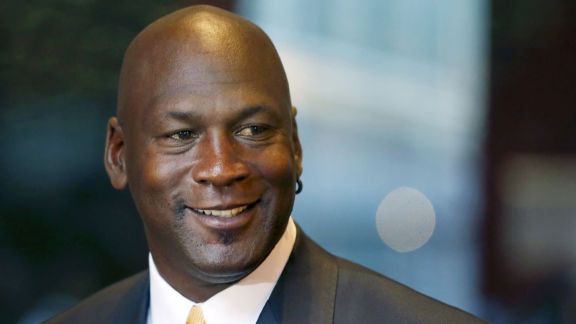 AP Photo/Charles Rex Arbogast
That Michael Jordan is cleaning up even though his playing career is over shouldn't surprise you.
That he made more money in 2014 than he did in his whole playing career? That could be an eye-opener.
As reported previously on ESPN and as circulated by PBS ahead of a weekend NewsHour segment, it's believed Jordan makes more than $100 million per year off royalties from his Nike Air Jordan brand.
Jordan's total earnings as a player? According to Forbes, it was $94 million; per Basketball-Reference.com, it was $90.2 million. Either way, that's less than $100 million.
Now, it must be noted these figures are not adjusted for inflation; based on his numbers from Basketball-Reference and the Bureau of Labor Statistics inflation calculator, Jordan made nearly $100 million in 2014 dollars during his three-year stint after his first retirement (1995-96 through 1997-98).
Still, $100 million-plus in a year because you created a shoe ... M.J.'s legend just keeps growing.
NBA impersonator extraordinaire Brandon Armstrong has won scores of fans this summer with his crazy-good takes on LeBron James, James Harden, Kobe Bryant, Russell Westbrook and more. Westbrook even tweeted his support of Armstrong.
Well, it looks like the Oklahoma City Thunder guard isn't the only NBA player who likes Armstrong's work. On Wednesday, the former D-Leaguer dropped a Manu Ginobili impression: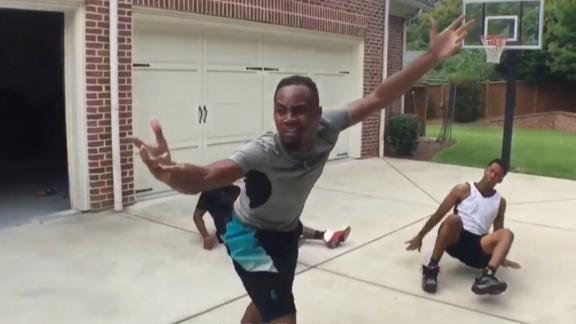 ... and Ginobili responded:
=.=.= = = ==== Great job man! Loved it! https://t.co/UFNvw9rYvS

— Manu Ginobili (@manuginobili) September 2, 2015
Armstrong is quickly becoming the James Adomian (look him up, kids) of the NBA.
Can't wait to see what's next.
OK, so you might believe what he wore.
Still, Russell Westbrook is known for his distinctive, rather unusual style of dress.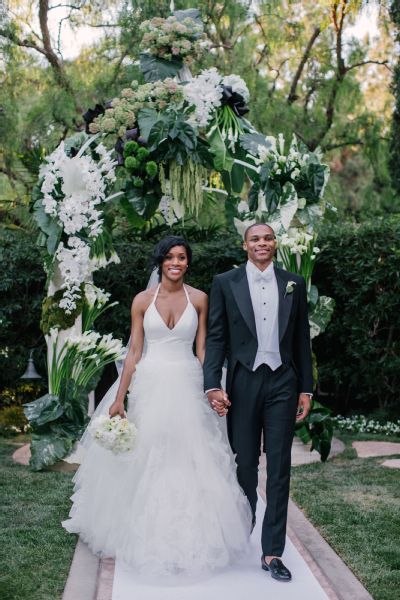 Amy & Stuart Photography/Getty Images
Which means it might come as a surprise that, for his wedding this weekend to longtime sweetheart Nina Earl, Westbrook went with a rather subdued look from, according to People, Tom Ford.
We're not criticizing by any means; it's your day, you do you, even if wedding "you" is a different than walking-through-the-event-level-before-a-game "you."
And Russ has plenty to be happy about. Westbrook and Earl have been together for years, meeting while both were playing basketball at UCLA.
They certainly didn't go the (perfectly acceptable, by the way) low-budget route with their wedding; it took place at the Beverly Hills Hotel, according to People, with Oklahoma City Thunder teammates Kevin Durant and Serge Ibaka -- as well as former UCLA teammate Kevin Love and ex-Thunder teammate James Harden -- in attendance and a performance by Miguel on the bill.
Yep, looks like the couple is pretty happy:
My Mrs. d 8.29.15 pic.twitter.com/oTFRCww2ty

— Russell Westbrook (@russwest44) August 30, 2015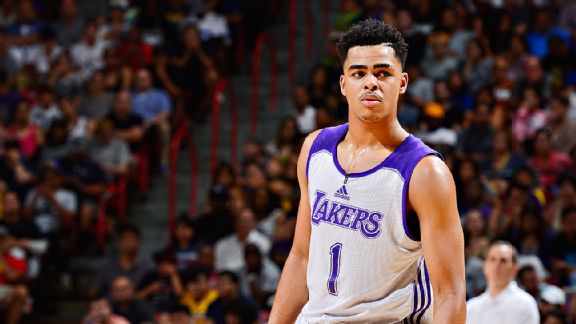 David Dow/NBAE/Getty Images
D'Angelo Russell sent out a since-deleted tweet earlier this month, claiming that the talented-but-oft-injured Tracy McGrady "might have been the GOAT."
This raised eyebrows; after all, Russell's new Los Angeles Lakers teammate is Kobe Bryant -- himself an all-time great who gets labeled by some fans as the "best ever" (despite, you know, this guy).
Kobe himself responded, leading to a good-natured exchange between rookie and legend that has seemingly quashed any thoughts of bad blood.
All good in Laker Land? Well ...
This weekend the No. 2 overall pick spoke with the Los Angeles Daily News about his first offseason as a Laker, and that infamous tweet. Here's the key McGrady-related quote in a story that covers much more:
"There's a lot of spoiled Lakers fans. I wasn't downgrading Kobe at all. I was just watching a highlight tape of Tracy McGrady and I got excited. I tweeted and the whole state of California went crazy."
(Insert flushed emoji here.)
Now, it's hard to deny that fans of this franchise -- winner of 16 overall titles, 11 since moving to Southern California, five in the Kobe era and at least two during the lifetimes of pretty much anyone who's reading this -- have had it just a little bit good.
But if some Lakers fans went after him for the McGrady tweet, this might not exactly endear him to those same fevered supporters.
Then again, if he lives up to the hype, we're guessing they'll forgive it all.