SportsNation Blog Archives

NBA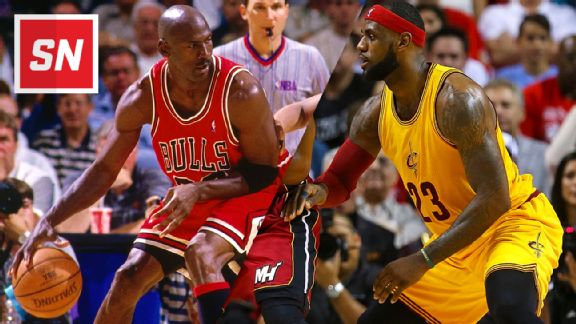 Getty Images
The careers of Michael Jordan and LeBron James never overlapped. Jordan retired for the third and final time two months before James was drafted in 2003. That separation hasn't stopped NBA fans from constantly speculating what would happen if the two took the court to face off.
Last week Jordan said he'd beat James in a 1-on-1 game with the two players in their primes, sparking the latest debate to fill the dog days of summer without NBA action.
Friday on NBC's "Today" show, James was asked the same question and responded.
"Oh, I take myself. For sure. I mean, I'm gonna take myself versus anybody."
That's not surprising coming from the player who called himself "the best player in the world" during the NBA Finals, despite his team trailing 3-2 at the time to the reigning MVP (who, you might remember, went on to win that series and hand James his fourth NBA Finals loss).
James, though, did at least acknowledge that beating Jordan wouldn't be easy, telling Today: "I'll tell you one thing -- they're gonna have to have a few wheelchairs and a couple ambulances there to get us off the floor."
For those who care to try and solve this unsolvable dilemma themselves, here are the key numbers to know: James has the height and weight advantages (6-8 to 6-6 and 250 to 216). Jordan has higher career averages in points (30.2 to 27.3) while James has the edge in assists (7.1 to 5.3). Jordan also bests James in All-Star selections (14 to 11), MVPs (5 to 4) and, of course, rings (6 to 2).