SportsNation Blog Archives

Russell Wilson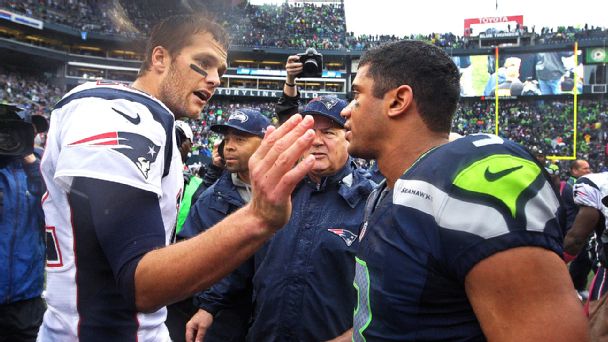 Jim Davis/The Boston Globe/Getty Images
Patriots or Seahawks in Super Bowl XLIX?
Super Bowl XLIX is just days away, and so-called "Deflategate" still is dominating the talk surrounding the game. No matter what, though, the New England Patriots and Seattle Seahawks will square off Sunday in Glendale, Arizona, with each team attempting to add to its legacy. The Seahawks are aiming for the first NFL repeat since ... New England, which won its second and third titles under Bill Belichick and Tom Brady in 2003 and 2004. Will it happen again, or will the legendary coach/QB combo get its elusive fourth ring?
Russell Wilson, you've just won the Super Bowl. Where are you going? On Thursday, the Seattle Seahawks' quarterback gave his answer via Twitter: Surprise, Ariz., to appear at spring training with the Texas Rangers, who paid $12,000 to acquire him in the Rule 5 draft.

Hey @Rangers fans... See you at "Surprise" Arizona on March 3! #SpringTraining pic.twitter.com/ZiaEmtL0nW

— Russell Wilson (@DangeRussWilson) February 20, 2014

Wilson played in the Colorado Rockies' organization in 2010 and 2011 before being taken in the NFL draft. Two years into his career, he became a championship QB. As a Class A second baseman, Wilson hit .229 with 5 homers, 19 stolen bases and 118 strikeouts. This time on the diamond, Wilson likely won't be around very long; ESPN.com's Richard Durrett reports that he could participate in drills or just talk with Rangers players.

If he did stick, though, what would we see from Wilson?

---

QB to 2B?

Could Russell Wilson come close to matching his football success in baseball?

Getty Images, AP Photo

Wilson, Winston thinking baseball

America's reigning champion quarterbacks are in demand, and not just for media appearances and autographs. Turns out both Russell Wilson and Jameis Winston are pretty good baseball players, and have real options to hit the diamond in their football offseasons. Wilson was selected in the Rule 5 draft by the Texas Rangers, and has the opportunity to report to spring training (his agent says he is uncertain). Winston, meanwhile, made headlines Tuesday by being named a third-team preseason All-American as a Florida State utility man. Should either play/be playing? Who would be better? Will we ever see a two-sport athlete a la Bo Jackson or Deion Sanders?