SportsNation Blog Archives

Clemson Tigers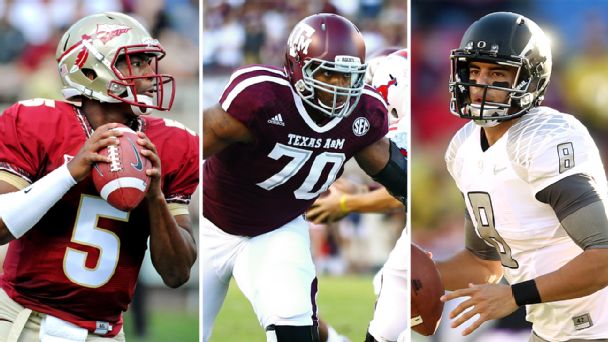 USA TODAY Sports
2014 college football predictions
The 2014 college football season -- aka Year 1 of the College Football Playoff -- is upon us, with Texas A&M thumping South Carolina on a night of Thursday kickoffs. Johnny Manziel is gone, but reigning Heisman Trophy winner Jameis Winston still is here. So are a good number of other Florida State Seminoles who helped the team to last season's national championship. Will they repeat? Who will win the conferences? Cast your votes below!
More: Rank: Top 25 | Rank: Conferences | Rank: Heisman candidates | Rank: QBs
Getty Images

Who will win the Orange Bowl?

A January trip to South Florida should not be played down, but it'd be hard to believe the two Orange Bowl teams aren't a little disappointed with their postseason destination. Clemson entered the year eager to prove itself a title-caliber team, only to see that dream shattered by a crushing defeat to Florida State in October. Ohio State got even further, needing a win over Michigan State in the Big Ten title game to earn a trip to the BCS championship contest (needless to say, the Buckeyes didn't get it). Still, if these two teams show up motivated, it could be quite the shootout.

USA TODAY Sports, Getty Images

CFB: (5) Florida St. at (3) Clemson

Tajh Boyd and the Clemson Tigers entered the season with national-title hopes. Florida State and redshirt freshman Jameis Winston? Not quite. But here they are in Week 8, a pair of top-five teams faced with what might be a BCS championship elimination game. FSU hasn't won at Clemson since 2001. Will the untested Winston be able to handle the pressure?