SportsNation Blog Archives

Missouri Tigers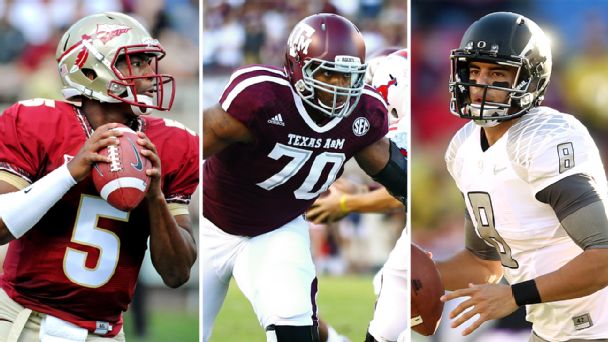 USA TODAY Sports
2014 college football predictions
The 2014 college football season -- aka Year 1 of the College Football Playoff -- is upon us, with Texas A&M thumping South Carolina on a night of Thursday kickoffs. Johnny Manziel is gone, but reigning Heisman Trophy winner Jameis Winston still is here. So are a good number of other Florida State Seminoles who helped the team to last season's national championship. Will they repeat? Who will win the conferences? Cast your votes below!
More: Rank: Top 25 | Rank: Conferences | Rank: Heisman candidates | Rank: QBs
SEC -- Missouri vs. Auburn

If you claim to have predicted before the season started that it would be Auburn vs. Missouri in the SEC championship game, you either love tigers and hate LSU, or you're trying to be funny. Because this game, in the land of Alabama and Georgia and South Carolina, came out of nowhere. But it's here, and it could send a team to the BCS National Championship, if all things fall just right. Who gets it done in Atlanta?

BCS Mixing Bowl

With an improbable 100-yard return of a missed field goal, Auburn certainly put a wrinkle into this year's college football postseason. That unlikeliest of endings vaulted Florida State and Ohio State into the driver's seat for the two spots in the BCS championship game. With only conference championship games remaining, Florida State, Ohio State, Auburn, Missouri have one last shot to make their case for a title chance.