SportsNation Blog Archives

Oregon Ducks
Chip Kelly's ambivalence about going to the NFL didn't seem to last all that long -- he'll be heading to the Eagles. Kelly leaves Oregon with a 46-7 record, right on the heels of a win in the Fiesta Bowl. He'll be taking over a 4-12 team after a season filled with injuries, failed expectations and general disarray forced out Andy Reid. Kelly's best known for his high-powered college offense, but he'll have to come up with a lot more than the hurry-up to turn this team around.
More: Should Kelly restore Michael Vick to his position as the Eagles' starting quarterback?
---
A good hire?
Chip Kelly's had a lot of success with Oregon, but coaching in the NFL is a whole different animal.

---
Kelly's influence?
Andy Reid was able to lead the Eagles to a Super Bowl, but Kelly will inherit a team that hasn't seen much in the way of winning lately.


The Trojans make their return from a two-year bowl ban with the focus on winning not only the Pac-12 title but a national championship. With the 19 returning starters from the 10-2 team of 2011, will USC dethrone Oregon as conference champion? Click on the team logos to set your rankings!
More conference rankings: ACC | Big 12 | Big East | Big Ten | SEC
Player rankings: ACC | Big 12 | Big East | Big Ten | Pac-12 | SEC
More: SportsNation's top 25 | Your predictions | Rank Heisman hopefuls


2012 Pac-12 football teams

Arizona

Arizona
2011 overall: 4-8
2011 Pac-12: 2-7


Arizona State

Arizona State
2011 overall: 6-7
2011 Pac-12: 4-5


California

California
2011 overall: 7-6
2011 Pac-12: 4-5


Colorado

Colorado
2011 overall: 3-10
2011 Pac-12: 2-7


Oregon

Oregon
2011 overall: 12-2
2011 Pac-12: 8-1


Oregon State

Oregon State
2011 overall: 3-9
2011 Pac-12: 3-6


Stanford

Stanford
2011 overall: 11-2
2011 Pac-12: 8-1


UCLA

UCLA
2011 overall: 6-8
2011 Pac-12: 5-4


USC

USC
2011 overall: 10-2
2011 Pac-12: 7-2


Utah

Utah
2011 overall: 8-5
2011 Pac-12: 4-5


Washington

Washington
2011 overall: 7-6
2011 Pac-12: 5-4


Washington State

Washington State
2011 overall: 4-8
2011 Pac-12: 2-7

Your Rankings
1.

2.

3.

4.

5.

6.

7.

8.

9.

10.

11.

12.

3. Which contender played its best football late?
It's hard to argue against Auburn as deserving national champion under the current system. Well, it's hard to argue if you aren't TCU. But what if college football had even a four-team playoff? Which team played the kind of ball in bowl season that leads you to believe they could get on a playoff roll? Rank your final Top 25.
"Stanford would have beaten Oregon and Auburn last night. Stanford was possibly one half away from playing in that game last night, and if they did I know they would have beat Auburn." -- SN commenter PCpinecones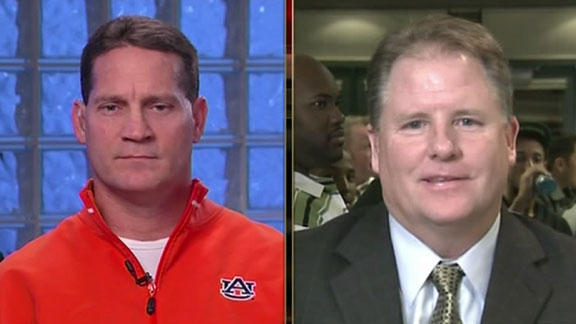 After a season full of upsets, near upsets, blowouts, rivalries and Cameron Newton, the BCS picture has finally been fully painted.
The national championship game looks to be a real barn burner, as Auburn and Oregon both feature high-powered offenses capable of scoring several touchdowns in a single quarter. It'll be a challenge for either team to limit the other to fewer than 30 points, but we won't complain if the combined points total of this game skyrockets past 80. The other matchups seem pretty even, too, save for the surprising Connecticut Huskies taking on the Oklahoma Sooners in the Fiesta Bowl. Connecticut made a BCS bowl despite managing only an 8-4 record and will be hard-pressed to stop Landry Jones and Oklahoma's passing attack. Still, we're looking forward to all these games. Which promises to be the most exciting?
National championship: Auburn vs. Oregon: "I have to say I actually think this game will be close. Auburn will start punding the ball like a 1980s team in the second half and I see Oregon making a couple mistakes to lead to turnovers or souple three and outs and Auburn having a 10 minute 15+ Play drive in the forth to go up by 2 touchdowns." -- EarnYourOwn

Sugar Bowl: Arkansas vs. Ohio State: "Arkansas CAN beat Ohio State. This isn't your grandma's Ark team. This isn't an under-talented HDN team sneaking in through a weak west, relying on David Vs Goliath speeches along the way, only to be crushed in a mis-match. This team has talent, experience, and confidence. So does OSU, which makes this a GREAT match-up. " -- HAWGHEAD14

Orange Bowl: Stanford vs. Virginia Tech: "wooo couldnt have hoped for a better match up than this for my Hokies! Should be a great game. Stanford is a GREAT team, should be a good test for VT. Stanford will be favored, which plays into VTs hands. All season since the embarrassing 0-2 start has been about getting respect back, and if the Hokies can pull off a win over a great Stanford team, they will finally get that respect back! " -- Dmoney51715

Fiesta Bowl: Connecticut vs. Oklahoma: "As a Uconn fan, I have to say that this is great to go to a BCS game and play a team with the history of OU. It was also great to see us destroy a South Carolina team last year and beat Notre Dame at their place as well. However, I am not delusional to think that we could compete week in and out in that conference, but do think they are going to play a lot better than most believe. " -- Ice1396

Rose Bowl: TCU vs. Wisconsin: "Wow, what a statistical dead heat in the offensive category. I hope this game will be as great as it is on paper, statistically speaking. TCU being in the Rose "Granddaddy of them all" Bowl is awesome! This is the true gut punch to the E. Gorden Gee elitists of the world. Rejoice Frog faithful, we are only one of four other teams, OU, UT, Nebraska, and Miami, that have EVER played in this bowl game outside of the Pac-10/Big Ten! Awesome week to be a Frog." -- HornedFrog1992
Isn't the college football championship picture supposed to clear up as we get closer to the end of the season? After a light Saturday in terms of big games, the BCS standings remained the same for the third consecutive week. That means we're treading water when it comes to sorting out the four teams most likely to produce the eventual championship matchup (our head hurts enough without bringing LSU and others into the mix). And clearly, that just gives fans too much time to ponder every conceivable scenario that might unfold. This week's question? What happens if Auburn loses to Alabama in Tuscaloosa this weekend but bounces back to beat South Carolina in the SEC title game?
"The strength of Auburn's schedule is why they will get into the NC even if they lose to Alabama, and then beat South Carolina in the SECCG. SOS will win out. I'm not saying this is exactly fair, but its the way its. There is too much money involved in the BCS system to allow an undefeated BSU into the NC over a one-loss SEC team. Does anyone need to be reminded which conference has won the last four NCs?" -- mbowyer2
"What's funny is that Auburn will have played more ranked opponents then TCU, BS and Oregon combined. I already know what's going to happen. Auburn will lose to Alabama, win the SEC championship and watch TCU or BS play Oregon in the BCS CG. Very sad. I hate Auburn, but even with one loss, they deserve to be in the CG just based off of strength of schedule." -- urGatorbait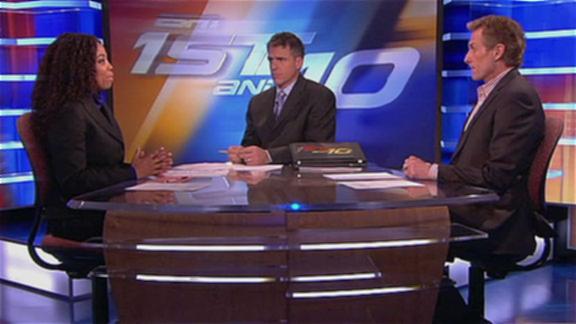 Game 1: SportsNation's burning questions for No. 1 Oregon at California


Jonathan (NYC)
Mel, what do you think of LaMichael James' NFL draft prospects if he were to decide to leave early this year? Is he a first-round talent in this year's draft? And If he were to come back to Oregon, what does he need to work on to improve his position?
Mel Kiper
He's a third-year sophomore. Second highest rated running back that is draft eligible behind Ingram. Great quickness and power for his size. His main thing right now is staying healthy so he can prove his durability. He has to show he can be more than a situational performer at the next level. He only has eight receptions this year out of the backfield, so that is something to watch. At the pro level he will need to be more of a factor in the passing game. He will also need to factor into the return game which he hasn't done in college. But he is a big-time talent. Full transcript
Game 2: SportsNation's burning questions for Georgia at No. 2 Auburn


Alex (Columbia, SC)
I saw that Auburn almost overtook Oregon in the BCS. Do you see them taking the Number 1 position back?
Brad Edwards
No, I don't. This was a result of TCU's big win jumping them over Oregon in several computers, thus causing the Ducks to weaken in the computer element. Oregon has a much stronger schedule than TCU the rest of the way and should regain that ground in the computers. The only way Oregon falls from No. 1 in the BCS is if it loses a lot of its first-place votes in the polls. Full transcript
Game 3: SportsNation's burning questions for No. 19 Mississippi State at No. 12 Alabama


Jamie (Provo, UT)
Do you believe Miss. State will beat Alabama this Saturday?
Ivan Maisel
Yes. I think this will be a real gut check for Alabama. The Tide isn't going to win the national championship. They're playing a team with a lot of emotion after the death of Nick Bell. Full transcript
Game 4: SportsNation's burning questions for No. 23 South Carolina at No. 22 Florida


Mike (Pageland, SC)
The Gamecocks travel to Gainesville this weekend to try and win their first SEC East title. How do you like their chances after the beat down from Arkansas last weekend?
Beano Cook
Number one, that game meant nothing. I agree that South Carolina should have played a little better. I am rooting for South Carolina and Steve Spurrier, but I think Florida will win. It would be ironic if Florida and Auburn met for the SEC title! Full transcript
Game 1: SportsNation's burning questions for No. 1 Auburn at Mississippi


Todd (Anchorage)
Mel, which pro QB, past or present, does Newton remind you of the most?
Mel Kiper
The best runner I ever saw as a QB was Michael Vick. He just had tremendous speed, explosiveness. This kid is the closest I've seen since Vick. Newton is 6-6, close to 250 pounds. He has great feet. He has different gears in the open field. He shocked Patrick Peterson last week. And he has the power where he can drag you. Plus, he has a cannon for an arm. He's an incredible talent. Another year at Auburn could make him and early first round pick in the draft and the top QB chosen in the 2012 draft, assuming that Luck comes out this year. Full transcript
Game 2: SportsNation's burning questions for No. 2 Oregon at USC


Oscar (Los Angeles)
Is USC factored into the BCS and then simply taken out, or are they not even imputed into the computers?
Brad Edwards
Even though the Trojans can't be ranked in the coaches' and Harris polls, USC is still a part of the computer rankings (ranked in the 20s by all of them this week), so it doesn't hurt Oregon in the BCS. In fact, the computers (and maybe most humans), will consider USC to be the second-best team Oregon has played so far this year, behind Stanford. Full transcript
Game 3: SportsNation's burning questions for No. 6 Missouri at No. 14 Nebraska


Ryan (Lincoln, NE)
How does Mizzou try to defend T-Magic, now that he's shown he can air it out a bit?
Big 12 blogger David Ubben
Missouri learned a lot from playing Illinois earlier this season. You'll probably see a similar approach. Especially with Dominique Hamilton out, prepare to see a lot of the "Candy" formation, with four defensive ends. They need speed on the field. Aldon Smith and Taylor Martinez are going to go head-to-head a lot this week. Smith has to be a lot faster than he looked on that interception return, but I bet he was pretty tired at the end of that thing. Full transcript
Game 4: SportsNation's burning questions for No. 5 Michigan State at No. 18 Iowa


Doug (Quad Cities)
Adam, love the blog. Michigan State is a lot like Iowa was last year. Winning close games, playing well in the 4th quarter. The spead is Iowa by 6.5 right now (which seems way high for a top tier big 10 game). Iowa might get Parker back so does Iowa play spoiler this weekend and cause MSU's luck to run out?
Big Ten blogger Adam Rittenberg
Doug, you can't be a spoiler when you're favored by 6.5 points. Most folks expect Iowa to win this game, and the Hawkeyes have to if they want to remain in the Big Ten race. You can bet Michigan State will use the underdog thing to its advantage. The teams certainly have similarities from the last two years, and the last three games have been very close. I'd expect another nailbiter Saturday. Full transcript
Game 5: SportsNation's burning questions for Georgia vs. Florida


Ivan Maisel
It's just weird that neither Florida nor Georgia is ranked. I've been saying for a couple of weeks that Georgia is going to win the East, largely because it would be a great story if the Dawgs pulled it off and I root for great stories. I don't know how you predict which Florida team will show up in Jacksonville. But Aaron Murray is coming around for Georgia. I'm going to take Georgia. Full transcript
UCLA may be without starting quarterback Kevin Prince when it takes the field at Oregon on Thursday night. (Did we mention it's on at ESPN? At 9 p.m. ET? Just checking). That's not the best recipe for success in one of the toughest venues in college football and against a team ranked second in the BCS standings. But hey, the Ducks themsevles are evidence that Pac-10 schools seem to stockpile quarterbacks like freshmen stockpile posters for their dorm rooms. No Jeremiah Masoli? No problem. Oregon quarterback Darron Thomas has thrown 14 touchdown passes, and when the Ducks needed his legs against Stanford, he rushed for 117 yards.
In talking about the initial BCS standings with Ivan Maisel on Monday, Mark Schlabach said the Pac-10 "suddenly looks very mediocre." But at least when it comes to quarterbacks, is there a conference deeper than one that boasts Thomas, Andrew Luck, Jake Locker, Matt Barkley and (when healthy) Nick Foles?
Chris (Pasadena (via Reno))
On the subject of Pac 10 QB's, is Barkley showing why he was the number one recruit in the country a couple of years ago? I'd argue he's at least on par with Luck in the conference.
Ivan Maisel
Barkley is having a great year. And I'm surprised that he has gotten as little national attention as he has. But if keeps producing 30-something points a game, he'll show up in all the Heisman hype. Full transcript
Keith H (Seattle)
Mel, how far has Jake Locker's draft stock fallen
Mel Kiper
From being right there at the top. He was No. 1 on the board through the early portion of the season. Obviously, he fell after that performance against Nebraska. He's played better. He fell from 7 to 8 this week. He's going to be a nice QB. He needs to be coached up. Like all QBs, he's going to need some time. He'll fall in the middle of the first round. Luck and Mallett and Newton and the other juniors can't go to the Senior Bowl. Locker is the only highly rated senior QB. I hope he's at the Senior Bowl. He can start to improve his rating down there. Full transcript