SportsNation Blog Archives

Virginia Tech Hokies
---
Chick-fil-A Bowl
Virginia (8-4, 5-3 ACC)
No. 25 Auburn (7-5, 4-4 SEC)

---
AutoZone Liberty Bowl
Cincinnati (9-3, 5-2 Big East)
Vanderbilt (6-6, 2-6 SEC)

---
Kraft Fight Hunger Bowl
Illinois (6-6, 2-6 Big Ten)
UCLA (6-7, 5-4 Pac-12)

---
Hyundai Sun Bowl
Georgia Tech (8-4, 5-3 ACC)
Utah (7-5, 4-5 Pac-12)

---
Meineke Car Care Bowl of Texas
Texas A&M (6-6, 4-5 Big 12)
Northwestern (6-6, 3-5 Big Ten)

It's not the game of the century, but No. 10 Virginia Tech's visit to No. 21 Georgia Tech on Thursday (ESPN/ESPN3, 8 p.m. ET) is definitely the game of the night in college football. And it might just be the game of the year in the ACC. As ACC blogger Heather Dinich notes, the winner between these two has reached the league's championship game in each of the past six seasons, and the forecast looks good for this year to be seven in a row.
"It will be very good for the conference if Georgia Tech wins Thursday night. Va Tech is not that good, and I hope they don't get lucky breaks to squeak by. ... All this luck of squeaking by teams like Duke 14-10, etc. has to end sometime for this not-so-good Hokies squad." -- SN commenter bmw463848
"Until someone in the ACC can stop the Hokies they will always be the class of this conference." -- SN commenter b-barbz15
---
Frank Beamer or Paul Johnson?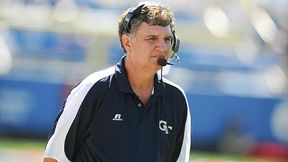 Paul Johnson (above) has the edge in national championships (granted, they came at the FCS level), but Frank Beamer is 49-11 in the ACC.

---
How close is No. 10 to No. 2?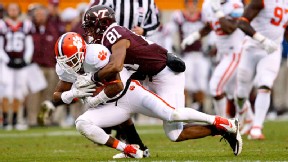 Virginia Tech could take out one team ahead of it in a potential ACC title game rematch against Clemson, but is there any scenario that sends the Hokies to New Orleans?

---
Triple the fun for Yellow Jackets?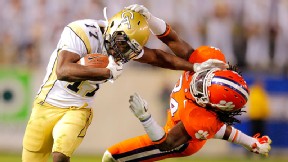 In a world of spread offenses and passes by the dozen, Paul Johnson's triple-option offense is a rare sight. But does uniqueness make it entertaining?

---
Megatron or Michael Vick?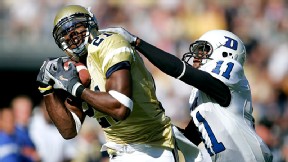 In just three seasons of work, Calvin Johnson piled up the eighth-most receiving yards in ACC history, but was Michael Vick better at Virginia Tech?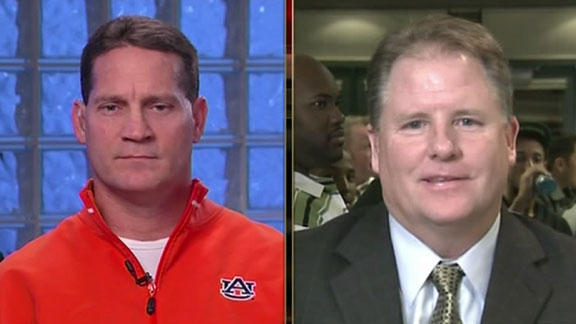 After a season full of upsets, near upsets, blowouts, rivalries and Cameron Newton, the BCS picture has finally been fully painted.
The national championship game looks to be a real barn burner, as Auburn and Oregon both feature high-powered offenses capable of scoring several touchdowns in a single quarter. It'll be a challenge for either team to limit the other to fewer than 30 points, but we won't complain if the combined points total of this game skyrockets past 80. The other matchups seem pretty even, too, save for the surprising Connecticut Huskies taking on the Oklahoma Sooners in the Fiesta Bowl. Connecticut made a BCS bowl despite managing only an 8-4 record and will be hard-pressed to stop Landry Jones and Oklahoma's passing attack. Still, we're looking forward to all these games. Which promises to be the most exciting?
National championship: Auburn vs. Oregon: "I have to say I actually think this game will be close. Auburn will start punding the ball like a 1980s team in the second half and I see Oregon making a couple mistakes to lead to turnovers or souple three and outs and Auburn having a 10 minute 15+ Play drive in the forth to go up by 2 touchdowns." -- EarnYourOwn

Sugar Bowl: Arkansas vs. Ohio State: "Arkansas CAN beat Ohio State. This isn't your grandma's Ark team. This isn't an under-talented HDN team sneaking in through a weak west, relying on David Vs Goliath speeches along the way, only to be crushed in a mis-match. This team has talent, experience, and confidence. So does OSU, which makes this a GREAT match-up. " -- HAWGHEAD14

Orange Bowl: Stanford vs. Virginia Tech: "wooo couldnt have hoped for a better match up than this for my Hokies! Should be a great game. Stanford is a GREAT team, should be a good test for VT. Stanford will be favored, which plays into VTs hands. All season since the embarrassing 0-2 start has been about getting respect back, and if the Hokies can pull off a win over a great Stanford team, they will finally get that respect back! " -- Dmoney51715

Fiesta Bowl: Connecticut vs. Oklahoma: "As a Uconn fan, I have to say that this is great to go to a BCS game and play a team with the history of OU. It was also great to see us destroy a South Carolina team last year and beat Notre Dame at their place as well. However, I am not delusional to think that we could compete week in and out in that conference, but do think they are going to play a lot better than most believe. " -- Ice1396

Rose Bowl: TCU vs. Wisconsin: "Wow, what a statistical dead heat in the offensive category. I hope this game will be as great as it is on paper, statistically speaking. TCU being in the Rose "Granddaddy of them all" Bowl is awesome! This is the true gut punch to the E. Gorden Gee elitists of the world. Rejoice Frog faithful, we are only one of four other teams, OU, UT, Nebraska, and Miami, that have EVER played in this bowl game outside of the Pac-10/Big Ten! Awesome week to be a Frog." -- HornedFrog1992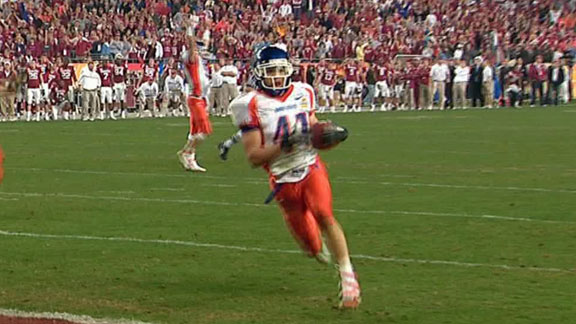 The debate in advance of most college football games operates at a micro level. Does Oregon have a quarterback without Jeremiah Masoli around? (72 points against New Mexico suggests, well, yes.) Will North Carolina have 11 eligible players left to line up on defense? (Barely.) Can Rich Rodriguez coach his way out of a paper bag? (It helps to have Denard Robinson.) But Monday's showdown between No. 3 Boise State and No. 10 Virginia Tech is shaping up as less a football game than a battle for the soul of college football.
Which side are you on? Here's a sampling of the debate raging in SportsNation.
"I'm sick and tired of BSU believing they belong with the college football elite when they play a one game season. Sure, you have had recent success with some BCS schools (however you still have a losing record to teams from BCS conferences), but when you only have to get jacked up for one nonconference game a year and then a bowl game ... it makes for a short season. Thankfully this year VT will take care of you in Week 1 and put the discussion to rest." -- SN commenter maddogUNI
"Sure, teams like BSU, BYU, TCU and Utah beat AQ teams here and there. The problem is that they don't get to play a complete AQ schedule and do not get to prove themselves week after week. So yes they can win that one game, but we have no way of knowing if they could do it for an entire season." -- SN commenter bbazata83
"You just don't listen ... selective listening anyway. I guarentee TCU, Utah and BYU's combined winning % against BCS schools was better than .500 last year. Those are the schools I have been talking about. But you can continue to make it sound like I'm singing the praises of UNLV and Colorado St., but I'm not. Utah, BYU, and TCU are good, and time and time again have proved they can play with and beat anybody in the country, period. If you say otherwise, you just simply haven't been watching." -- SN commenter Head for the Mountains
Karl (Seattle)
I live in Seattle but bleed Orange & Maroon - what do you expect to see Monday between Va Tech and Boise State? What does Tech need to do to win that game?
Ivan Maisel
Thanks, Karl. I think the Hokies need to do what they should do best. Take those running backs and go right at Boise State. They also need to move the chains and keep Kellen Moore off the field. Running backs are good at that, too. Full transcript
Bob (Twin Falls (ID))
Will Kellen Moore ever be an NFL QB? Any other NFL prospects on this years BSU team?
Mel Kiper
Great college QB. He is great with preparation. Very rarely makes a bad decision. You're talking about a guy with 39 TDs and 3 INTs. That's unbelievable. What he worked on this offseason was the deep ball. Titus Young is a speed merchant at WR. They want to get the ball to him. Moore is only about 5-11, 185, 190 pounds. That's the issue, size. That's going to majorly work against him. Their best pro prospect is Nate Potter, a junior. He has a chance to be a first round pick. Young is their next prospect. Jeron Johnson. Pettis. Ryan Winterswyk. Full transcript
Rushing for 1,000 yards as a college player is noteworthy. Doing it twice puts you in a category all your own. In the Big East, 14 workhorses have achieved such a feat and one-third of them come from West Virginia. Put on your college football thinking caps and see if you can name them all by taking the quiz below.
More games from ESPN Arcade »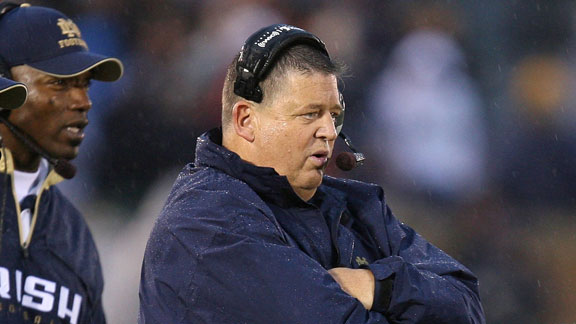 It won't be an easy weekend for BCS Cinderellas, even though they're all playing at home. Cincinnati faces No. 25 West Virginia, TCU gets the pressure of GameDay and No. 16 Utah, and Boise State deals with a surprising 7-3 Idaho (and a visiting AD who doesn't like to fly on planes with Broncos markings).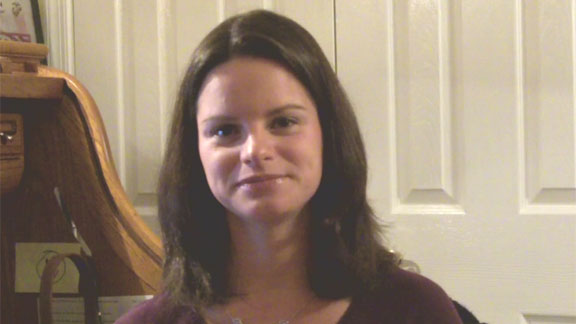 The bad news for North Carolina comes in the form of an 0-3 start in the ACC, a stretch of games in which the Tar Heels have twice failed to reach double digits on the scoreboard. The good news? Butch Davis' team is hanging right with Elon and Appalachian State in the Southern Conference after wins against Citadel and Georgia Southern.
Blacksburg is rarely a good place for a football team to visit when it needs a confidence boost, but that's where North Carolina finds itself tonight, facing a Virginia Tech team likely still smarting from last week's loss at Georgia Tech. SportsNation had high hopes for both the Hokies and Tar Heels this season, ranking them first and fourth, respectively, in the ACC preseason ranker. But if you're looking for a change of pace from the World Series tonight, you could do worse.
"

I hope you Hokies take it easy on us, your D and our O spells trouble in Tar Heel land, and Tech always plays lights out on Thursday nights. I, for one, am nervous. It is such a shame that we DO have such a good defense, and no offense to show for it. I would say lets get Renner some reps, but I don't want to throw him to the wolves this early in his career, especially not on this stage.

"

-- Dave Morris844
"

Both teams are hungry for a win, and UNC isn't going to just lay down because they'll be playing in Lane Stadium. If our defense can stay focused for 4 quarters it will be a fairly close game.

"

-- JustKeepingItReal
"

Looks like the pollsters still respect the Hokies as the best 2 loss team... if we keep winning we should be in a BCS bowl....

"

-- hokiestats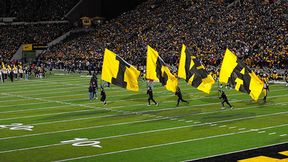 Iowa fans like shuman346 should beware. When your team reaches this point in the season undefeated, every blogger starts eyeing it as a potential upset victim.
In addition to Hawkeyes-Badgers, fans who blogged about football this week are looking forward to the Sooners-Longhorns and Trojans-Irish rivalry games this weekend.
On sideline topics, Florida State did nothing to quiet the debate between the camp that believes Bobby Bowden's record speaks for itself and those who ask what the Seminoles coach has done lately for the team's win-loss record.
These are the best college football fan blogs of the week. Click through to comment, disagree and discuss your favorite teams.
Week 7 predictions: RollFreakinTide37 | BrookBerringer18 | I am Ron Burgandy | gbirkem2 | TheSwingingFriar | Sportsguru6 | IdahoanTyke | TheVols2k7
Rankings (with No. 1 team): pnthrsfn1012 (Florida) | canesinla (Florida) | C.UngureitJr (Alabama) | TheVols2k7 (Alabama) | Yodaman0420

"

Wisconsin over No. 11 Iowa. Let's face it, has Iowa really proved themselves this year? Wisconsin at home in my mind is an easy pick.

"

-- gbirkem2

"

Now, I'm gonna break down the men I think should lead Florida State University: 1. Jim Leavitt; 2. Tommy Tuberville; 3. Kevin Sumlin; 4. Jimbo Fisher.

"

-- malcolmpar

"

When life gives you lemons, you make lemonade. When Jimmy Clausen gives you lemons, you thank him and walk away slowly.

"

-- I am Ron Burgandy
Stanford has produced more than its fair share of famous alumni, from heads of governments in Japan (Taro Aso), Israel (Ehud Barak), Honduras (Ricardo Maduro), Peru (Alejandro Toledo) and the United States (Herbert Hoover) to our personal favorite, the late wine guy Robert Mondavi. The list of athletic alumni is hardly less impressive, including Tiger Woods and John Elway.
Toby Gerhart? Let's just say he's not quite there yet.
Gerhart is not, in fact, a midfielder with the United States national soccer team. Nor is he a goaltender for the Maple Leafs, a right tackle for the Packers or a reliever for the Twins. But try telling that to the nearly 70 percent of SportsNation that picked one of those options.
With 650 rushing yards through four games, including 334 against Washington and UCLA the last two weeks, Gerhart earned his place on ESPN.com's Heisman Watch. Now all he needs to do is introduce himself to SportsNation.
"

If it weren't for the fact that Toby Gerhart is only 14 miles away from the Pacific ocean, he'd be at the top of the Heisman list.

"

-- orangemochafraps
"

I would like to know why this list is mostly offense. I know its pretty and scoring points is cool but defense wins CHAMPIONSHIPS

"

-- rolltide_54