SportsNation Blog Archives

Fresno State Bulldogs
Game 1: SportsNation's burning questions for Fresno State at No. 4 Boise State!


Ryan (Medford)
What 2 teams would you like to see in the National Championship?
Mel Kiper
I'd like to see Boise State, because I want to end this debate once and for all. They brought back 21 starters. They haven't lost in two years. They have a Heisman candidate at QB. They have good players on the defensive side. They won't be the same team next year. The only starter they lost was Kyle Wilson. I want to see this Boise State team, who beat TCU last year in a bowl game. I would like to settle this argument once and for all, against another undefeated team. Obviously, if Auburn and Oregon win out, they play for the title. If Auburn loses, the debate is does a one-loss SEC team trump an undefeated TCU or Boise State? The best matchup would be Boise State against Auburn or Boise State against Oregon. Full transcript
Game 2: SportsNation's burning questions for No. 8 Nebraska at No. 19 Texas A&M


Melissa (Nebraska)
Nebrask's offense seems so vanilla. Do you think Watson has something he's holding back or the offense is what it is? Bo wants the fans to cheer but there isn't much to cheer about except the defense.
Dave Ubben

A valid point about the crowd. Not much to cheer about: weak opponent, a coach they liked. I can't blame the Nebraska fans there. As for the offense, it knows it didn't need to hang a lot of points to win, and the Huskers didn't want to give opponents a chance to hit Taylor Martinez any more than necessary. A solid gameplan but not one that's going to give you a raucous crowd. Full transcript
Game 3: SportsNation's burning questions for No. 13 Arkansas at No. 21 Mississippi St.!


Jeff (Pine Bluff, Arkansas)
What's your Prediction on the Arkansas Mississippi State Game?
Chris Low
I think the Hogs will pull away in the second half. I just don't see Mississippi State being able to score enough points to win this game. Plus, Arkansas' defense is playing a lot better this season. Full transcript
Tags:

Arkansas Razorbacks, Mississippi State Bulldogs, Nebraska Cornhuskers, Texas A&M Aggies, Boise State Broncos, Fresno State Bulldogs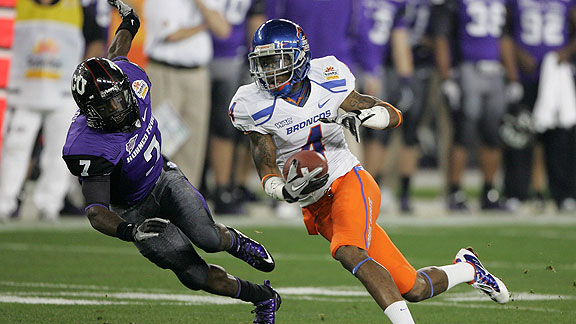 A lot of college football fans will tell you their two favorite teams are their team and whoever plays their rival that Saturday. But it sure feels like Boise State is gaining ground on the latter part of that equation.
There are a lot of things working in Boise State's favor as it builds a nationwide network of fans. The Broncos play at least five games on ESPN or ESPN2 this season, all on weekday nights when college football fans are craving something to tide them over until Saturday. And since it's safe to say the BCS isn't America's most popular institution, it only makes sense to support the team whose diverse playbook has helped poke holes in the system's flaws. Plus, let's be honest, who doesn't love them some blue turf?
So as long as they aren't playing your team, is Boise State America's team?
Brian (Greensboro)
Ivan, pretend that Boise State is any BCS conference this year...where do you rank them? Is it still third (AP), fifth (Coaches) or something else?
Ivan Maisel
I understand your point. But Boise State has won two Fiesta Bowls in the last four years. They have 20-plus starters returning from an undefeated team. I don't think anyone need apologize for ranking the Broncos high. And if they lose, we'll be wrong and we'll all move on. Full transcript
Jeremy (Corvallis)
How do you think Boise would do in the PAC-10? It's much easier to get up for 1 (max. 2) games per year, compared to having to show up every week (except against Wazzu).
Pac-10 blogger Ted Miller
Hard to say: Boise is a good team, and it is particularly good at preparing for big games. But as you say, playing a quality foe just about every week is something the Broncos have not done. I do think this year's Boise State team would finish in the top-third of the Pac-10, perhaps even win the conference. Full transcript
Tags:

Boise State Broncos, Wyoming Cowboys, Utah Utes, UCF Knights, Temple Owls, TCU Horned Frogs, Northern Illinois Huskies, Nevada Wolf Pack, Middle Tennessee Blue Raiders, Houston Cougars, Fresno State Bulldogs, BYU Cougars, Navy Midshipmen