SportsNation Blog Archives

Fresno State Bulldogs
Game 1: SportsNation's burning questions for Fresno State at No. 4 Boise State!


Ryan (Medford)
What 2 teams would you like to see in the National Championship?
Mel Kiper
I'd like to see Boise State, because I want to end this debate once and for all. They brought back 21 starters. They haven't lost in two years. They have a Heisman candidate at QB. They have good players on the defensive side. They won't be the same team next year. The only starter they lost was Kyle Wilson. I want to see this Boise State team, who beat TCU last year in a bowl game. I would like to settle this argument once and for all, against another undefeated team. Obviously, if Auburn and Oregon win out, they play for the title. If Auburn loses, the debate is does a one-loss SEC team trump an undefeated TCU or Boise State? The best matchup would be Boise State against Auburn or Boise State against Oregon. Full transcript
Game 2: SportsNation's burning questions for No. 8 Nebraska at No. 19 Texas A&M


Melissa (Nebraska)
Nebrask's offense seems so vanilla. Do you think Watson has something he's holding back or the offense is what it is? Bo wants the fans to cheer but there isn't much to cheer about except the defense.
Dave Ubben

A valid point about the crowd. Not much to cheer about: weak opponent, a coach they liked. I can't blame the Nebraska fans there. As for the offense, it knows it didn't need to hang a lot of points to win, and the Huskers didn't want to give opponents a chance to hit Taylor Martinez any more than necessary. A solid gameplan but not one that's going to give you a raucous crowd. Full transcript
Game 3: SportsNation's burning questions for No. 13 Arkansas at No. 21 Mississippi St.!


Jeff (Pine Bluff, Arkansas)
What's your Prediction on the Arkansas Mississippi State Game?
Chris Low
I think the Hogs will pull away in the second half. I just don't see Mississippi State being able to score enough points to win this game. Plus, Arkansas' defense is playing a lot better this season. Full transcript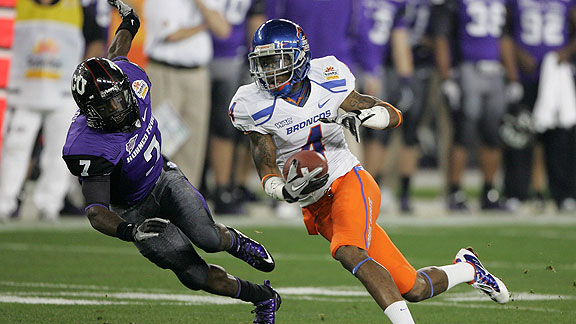 A lot of college football fans will tell you their two favorite teams are their team and whoever plays their rival that Saturday. But it sure feels like Boise State is gaining ground on the latter part of that equation.
There are a lot of things working in Boise State's favor as it builds a nationwide network of fans. The Broncos play at least five games on ESPN or ESPN2 this season, all on weekday nights when college football fans are craving something to tide them over until Saturday. And since it's safe to say the BCS isn't America's most popular institution, it only makes sense to support the team whose diverse playbook has helped poke holes in the system's flaws. Plus, let's be honest, who doesn't love them some blue turf?
So as long as they aren't playing your team, is Boise State America's team?
Brian (Greensboro)
Ivan, pretend that Boise State is any BCS conference this year...where do you rank them? Is it still third (AP), fifth (Coaches) or something else?
Ivan Maisel
I understand your point. But Boise State has won two Fiesta Bowls in the last four years. They have 20-plus starters returning from an undefeated team. I don't think anyone need apologize for ranking the Broncos high. And if they lose, we'll be wrong and we'll all move on. Full transcript
Jeremy (Corvallis)
How do you think Boise would do in the PAC-10? It's much easier to get up for 1 (max. 2) games per year, compared to having to show up every week (except against Wazzu).
Pac-10 blogger Ted Miller
Hard to say: Boise is a good team, and it is particularly good at preparing for big games. But as you say, playing a quality foe just about every week is something the Broncos have not done. I do think this year's Boise State team would finish in the top-third of the Pac-10, perhaps even win the conference. Full transcript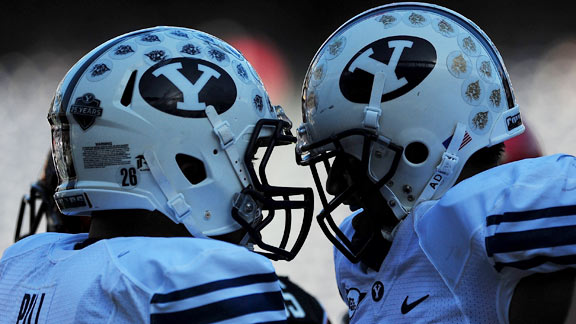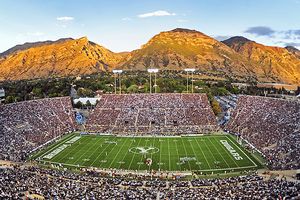 You thought we were done with conference reshuffling just because the regular season is right around the corner and fans are already staking out prime tailgating real estate? Think again. As Andy Katz reported yesterday, BYU is inching ever closer to ditching the Mountain West Conference in favor of football independence (and WAC dependence in the rest of its athletic offerings).
But is making a move to become the "Notre Dame of the West" really a wise plan? Do they only get NBC in Provo? As Brian Kelly starts his first season as coach of the Fighting Irish -- the fourth coach in 10 seasons at the school -- South Bend isn't exactly the center of the college football universe that perhaps it once was.
Meanwhile, even with Fresno State and Nevada coming aboard, SportsNation blogger laneguzman wonders if BYU's departure would lead TCU to make a move of its own.
"Why stay in the MWC without BYU and Utah? What good is a going undefeated and not being able to play for the nation championship? Why should your other sports suffer playing in the MWC when they could join a stronger conference. The Big 12 in baseball perhaps?" -- Check out laneguzman's blog
Kevin (Provo)
What are BYU's chances of having another 10+ win season with their tough schedule?
College Football Nation blogger Andrea Adelson
It's going to be tough. The schedule is absolutely brutal. Washington is going to be better; Air Force is going to be better; FSU is going to be better; Nevada is going to be better. That's just the first 4. There are high hopes at Utah St., too. And then BYU has to play at TCU and at Utah. This team is young and inexperienced without a QB at this point. So I think a 10-win season is going to be an absolute testament to Bronco Mendenhall if it happens. Full transcript
"

This is ridiculous. Some needs to put a stop to all this madness. College Football was great because of the passion and tradition. Lets just call college football NFL JR. Greed is ruining this sport. Sad. If BYU leaves the MWC they will get whats coming to them.

"

-- davidpimp03
"

Ironically, the only thing that is saving the MWC from falling behind the Sunbelt and MAC to #11 is the addition of Boise St.(which it shunned too long). If BSU had stayed in the WAC...? Hawaii, BSU, Nevada and Fresno would definitely be better than what is left in the MWC now.

"

-- bodhisamaya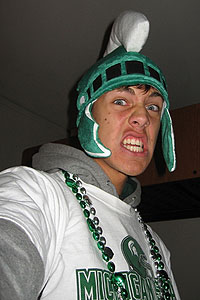 Michigan State fans like detroittim8 are still jumping up and down after their win over in-state rival Michigan last week.
Meanwhile, Florida State fans are hopping for another reason: lack of success.
"I have a ton of respect for Bobby Bowden," writes ryanvcu. "He is one of the greatest coaches ever. However I do feel at the end of the year he should hang it up."
The discussion, spurred in part by rumblings among the university's leadership, includes plenty of people who believe Bowden's legacy speaks for itself.
"The only expert qualified to comment the worthiness of Bobby Bowden's future as coach also has two names that begin with 'B', and the last time I checked he traded his hound's tooth hat for a halo," writes joe.t.elkins.
The Seminoles could quiet critics for at least a week with a win against Georgia Tech.
These are the best college football fan blogs of the week. Click through to comment, disagree and discuss your favorite teams.
Week 6 predictions: JFLASHUBY | TheVols2k7 | cardon032 | bballfever101 | Sportsguru6 | JoeRevs300 | Joey DS | gbirkem2 | dfpsports | TheSwingingFriar | nunyabiz81 | bballfever101
Rankings (with No. 1 team): ADEVARTS (Florida) | pnthrsfn1012 | canesinla (Florida) | fusebox2010 | C.UngureitJr (Alabama) | volsandtitansfans101 (Texas) | CheezusCrust (Iowa)

"

Jimmy Clausen has Heisman numbers so far, and he still has some winning to be done. He plays a pro-style offense.

"

-- I am Ron Burgandy

"

In the end LSU will not be able to keep up with the machine that is Florida. Tebow or no Tebow their running game isn't going anywhere and Brantley will make the throws necessary to win.

"

-- fusebox2010

"

This is the "The One Point Season" that needs to be the wake up call for this coaching staff. I am not optimistic but I hope Bob Stoops can acknowledge the situation and make the coaching style changes needed to fix this issue.

"

-- espnb12s

"

Wisconsin, Auburn: Great job going 5-0. You beat the teams you had to beat even though none of them were very good. The meat of the schedule is now upon you. Are you guys the prince or the ugly frog?

"

-- cardon032