SportsNation Blog Archives

espnW
Twin sisters Chloe and Claire Gruenke were running in the Southern Illinois state track meet this past weekend when Chloe felt a pop in her thigh. Noticing her sister's discomfort, Claire hoisted her up on her back: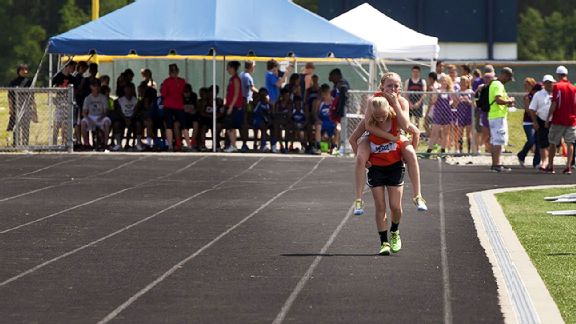 Lisa Rapp / Little Chics Pics
Clutching her sister's legs, Claire began to run the final 370 meters of their 800-meter middle school race for both of them: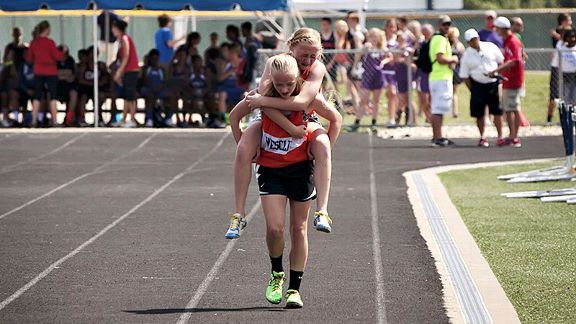 Courtesy of Lisa Rapp/Little Chics Pics
"It's about showing compassion, love and sportsmanship; even if you lose and help somebody, it's still worth it," Claire told St. Louis TV station KTVI.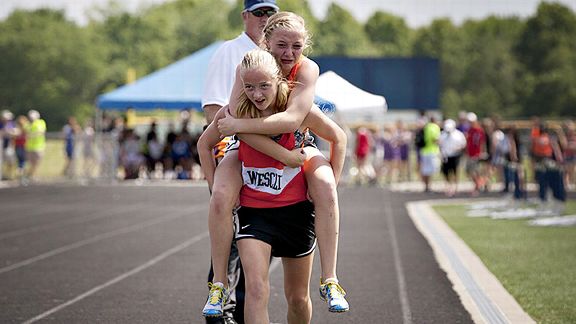 Courtesy of Lisa Rapp/Little Chics Pics
"We just watched breathlessly and luckily had glasses on because we all had tears in our eyes," Wesclin Junior High School coach Ted Crail added.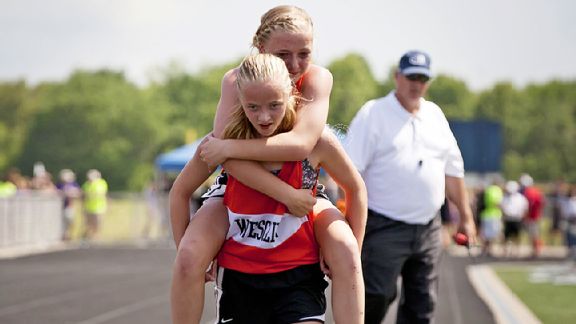 Lisa Rapp/Little Chics Pics
The 13-year-old twins finished the race last, but they showed you don't have to take home a medal to be a true winner.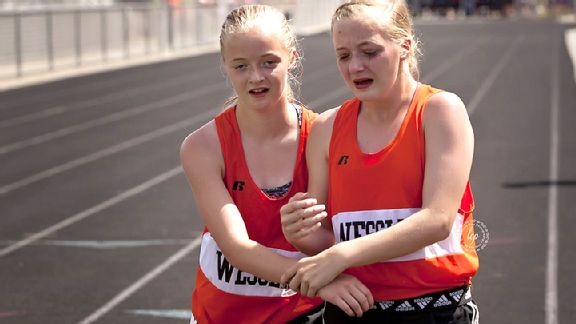 Lisa Rapp/Little Chics Pics
Comment »
First pitches in baseball are deceptively difficult -- so much so that most of them either go straight into the dirt, way over the catcher's head, or somewhere up the first base line. That's wasn't the case for 101-year-old Kitty Cohen, who nailed her first pitch on the first try on Mother's Day:
Honestly, that's a lot better than the majority of us could manage under the circumstances. FUN FACT: when the Rogers Centre opened in 1989, Kitty Cohen was 76.
Who will win women's tourney?
Bracketmania didn't end Sunday. On Monday, the women's NCAA tournament field was released, with -- as expected -- UConn (34-0) earning the No. 1 overall seed for its quest to win a record ninth title. Fellow No. 1s are Notre Dame (also undefeated), Tennessee and surprising South Carolina, with Duke, Stanford, Baylor and West Virginia receiving No. 2s. Which team will take the whole thing? Are you rooting for the Huskies to make history?