SportsNation Blog Archives

Navy Midshipmen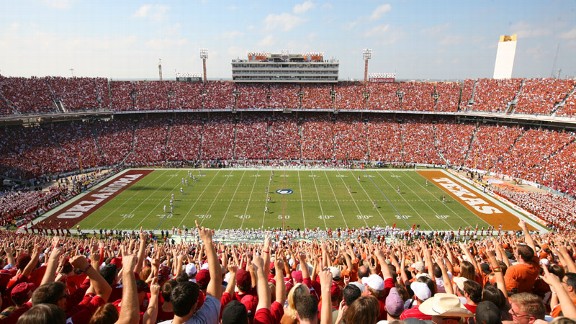 J.P. Wilson/Icon SMI Oklahoma and Texas fans meet each year in Dallas. Is theirs the nation's best rivalry?
Tags:

NCF, NCF, Alabama Crimson Tide, Auburn Tigers, Army Black Knights, Navy Midshipmen, BYU Cougars, Brigham Young Cougars, Utah Utes, California Golden Bears, Stanford Cardinal, Clemson Tigers, South Carolina Gamecocks, Florida Gators, Georgia Bulldogs, Florida State Seminoles, Miami Hurricanes, Miami (FL) Hurricanes, Georgia Tech Yellow Jackets, Harvard Crimson, Yale Bulldogs, Michigan Wolverines, Ohio State Buckeyes, Notre Dame Fighting Irish, USC Trojans, Oklahoma Sooners, Texas Longhorns, Oregon Ducks, Oregon State Beavers, UCLA Bruins, SportsNation Rank
Sure, the opening weekend of college football had plenty of games that made Team USA's 121-66 basketball win against Angola look like a classic by comparison, but we didn't have to wait for Boise State and Virginia Tech on Monday night for a reminder of what we've missed lo these many football fallow months. You want drama? Navy-Maryland and East Carolina-Tulsa offered up a season's worth. But what is a more painful way to lose?
Maryland 17, Navy 14: The Midshipmen rolled up 412 yards on the ground, but they needed 413 for the win. Passing up a chance to tie the game with a field goal in the final minute (one of its only passes on the day), Navy went for broke on fourth down at the 1, only to see Ricky Dobbs stuffed short of the points. Watch the stop | Watch the game
"What an awful decision to go for the touchdown. Maryland has not stopped you all day, you kick the field goal and take your chances in OT. I understand his reasoning for going for the win, but it was the wrong decision. And yes I would have said that even if they had gotten it." -- SN commenter wolverine0611
East Carolina 51, Tulsa 49: Last team with the ball wins? Absolutely, even if the last team with the ball is 33 yards away from the end zone with seconds remaining. Dominique Davis' Hail Mary landed in the arms of receiver Justin Jones to give East Carolina coach Ruffin McNeill a win in his debut. Watch the Hail Mary | Watch the game
"I was at this game. Atmosphere was absolutely electric. I'm still hoarse from screaming. What an unbelievable play, and unbelievable game in general. So frustrating to watch in the stands because of the horrible defense that Ruff's squad played. We have to improve there. But offensively, Dom Davis was incredible. This team is going to surprise a lot of people." -- SN commenter racefan3883
Tags:

Maryland Terrapins, Navy Midshipmen, East Carolina Pirates, Tulsa Golden Hurricane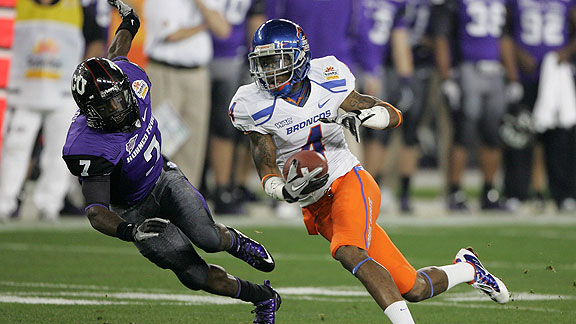 A lot of college football fans will tell you their two favorite teams are their team and whoever plays their rival that Saturday. But it sure feels like Boise State is gaining ground on the latter part of that equation.
There are a lot of things working in Boise State's favor as it builds a nationwide network of fans. The Broncos play at least five games on ESPN or ESPN2 this season, all on weekday nights when college football fans are craving something to tide them over until Saturday. And since it's safe to say the BCS isn't America's most popular institution, it only makes sense to support the team whose diverse playbook has helped poke holes in the system's flaws. Plus, let's be honest, who doesn't love them some blue turf?
So as long as they aren't playing your team, is Boise State America's team?
Brian (Greensboro)
Ivan, pretend that Boise State is any BCS conference this year...where do you rank them? Is it still third (AP), fifth (Coaches) or something else?
Ivan Maisel
I understand your point. But Boise State has won two Fiesta Bowls in the last four years. They have 20-plus starters returning from an undefeated team. I don't think anyone need apologize for ranking the Broncos high. And if they lose, we'll be wrong and we'll all move on. Full transcript
Jeremy (Corvallis)
How do you think Boise would do in the PAC-10? It's much easier to get up for 1 (max. 2) games per year, compared to having to show up every week (except against Wazzu).
Pac-10 blogger Ted Miller
Hard to say: Boise is a good team, and it is particularly good at preparing for big games. But as you say, playing a quality foe just about every week is something the Broncos have not done. I do think this year's Boise State team would finish in the top-third of the Pac-10, perhaps even win the conference. Full transcript
Tags:

Boise State Broncos, Wyoming Cowboys, Utah Utes, UCF Knights, Temple Owls, TCU Horned Frogs, Northern Illinois Huskies, Nevada Wolf Pack, Middle Tennessee Blue Raiders, Houston Cougars, Fresno State Bulldogs, BYU Cougars, Navy Midshipmen