SportsNation Blog Archives

North Carolina Tar Heels
You're looking at "Mikey breakin' away!" according to Mikez818, who uploaded this picture. We see all the excitement and fun that made us love sports in the first place.
Speaking of the hopes and joys of sports, there are youngsters in Ohio who don't yet realize the futility and frustration of being a Bengals fan.
Cincinnati fans want to be optimistic about Chad Ochocinco's positive comments of late, but many will be unconvinced until Carson Palmer connects with the team's most vocal receiver.
Thanks to BENTABOY for reminding us that everyone starts the season with a blank slate.
Some seasons end too early. Arizona State beat North Carolina 12-5, eliminating the Tar Heels from the College World Series on Thursday, but that doesn't mean MizzouTarHeelsfan09 isn't proud of her team, which finished as one of the eight best NCAA baseball teams this year.
The Tar Heels fan uploaded a gallery chock full of pictures from Rosenblatt Stadium in Omaha, Neb. And she's jumped on the Texas bandwagon just in time for the Longhorns' championship battle with the LSU Tigers.
The Magic were another team that picked up fans as they got deeper in the postseason.
Even though Orlando lost in the NBA Finals, 21antos proudly sports a Magic jersey in front of a wall of team gear, including a Marino Dolphins jersey.
These pictures were among our favorites uploaded this week to the ESPN profiles. If you saw a picture you liked or uploaded a picture you're proud of, drop a link the comments below and we'll take a look.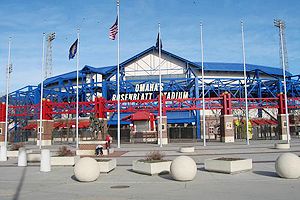 It's June and our thoughts turn to the boys of spring and summer, who begin College World Series play this weekend in Omaha. Texas, Southern Miss, LSU, North Carolina, Arizona State, Arkansas, Cal State Fullerton and Virginia will determine the national champion in a double-elimination tournament.
Poster bostonrandy (who tweets about college baseball and sports under the same name) calls it "one of the greatest sporting events in America." Why Omaha? Fan blogger Bric875 explains.
If you want to discuss the games, check out the conversations attached to the stories on the ESPN.com College Sports page or join the College World Series group below. If you're in Omaha during the tournament and want to tell us about the experience, post a blog on your profile, upload some pictures and drop a link in the comments below.
Vote: Who will win the College World Series?
Join a group: CWS (College World Series)
Photo courtesy of huskersteve01, who also started the CWS group.