SportsNation Blog Archives

Texas Longhorns
Oklahoma hasn't won a national title since 2000, but it seems that drought may come to an end as the top-seeded Sooners are the favorite to win this year's Women's College World Series. How does the field, which includes perennial powers Arizona State, Florida and Tennessee, stack up? Click the team logos below to set your rankings!


WCWS teams

Arizona State

Arizona State
Seed: No. 5
Record: 50-10


Florida

Florida
Seed: No. 2
Record: 57-7


Michigan

Michigan
Seed: No. 8
Record: 50-11


Nebraska

Nebraska
Seed: No. 14
Record: 45-14


Oklahoma

Oklahoma
Seed: No. 1
Record: 52-4


Tennessee

Tennessee
Seed: No. 7
Record: 49-10


Texas

Texas
Seed: No. 4
Record: 49-8


Washington

Washington
Seed: No. 11
Record: 43-15

Your Rankings
1.

2.

3.

4.

5.

6.

7.

8.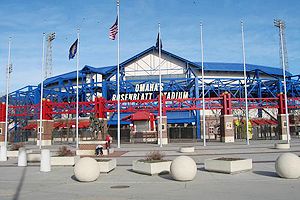 It's June and our thoughts turn to the boys of spring and summer, who begin College World Series play this weekend in Omaha. Texas, Southern Miss, LSU, North Carolina, Arizona State, Arkansas, Cal State Fullerton and Virginia will determine the national champion in a double-elimination tournament.
Poster bostonrandy (who tweets about college baseball and sports under the same name) calls it "one of the greatest sporting events in America." Why Omaha? Fan blogger Bric875 explains.
If you want to discuss the games, check out the conversations attached to the stories on the ESPN.com College Sports page or join the College World Series group below. If you're in Omaha during the tournament and want to tell us about the experience, post a blog on your profile, upload some pictures and drop a link in the comments below.
Vote: Who will win the College World Series?
Join a group: CWS (College World Series)
Photo courtesy of huskersteve01, who also started the CWS group.
BEST OF THE BEST
Stay or go for LeBron?
What would be the best move for LeBron James
-- staying with the Heat, or leaving? Vote! »