SportsNation Blog Archives

Carlos Boozer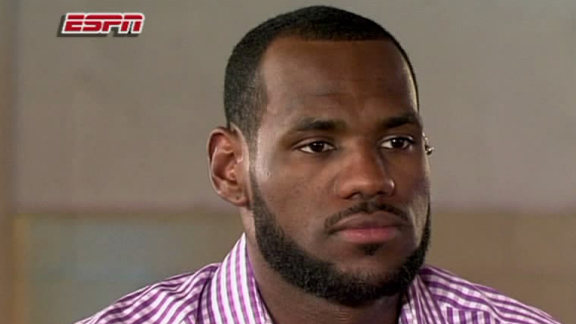 Five years ago today, LeBron James announced he was taking his talents to South Beach. But while his announcement garnered the most attention, he wasn't the only high-profile player to switch jerseys that summer. We revisit the other major "decisions" made that fateful summer, and which moves warrant a thumbs up -- or thumbs down.
Note: Dirk Nowitzki, Dwyane Wade, Joe Johnson and Yao Ming all re-signed with their respective clubs and therefore weren't included in the discussion.
• • •
Chris Bosh: From Toronto Raptors to Miami Heat
Thumbs up
Prior to "The Decision," Bosh swapped digits going from The 6 to the 305, incentivized by a "secret" agreement from LeBron to form a new Big 3 in Miami. The result: $110.1 million, one asinine welcome pep rally, five consecutive All-Star appearances, and not one, not two - well, we all know how that went.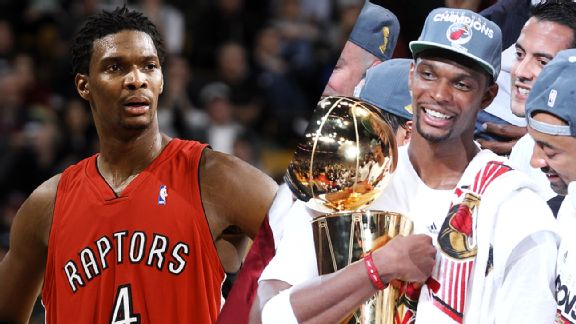 Getty Images, USA Today Sports
Amar'e Stoudemire: From Phoenix Suns to New York Knicks
Thumbs down
Concerns over his health led Amar'e to desert Phoenix for the Knicks' $100 million money grab. He was a Broadway hit while clinching three straight playoff berths, but fans turned on him (and the team) in a New York minute once injuries and a lack of chemistry with Carmelo Anthony made the franchise a punchline.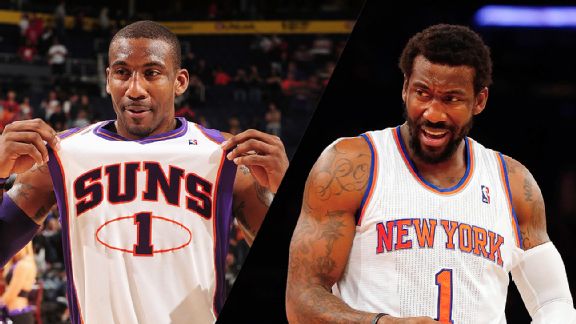 Getty Images
Carlos Boozer: From Utah Jazz to Chicago Bulls
Thumbs down
Boozer was productive in Chicago (averaging 15.5 points and 9.0 points per game), but the team could not overcome his horrible D, Derrick Rose's injuries or their Miami rivals to make his tenure a success. His Midwest move netted him close to $80 million, but resulted in an acrimonious divorce reminiscent of his exit from Utah.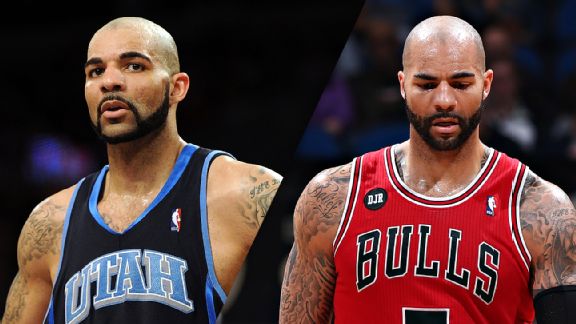 Getty Images
David Lee: From New York Knicks to Golden State Warriors
Thumbs up
Despite losing his spot in the rotation this year, Lee's decision to bolt Broadway was profitable both on and off the court. The stat-stuffing forward pocketed $80 million in a sign-and-trade deal that helped him escape the NBA's version of Alcatraz for greener (and championship gold) pastures.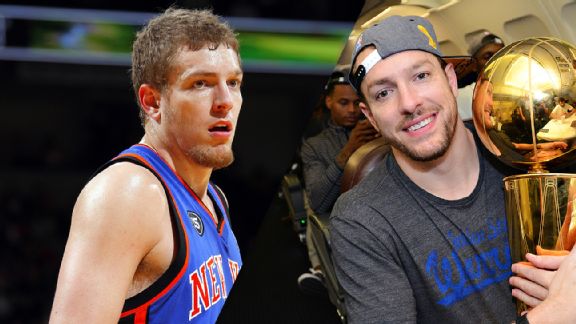 Getty Images
Shaquille O'Neal: From Cleveland Cavaliers to Boston Celtics
Thumbs up
At this juncture of his career, Shaq was in full title-chasing mode, willing to latch on to any squad with a glimmer of title hopes. That led to a forgettable, injury-riddled season on the court; but a wildly entertaining year off it, because, well, he's Shaq. Now can we get the "Shaq statue" a permanent home in Harvard Square?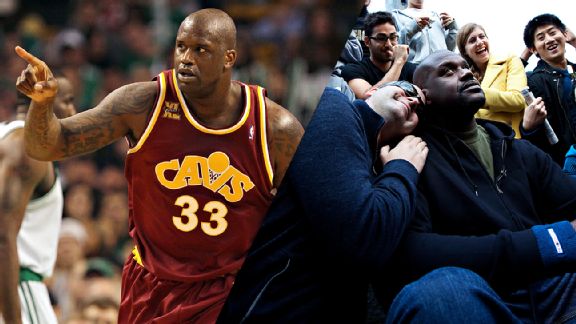 Getty Images
Tags:

Chris Bosh, Shaquille O'Neal, David Lee, Carlos Boozer, Amar'e Stoudemire
The long wait will be over at 12:01 a.m. ET Thursday, and we can officially, well, keep waiting at least another week. All right, so the official start of NBA free agency tonight may be a bit of a letdown, considering players can't actually sign contracts until July 8, but the wooing is what matters. Like college recruiting, only more legal and arguably less extravagant, teams will try everything short of general managers breaking out their best "Say Anything" John Cusack impersonations to win over players (and we're not putting Peter Gabriel past John Paxson).
Even now, reality appears to be setting in for some. A Nets fan once hopeful for the ultimate prize is looking at alternatives to LeBron, including a way of tweaking the Knicks that goes beyond just careful placement of billboards.
"If the Nets miss out on LeBron and Wade and Bosh, I think it is almost definite that the Nets get David Lee. Lee gets to stay in the NY/NJ area, and the Nets finally get the strong PF they havent had since K-Mart left. After that, they would need to target SG, and they have expressed interest in Rudy Gay. He is the best SG for the money. Since Lee and Gay don't get the attention they deserve, they will probably come cheap, and the Nets could continue to be the scavengers of this free agency market." -- Read MdMaChOmAn's full post.
"

The "fact" is that nobody knows how any of this is going down. From the average fan to the highest paid journalist; it's all speculation. Anybody saying anything different is fulla ...

"

-- _mongo_slade_
"

So if Bosh, Lebron, and Wade go to Miami who else can Miami afford to have on the roster? Can I play PG?

"

-- danielmiller19
Tags:

Paul Pierce, Ray Allen, LeBron James, Dirk Nowitzki, Dwyane Wade, David Lee, J.J. Redick, Amare Stoudemire, Chris Bosh, Joe Johnson, Carlos Boozer
By the time the Lakers wrapped up their NBA title against the Magic, handing Phil Jackson championship No. 10 in his coaching career, we had all more or less agreed he was the greatest coach in the history of the known universe. Or something like that; we have been known to dabble in revisionist hyperbole.
But as it turns out, the best coach in the world isn't the coach SportsNation wants leading Team USA against the best the rest of the globe has to offer. Mike Krzyzewski is signing on for another run at international glory, including the 2010 World Championship in Turkey and the 2012 Olympics in London. Who should he take with him?
"

Good move. the guys seemed to love playing for him and with each other, esp LBJ, Wade, Kobe, Melo, Bosh, Paul, DWill, Dwight. If those 8 come back, u can fill the rest of the roster with young guys and give them a chance to develop into our future national team. guys like Roy, Durant, Rose, Mayo, Griffin, Bynum, Aldridge.

"

-- eyerah7
"

Its good Coach K is sticking around, hopefully we take the World Championships seriously next year, we haven't won Gold in the World Championships since 1994.

"

-- steel_reserve29
Tags:

LeBron James, Carmelo Anthony, Jason Kidd, Tayshaun Prince, Kobe Bryant, Dwyane Wade, Michael Redd, Chris Paul, Dwight Howard, Chris Bosh, Carlos Boozer, Deron Williams