SportsNation Blog Archives

Mark Buehrle
Conventional wisdom tells us a good game for an official is one in which we don't notice him. So what about when an official becomes the center of a national debate?
NBA referee Eddie Rush's iffy technical on Kendrick Perkins, setting the Celtics big man up for a possible suspension unless one of his two technicals from Game 5 is rescinded, and MLB umpire Joe West's quick hook for Mark Buehrle and Ozzie Guillen put officials squarely in the spotlight Wednesday.
Ozzie Guillen made no secret (shocker) of his displeasure with West, and the ump who famously ripped the Red Sox and Yankees is no stranger to the spotlight. And in Orlando, even Jeff Van Gundy and Mark Jackson couldn't believe the technical that puts Perkins' availability for Game 6 in jeopardy. So who made the worse call?
"

Joe West is one of baseball's biggest embarrassments. He loves to draw attention to himself any way he can, and that's exactly what he did in this game. He probably really believes that people come to the games to see him.

"

-- BreezlyBruin921
"

I love the NBA, but at this point I'm getting "referee fatigue." I had hoped that when the league went to three referees they would be able to keep up with the game. I don't know, maybe they see more which only makes the completely arbitrary nature of their calls even harder to bear. It seems as if they make it up as they go along. On the other hand I can count on one hand the number of players on all four remaining teams who just raise their hands after a foul is called and get ready to play on.

"

-- Kenneth4161
In the aftermath of Mark Buehrle's perfect game last week, the second no-hitter of his career, SportsNation was rather divided as to whether or not he would throw another no-no during his career. For a long stretch Tuesday night against the Twins, it looked like he might throw another this month. No doubt, that would have perked up his Hall of Fame chances a bit.
Buehrle lost the perfect game on a walk and the no-hitter on a single, both in the sixth inning, but he did set a record by recording 45 consecutive outs between the two starts (a record previously shared by White Sox reliever Bobby Jenks and the immortal Jim Barr, who finished his career with a 101-112 career record). And while it's an impressive feat, SportsNation ranks it decidedly behind Orel Hershiser's 59 consecutive scoreless innings.
But putting aside the record Buehrle did set in defeat, where would a second consecutive no-hitter have ranked? Joe DiMaggio's 56-game hitting streak may be the most iconic single-season record in the game now that the home run record is mired in a morass of morality, but would seeing someone match that really be any better than seeing someone match Johnny Vander Meer's (that's him, above) back-to-back no-hitters?
"

This man is on fire.... Most of the time after a pitcher throws a no-hitter (not gonna mention perfect game), he usually doesn't come close to repeating performances. 45 straight outs is no easy feat (no pun intended) for anybody and absolutely amazing. Congrats Beurhle...

"

-- tjdixon81
"

congratulations to mark buherle maybe now he gets the respect he deserves as one of baseballs better pitchers

"

-- cbn2711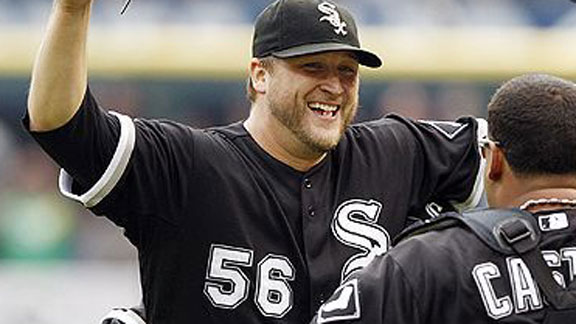 Jim Parque sure picked a good day to come out as a disgraced former White Sox pitcher.
A day that began in Chicago with the White Sox answering questions about a guy most of them never played with (and who said his use of performance-enhancing drugs came after leaving the team) ended with one of his few remaining former teammates forcing a much more pleasant revision to the game's record books. Mark Buehrle's perfect game was just the second of this century and No. 18 all time (counting Don Larsen's World Series gem).
Yes, there have been more Arena Bowls in our sporting history than perfect games.
Of course, as rarely as perfect games come along, they're New York City cabs compared to catches that top Willie Mays' over-the-shoulder grab in the 1954 World Series. Dewayne Wise gave it his best shot Thursday, leaping high and extending an arm over the fence to preserve Buehrle's perfection in the ninth inning. but SportsNation rules it wasn't good enough to unseat the Say Hey Kid.
"

If this kid can, hopefully, avoid significant injury and gets to the 300 win mark with, at least, one no hitter, perfect game, and WS championship on his resume, he'll be a first ballot Hall of Famer. For sure.

"

-- IlliniDave68
"

Alright, I'll admit it. When I saw Mark Buehrle get the last out of the game, I actually got on my feet and started cheering. I may not have been happy that it was against my team, but he pitched one Hell of a game. And for that, I tip my hat to him for giving me a moment in history that I might be able to share with my kids someday.

"

-- UPS Wyatt
"

Don't forget that Buehrle's NO NO in 07' was one fifth inning walk away from being a perfect game. He walked Sammy Sosa, but later picked him off. He faced the minimum 27 batters in that game as well. Unreal. This guy is Legit! And to do it against the defending AL champs...WOW.

"

-- greateromaha
"

I'm still trying to think of a way that catch could have been any more amazing... maybe if he'd grabbed some fan's beer with his teeth, drank it using no hands, and belched "Take Me Out To The Ballgame" as he made the play. That's about all I can come up with

"

-- GoWIndyCity