SportsNation Blog Archives

Washington Nationals
By
Meg Wilkinson
| ESPN.com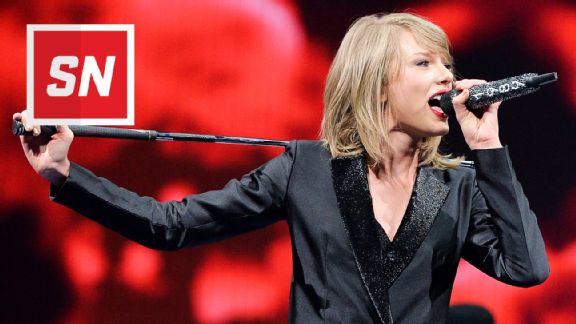 George Pimentel/Getty Images for TAS
Despite the MVP hitting of Bryce Harper, Washington Nationals fans have been clamoring for more power in their lineup. Friday night, they just wanted actual power in the stadium.
Three times during the Dodgers-Nationals game, a bank of lights went out at the park. And after the third electrical problem, the umpires called the game.
That got some players wondering: What could have caused this electrical outage? The logical answer: the last person to use the facility.
Well who was the last one to use Nationals Park last? Taylor Swift.. I blame her for the power outs tonight. We now have #BadBlood

- Max Scherzer (@Max_Scherzer) July 18, 2015
@taylorswift13 your concert used up all the electricity in DC..thanks for helping start the 2nd half with a bang

- Joc Pederson (@yungjoc650) July 18, 2015
I like the theory that the lights are Taylor Swift's fault.

- Brett Anderson (@BrettAnderson35) July 18, 2015
Then all was cleared up by Harper, who reminded us about his lengthy hair routine.
My bad everybody..I knew I shouldn't of used that blow dryer before the game! #shortage

- Bryce Harper (@Bharper3407) July 18, 2015
"Bad Blood" or not, Swift's camp experienced a mechanical malfunction during her show at Nationals Park earlier this week, so we might never know the real source of the power failures. Let's all "Shake It Off." The game will resume Saturday.
We knew Cincinnati Reds first baseman Joey Votto was good at drawing walks, but this is ridiculous.
Yes, during Sunday's game against the Washington Nationals, Votto took a ball to reach a 3-2 count ... but was awarded a walk and, as a result, headed to first base. No one seemed to notice the error.
According to the Cincinnati Enquirer, this stemmed from an extra ball being added to the stadium scoreboard. It even had the TV play-by-play crew fooled.
And although it likely didn't influence the final outcome too much -- the Reds won 8-2 -- it did come as part of a six-run seventh inning. So ... perhaps Votto's otherworldly walk-drawing did give Cincinnati an edge?
Getty Images
2014 MLB playoff predictions
The regular season is done. The wild-card games are over. The division series are underway. How will it all play out?
Getty Images

MLB second half predictions?

The MLB's second half is upon us, and only two teams have leads of more than 1.5 games in their respective divisions. In other words, this should get intense. Who will win all the divisions? The leagues? The World Series? Cast your votes below!