SportsNation Blog Archives

Aaron Rodgers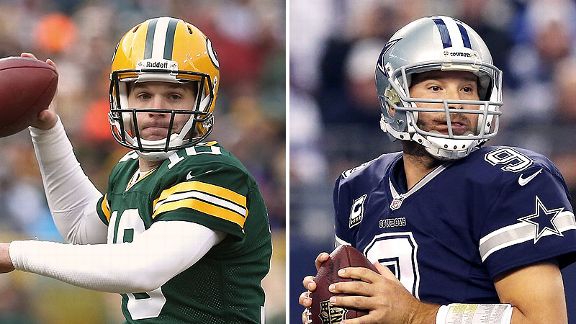 Getty Images
NFL Week 15 -- Packers at Cowboys
The fight for the playoffs continues in the Northeast quadrant of the NFC, with the Green Bay Packers and Dallas Cowboys both looking up at their respective division rivals. This means Sunday's game between the two feels almost like a playoff contest. Adding to the intrigue: questions surrounding Aaron Rodgers' return; he experienced pain in his most recent practice session, making Matt Flynn the likely starter Sunday. Which team will keep a division title in sight?
One thought to belong to the Dallas Cowboys and Green Bay Packers, respectively, the NFC East and NFC North are pretty tight right now. The Philadelphia Eagles took the outright lead in the former, albeit by just a half-game as the 5-5 Cowboys remained idle. Right behind Dallas are the New York Giants, who won their fourth straight after that 0-6 start.

Among the Great Lakes teams, the first-place Detroit Lions lost at the Pittsburgh Steelers, dropping them into a tie with the Chicago Bears (victorious over the Baltimore Ravens). Those Packers, meanwhile, dropped their third in a row, continuing to struggle in the absence of Aaron Rodgers. What does the future hold for these divisions?

---

NFC East champ?

Will Nick Foles and the Eagles close the deal? Or do their rivals have something left?

---

NFC North champ?

Despite the best efforts of Matthew Stafford and Calvin Johnson, Detroit still could be upended.

---

Out of the East?

From barely reaching the playoffs to going all the way -- could Eli Manning and the Giants do it again?

---

Out of the North?

If Aaron Rodgers can come back healthy, and if the Packers somehow get into the playoffs, would that make them a sleeper?

Gregory Shamus/Getty Images

NFL Week 11: Packers at Giants

Oh, those ever-shifting NFL narratives. A month ago, it appeared the Green Bay Packers would cruise to the NFC North title and the New York Giants would "contend" for the No. 1 overall pick. Now? The Aaron Rodgers-less Packers are outside playoff position, while the suddenly 3-6 Giants are creeping into the NFC East title discussion. A win by the home team Sunday would only further both facts.

AP Photo/Jeffrey Phelps

Packers done without Rodgers?

Perhaps the biggest injury of the season hit early Monday night, when Aaron Rodgers fell awkwardly on a sack and left the game with a left-shoulder injury. The Green Bay Packers couldn't overcome their quarterback's absence, falling to the Chicago Bears 27-20 with Seneca Wallace under center. After the game, Rodgers confirmed he had a broken collarbone, something sources tell ESPN.com could sideline him for three weeks.