SportsNation Blog Archives

Jason Campbell
When you've got a good quarterback, you've got a chance to win in the NFL. When you don't, you change starters. Maybe you sign a free agent off the street as insurance. And maybe you take inspiration from Batman and illuminate the night sky with the Brett signal -- as in Brett Favre -- like the Rams reportedly did.
Now, don't expect live reports from Hattiesburg, Miss., as Favre says he's retired. For good. Really. But it makes us wonder how confident the Rams are in backup Kellen Clemens replacing the injured Sam Bradford. The Rams aren't alone in this boat -- not when the Browns are about to trot out their third starting QB of the season and the Vikings are choosing between Josh Freeman and Christian Ponder.
---
Meet Me In St. Louis?
Brett Favre gained a reputation for wavering on retirement, but he was firm Thursday that his career is over.

---
Is that Brett Favre's music?
The Rams reportedly reached out to Favre despite the fact it's been nearly three years since he has played in an NFL game.

---
Valhalla I am coming
Matt Cassel, center, quarterbacked the Vikings' only win of the season. But Christian Ponder, right, is set to start if Josh Freeman can't.

---
Opportunity knocks
Jason Campbell was passed over the first time the Browns changed quarterbacks. He'll get his chance Sunday against the Chiefs.

---
Hard times
Campbell is replacing Brandon Weeden, who has struggled mightily this season in Cleveland.

Tags:

Cleveland Browns, St. Louis Rams, Minnesota Vikings, Christian Ponder, Matt Cassel, Josh Freeman, Jason Campbell, Brandon Weeden, Sam Bradford
Remember when Carson Palmer used to play for the Bengals? Before the pseudo-holdout and the emergence of Andy Dalton, Palmer was actually a pretty good quarterback at times in Cincinnati. Could he be a pretty good QB in Oakland? The Bengals reportedly are on the verge of trading him to the Raiders for a first-round pick in 2012 and a conditional first-round pick in 2013. That sounds like a pretty good haul for a guy who wasn't even playing for the Bengals, don't you think? Or are the Raiders finally getting a potential franchise quarterback out of a bad situation?
More: Would you start Jason Campbell over Palmer if both are healthy?
---
Are the Raiders overpaying?
In most years, a first-round pick from the Raiders could be an amazing haul. This year, it might result in a pick very late in the round.

Tags:

NFL, Cincinnati Bengals, Oakland Raiders, Carson Palmer, Jason Campbell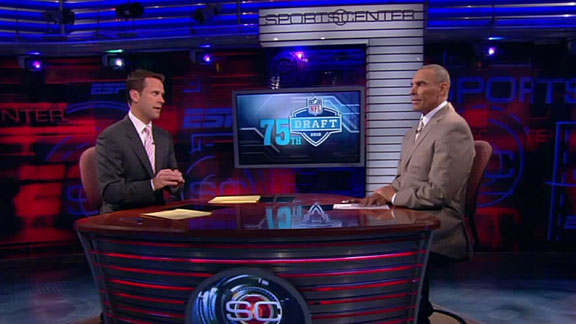 Jim Plunkett? Won Super Bowls with the Raiders after so-so stints with the Patriots and 49ers. Rich Ganon? Won an MVP and reached a Super Bowl with the Raiders (yes, the Raiders really reached the Super Bowl less than a decade ago) after having never started more than 12 games with any team other than Oakland. Even Jay Schroeder reached a conference title game with the Raiders after the Redskins ditched him.
All we're saying is the Raiders don't have the worst track record in rehabilitating flailing quarterback careers. So welcome, Jason Campbell. And yes, we're ignoring the Jeff George and Jeff Hostetler experiments.
Since the quarterback class of 2004 arrived, eight first-round quarterbacks seem to be living up to the hype -- Eli Manning, Philip Rivers, Ben Roethlisberger (current problems or not), Aaron Rogers, Matt Ryan, Joe Flacco, Matthew Stafford and Mark Sanchez. Nine other signal callers picked in the first round? From flashes of potential to flat-out flops (hello, JaMarcus Russell), there are still question marks. Who still has a chance? Rank 'Em.
Brandon (KY)
Mel, do you think the raiders adequately addressed their offensive tackle situation in this draft, or will Jason Campbell be running for his life?
Mel Kiper
McClain, they could have had Anthony Davis. They traded their starting MLB to Jacksonville. They also got Houston in the second round. I like their first two picks. But they still needed to improve their OL. The OL is still a question mark. You're asking a D-II player and a workout warrior in Bruce Campbell to be your answer. One of them needs to take the spot. When they drafted Jacoby Ford they could have had a David Reed, Riley Cooper, Carlton Mitchell, Dezmon Briscoe. They did it because he was the fastest player in the draft. I like some of the other things they did. I gave them a C+. Full transcript
"

Campbell is no "... legitimate quarterback ..." !!! He went 4-12 last year. He's been on his way out of Washington ever since he got there. If he was such a good q.b., why would Shanny bring in McNabb ??? I hope the Traders make him their starter, they won't even win five games next season.

"

-- bronncohowie
"

Just put JaMarcus Russell at defensive end.

"

-- Stofi619