SportsNation Blog Archives

Chris Paul
Happy birthday, Chris Paul.
Today the NBA superstar turns 30 years old, although he's still schooling defenders like he's in his early 20s (sorry, Spurs). In honor of No. 3 hitting the big 3-0, here are three things you may not know about CP3.
1. He's a politician who actually keeps his word
Paul organized, promoted and co-hosted West Forsyth High School's 10-year class reunion in 2013. He did so not to flash his opulence or make exes jealous of his wife, but to dutifully fulfill one of his responsibilities as senior class president. That steadfast dedication likely played a role in Paul getting elected as NBPA union president.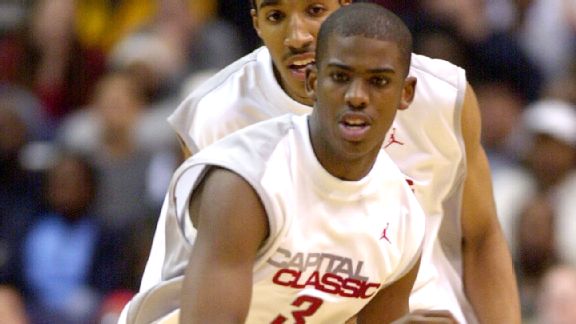 George Bridges/MCT/Getty Images
2. He rolls with the stars, but roots for one star
Paul and his super friends -- LeBron James, Dwyane Wade and Carmelo Anthony -- vacation together each summer, hitting up hot spots like Las Vegas. Like James, Paul is also a passionate Dallas Cowboys fan and can often be found at training camp in Oxnard, California, to assess Big D's title hopes.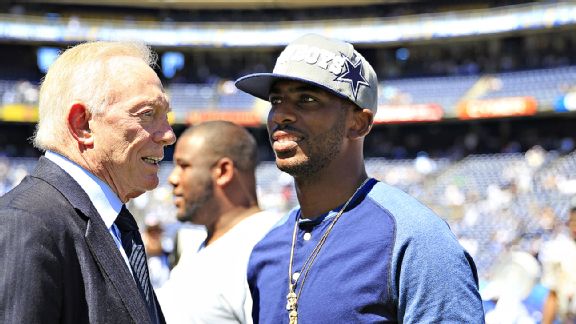 AP Photo/James D. Smith
3. He's a gracious host -- even to rivals
You might not be able to tell it by the way Curry embarrassed his elder counterpart with this ridiculous crossover last month or the animosity that has developed between their teams, but Paul and the newly minted league MVP are tight off the court. Curry credits Paul with helping him prepare for the transition to the NBA, as the two Carolina natives traveled around the Southeast to train. Paul took Curry under his wing as a rookie, even opening his home to his future rival to train and live with him.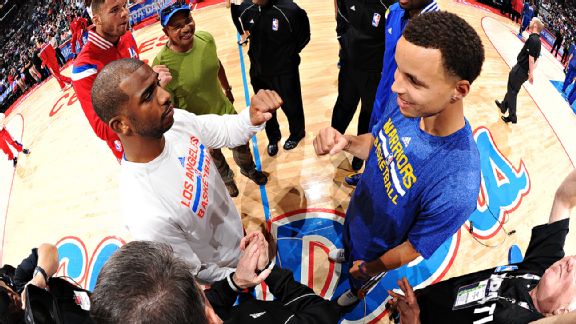 Andrew D. Bernstein/NBAE/Getty Images
As for Paul's birthday, we couldn't let it pass without offering a few gift suggestions for the man who has it all. While a healthy hamstring and a Game 2 win in Houston likely top his list, we have a couple of other suggestions:
More acting lessons: Let's be honest, those Cliff Paul commercials have run their course. We'd like to see CP3 branch out to other roles like a diminutive cop buddy flick alongside his buddy Kevin Hart.
New jewelry: We're thinking a couple of rings -- one for the Clippers, of course, as 2014-15 NBA champs, and the other for his beloved Cowboys as SB 50 winners.
The latter might be the only thing that can top last year's gift. Thanks, Kelly ... err, Tiffany.
It's been an eventful 24 hours for Chris Paul.
In Tuesday's loss, the Los Angeles Clippers guard got victimized by a sick Stephen Curry move, to which even CP3 tipped his figurative cap.
During Wednesday's win, Paul got into the following scuffle with Portland Trail Blazers center Chris Kaman, which started with a hit by Paul below the belt. Accidental? You be the judge.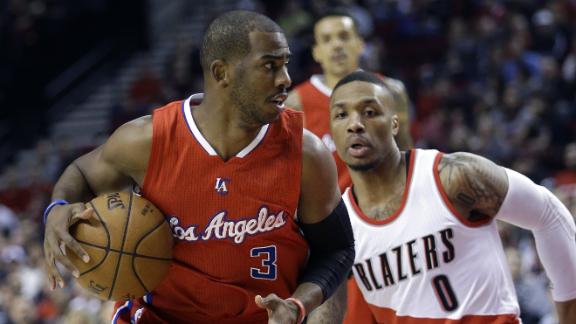 Kaman drew a flagrant foul for shoving Paul, which itself drew the attention of Glen "Big Baby" Davis. This led to a slight tangle-up with LaMarcus Aldridge, during which Davis, shall we say, embellished things just a bit.
After the game, Paul addressed the scuffle -- but didn't exactly think a whole lot of it:
This is going to be some Western Conference playoffs.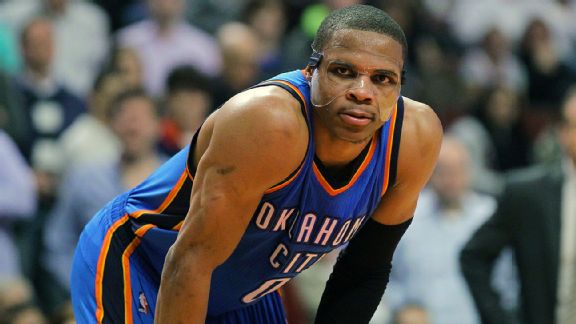 Dennis Wierzbicki/USA TODAY SportsRussell Westbrook is averaging 27.4 points, 8.3 assists and 7.1 rebounds per game this season.
Oklahoma City guard Russell Westbrook has been on a tear this season. Even after he fractured his cheekbone after taking an inadvertent knee to the face, Westbrook returned to the court a few days later unfazed -- and with some new face gear.
It got us thinking about other notable NBA players who have worn masks at some point in their careers:
LeBron James
In 2014, LeBron's black carbon-fiber mask was a hit among fans, but the NBA requested he wear a clear mask to protect his then-broken nose. Even so, LeBron managed to be LeBron, scoring 31 points on 13-of-19 shooting in a game Feb. 27 against the New York Knicks.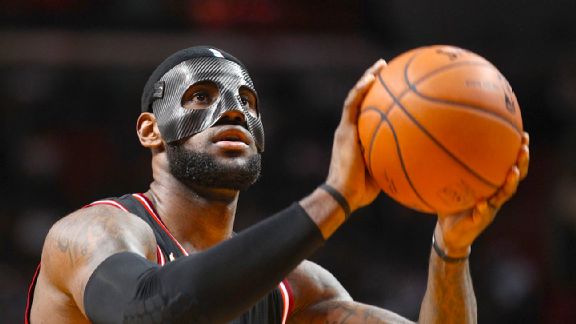 Marc Serota/Getty Images
Kobe Bryant
Mask or no mask, Kobe is going to score. But with the mask, he put up 38 points and eight rebounds in a game against the Sacramento Kings on March 2, 2012.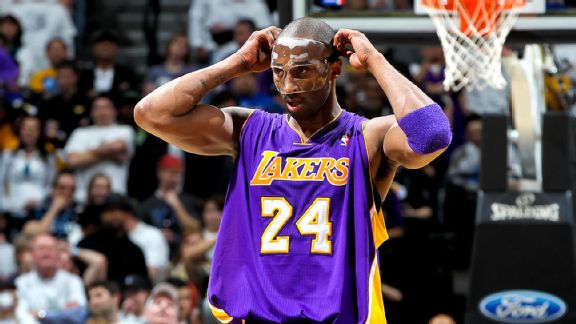 David Sherman/NBAE/Getty Images
Chris Paul
After being elbowed in the nose by San Antonio Spurs guard Danny Green in a game on March 9, 2012, Paul wore a mask for several weeks to protect his face.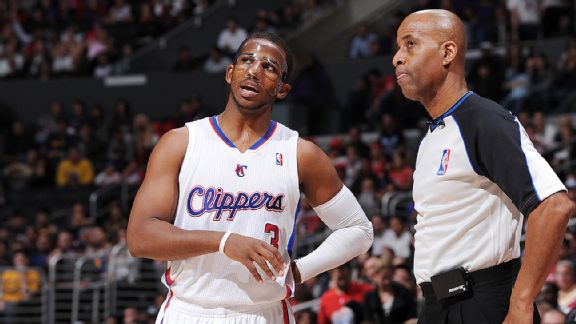 Noah Graham/Getty Image
Richard Hamilton
Hamilton made the mask a thing of his own. Despite breaking his nose during the 2003-2004 NBA season, Hamilton led the Detroit Pistons' championship team in scoring with 17.6 points per game. Hamilton went on to wear the mask the rest of his career.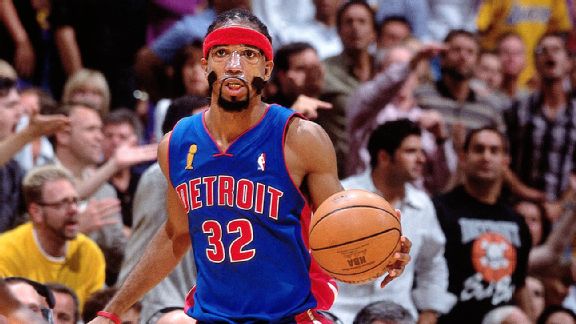 Andrew D. Bernstein/NBAE/Getty Images
Kyrie Irving
After his jaw was broken, the mask affected Irving in a good way. The Cavaliers' point guard had what was at the time a career-high 41 points, plus five rebounds and five assists against the Knicks on Dec. 15, 2012.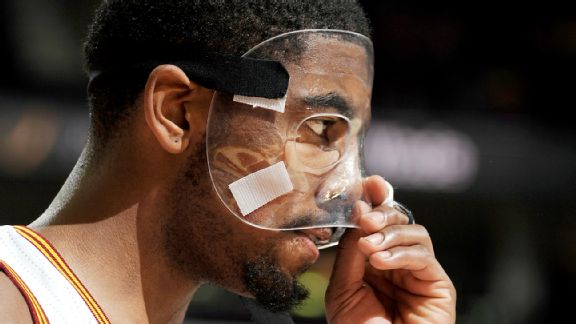 David Liam Kyle/Getty Images
Tracy McGrady
McGrady needed to wear a protective mask in 2006 when he played for the Houston Rockets after taking an accidental elbow to the nose from former NBA player Jake Voskuhl.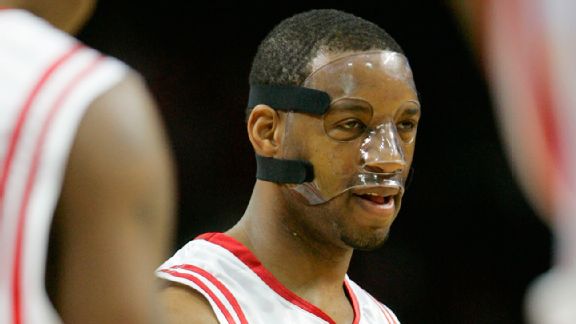 AP Photo/David J. Phillip
Alonzo Mourning
Although it was for a short amount of time, Mourning wore a mask in 1998 to protect his fractured cheekbone.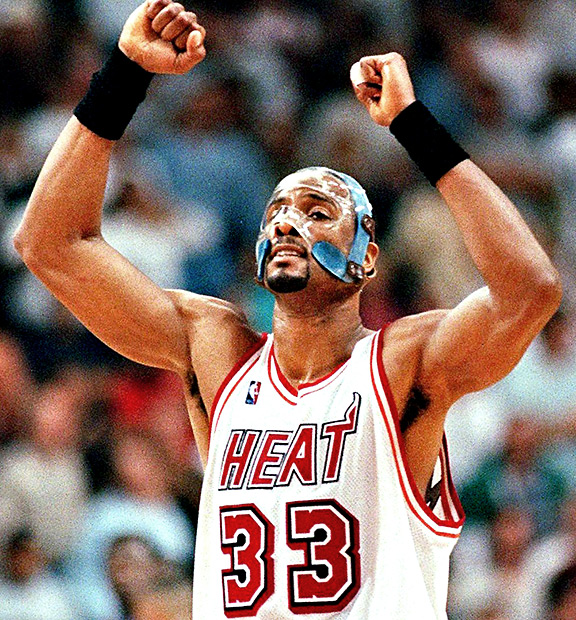 Rhona Wise/AFP/Getty Images
Bill Laimbeer
It is fitting that Laimbeer, one of the more physical players in the history of the NBA, needed to wear a mask during his career.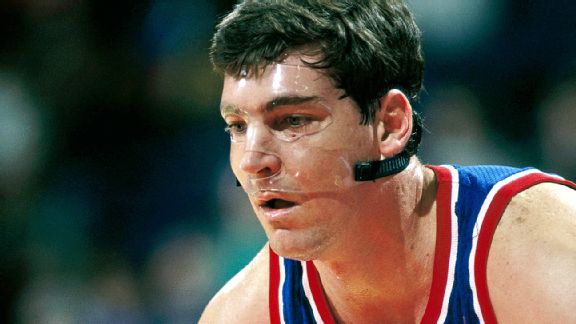 Getty Images
Jason Terry
When Jason Terry was a member of the Dallas Mavericks, he had to hop on the runway wearing a protective mask for a stretch of games during the 2009-2010 season.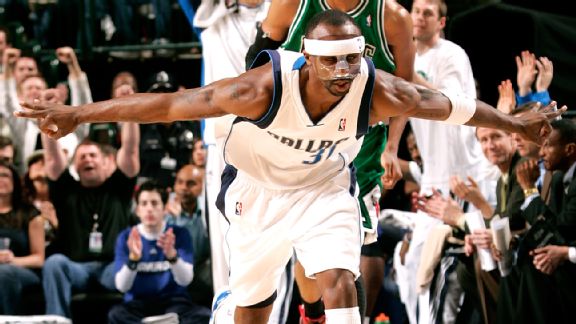 Glenn James/Getty Images
Joe Johnson
As a member of the Phoenix Suns, Johnson suffered an orbital fracture during a second-round playoff game against the Mavericks. He missed the rest of that series, but returned in Game 3 of the 2005 Western Conference finals against the eventual NBA champion Spurs.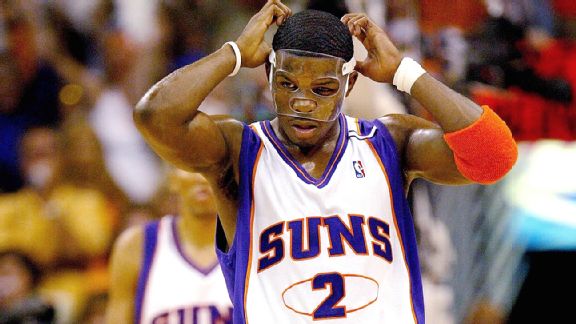 Ronald Martinez/Getty Images
Antonio McDyess
The Pistons had two masked men in 2008 when McDyess joined Hamilton as a result of a broken nose.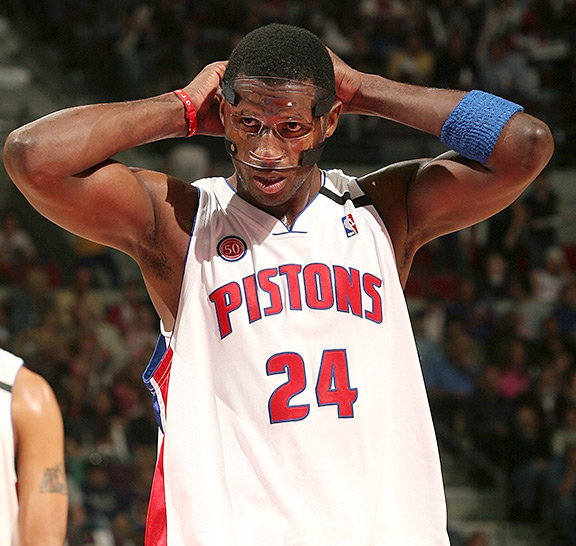 D. Lippitt/Getty Images
Kenyon Martin
When Martin was playing at an All-Star level in 2002, the forward broke his nose during a game against the Miami Heat, forcing him to protect his face.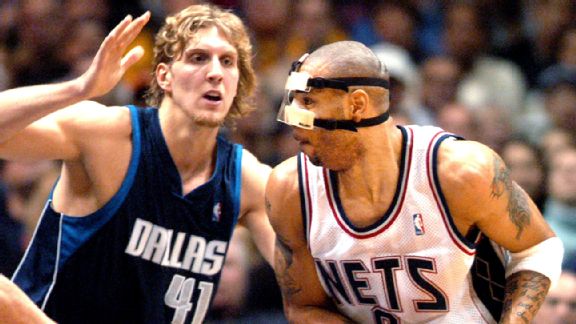 Henny Ray Abrams/AFP/Getty ImagesMartin had a long productive career, despite coming out of one of the worst drafts in history.
Andrew Bogut
After former Philadelphia 76ers guard Allen Iverson's hand hit Bogut in the face during a game in 2005, Bogut rocked the protective mask for a stretch of games as a member of the Milwaukee Bucks.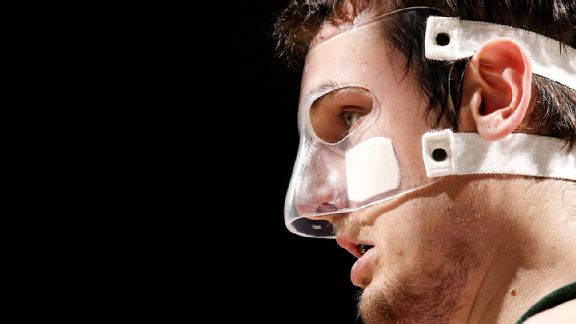 Jonathan Daniel/Getty Images
Wally Szczerbiak
Broken noses are a theme with protective masks. Szczerbiak wore his mask because of one during a 2009 game against the Knicks.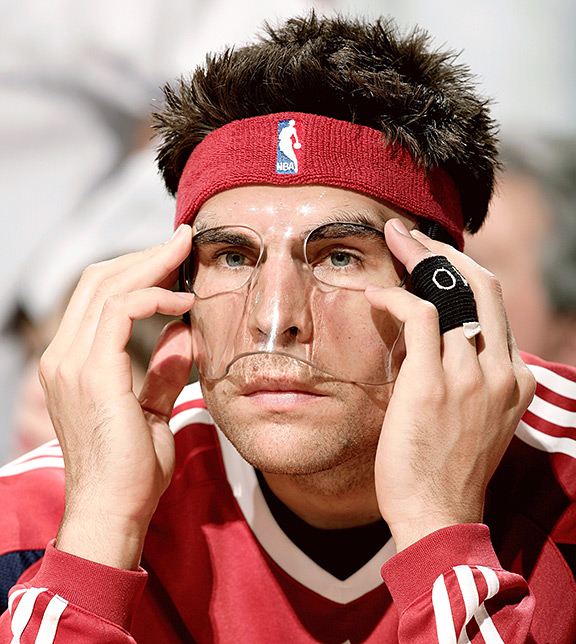 Joe Murphy/NBAE/Getty Images
OKC-LAC controversial Game 5
The Thunder overcame a seven-point deficit with 49 seconds to play in Game 5 to take a 3-2 lead over the Clippers in the Western Conference semifinals. The game took a controversial turn when Oklahoma City was awarded a possession with 11.3 seconds remaining in the game on a ball Doc Rivers believed went out of bounds off a Thunder player. On the ensuing possession, Russell Westbrook was fouled by Chris Paul on a 3-point attempt, setting up what would turn out to be the game-winning free throw attempts. Did the officials cost the Clippers the game? How will the rest of the series play out?