SportsNation Blog Archives

Green Bay Packers
It's no secret Aaron Rodgers hasn't thrown an interception at Lambeau Field in a long time ... a really long time.
So long, in fact, Rodgers doesn't even remember throwing it.
Chances are Minnesota Vikings safety Harrison Smith, who picked him off, remembers it clearly. But that is neither here nor there. Since that flea-flicker on Dec. 2, 2012, Rodgers has been busy setting NFL records.
He heads into Sunday's game against St. Louis having thrown 612 passes and 52 touchdowns in the 1,043 days since his last interception at Lambeau. That stretch accounts for 19 straight home games (including the playoffs).
So what was the world like in 2012, when some people were interpreting the Mayan calendar to mean the world was ending? Allow us to remind you:
LINSANITY Jeremy Lin rose to stardom as "Linsanity" took over the New York Knicks and the NBA. The New York Times dubbed him the team's "most popular player in a decade."
Nathaniel S. Butler/NBAE/Getty Images
RG3 Robert Griffin III led the Washington Redskins to an NFC East title and earned 2012 NFL Offensive Rookie of the Year honors.
Dilip Vishwanat/Getty Images
GANGNAM STYLE "Gangnam Style" was to 2012 as "Watch Me (Whip/Nae Nae)" is to 2015. The quirky dance craze set the record for most-viewed YouTube video at that time.
Tom Szczerbowski/Getty Images
MICHAEL PHELPS The American swimmer, in his third Olympics, won four gold medals at the London Games. What does one do with 18 total gold medals?
Al Bello/Getty Images
DWIGHT HOWARD Yep, this guy spent one season with the Lakers until Kobe Bryant sent him packing for Houston. Purely speculation, of course.
Ronald Martinez/Getty Images
JOHNNY MANZIEL Johnny Football became the first freshman to win the Heisman Trophy, and subsequently a bona fide member of Drake's posse. Notre Dame linebacker Manti Te'o finished a distant second. Te'o would be the center of a "catfish" controversy soon after.
Mike Zarrilli/Getty Images
MILEY CYRUS Miley Cyrus switched up her look drastically in 2012, ushering in a new era for the songstress. Hey, she's just being Miley ...
Getty Images
Statistically, two is not a trend. But we're calling it anyway:
2014 is the Year of the Jump-Kick.
First there was Antonio Brown of the Pittsburgh Steelers planting a foot on the face mask of Cleveland Browns punter Spencer Lanning (which, admittedly, drew a fine):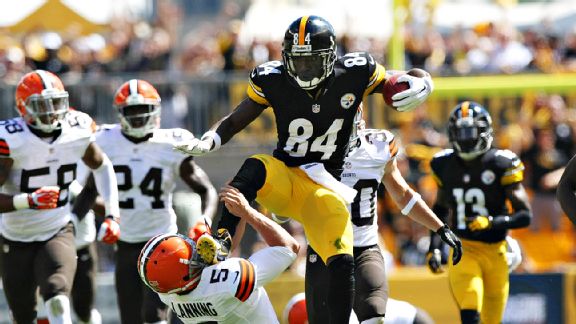 Jason Bridge/USA TODAY SportsSpencer Lanning found out what it feels like to be punted when he tried to tackle Antonio Brown.
On Sunday night, the Green Bay Packers' Jarrett Boykin (perhaps) one-upped Brown by getting a leg to the ball before Chicago Bears punter Pat O'Donnell could kick it: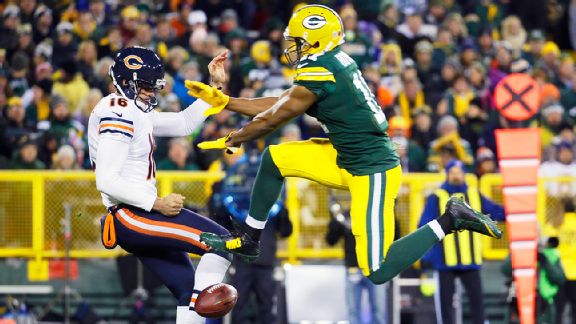 AP Images/Morry Gash
Three unbeatens left in NFL
We're three whole weeks into the 2014 NFL season, and only three teams haven't lost. The final unbeatens: Cincinnati Bengals, Arizona Cardinals and Philadelphia Eagles, all winning teams from 2013, but none exactly thought to be sure-fire contenders before the season. On the other end, a host of playoff teams from last season are just 1-2. What do you make of it all?
AP Photo/Stephen Brashear

NFL is back; will Seattle repeat?

The Seattle Seahawks started this season the way they ended the last one: with an emphatic -- albeit not quite as dramatic -- win over a talented team with a star quarterback. Instead of embarrassing the Denver Broncos like in the Super Bowl, this time Seattle beat the Green Bay Packers 36-16 in the NFL's first game of 2014. Is this a sign that the Seahawks are in for a repeat?