SportsNation Blog Archives

Green Bay Packers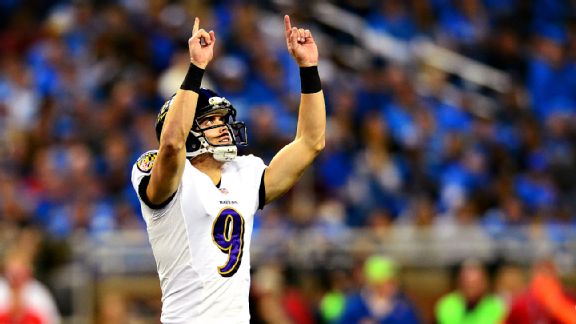 Andrew Weber/USA TODAY Sports
Ravens change playoff picture?
Six Justin Tucker field goals -- including a 61-yarder with 38 seconds left -- were all the Baltimore Ravens needed on "Monday Night Football" to throw three playoff races for a loop. By beating the Detroit Lions 18-16, Baltimore moved to 8-6 and within one game of the Cincinnati Bengals atop the AFC North. By losing, Detroit fell to 7-7 and a surprising third in an NFC North Division it recently controlled. And then there's the AFC wild-card race, which still features three strong candidates -- four if you count Cincinnati -- fighting for one last spot. How will it all shake out?
Getty Images

NFL Week 15 -- Packers at Cowboys

The fight for the playoffs continues in the Northeast quadrant of the NFC, with the Green Bay Packers and Dallas Cowboys both looking up at their respective division rivals. This means Sunday's game between the two feels almost like a playoff contest. Adding to the intrigue: questions surrounding Aaron Rodgers' return; he experienced pain in his most recent practice session, making Matt Flynn the likely starter Sunday. Which team will keep a division title in sight?

AP Photo/Nam Y. Huh

Who wins NFC North? NFC East?

Now things are interesting. Actually, they already were interesting. And they remain that way, after the Chicago Bears routed the Dallas Cowboys in what seemed like an evenly matched game between two playoff-hungry teams. Not so much. This puts Chicago in a tie for NFC North supremacy with the Detroit Lions, with the Green Bay Packers just half a game behind. The Cowboys, meanwhile, must scramble to catch the Philadelphia Eagles -- now one game up -- although the two teams do meet on the final day of the season, and Dallas beat Philly in their first matchup ...

Bad blood in Packers-Lions?

No one ever accused the Lions and Packers of being particularly chummy, but Packers guard Josh Sitton is going one step further in this NFC North rivalry. Sitton said that, were injured QB Aaron Rodgers to play on Thanksgiving, the Lions would attempt to further injure him in order to take him out of the game. Sitton also referred to the Lions' defense as "scumbags," called Lions head coach Jim Schwartz some uncomplimentary things and said he'd never want to play for him, so all in all, we are totally looking forward to this game a lot more than we were a few hours ago.