SportsNation Blog Archives

Ryan Zimmerman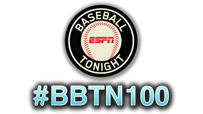 How do the top third basemen in Major League Baseball stack up? That question has been answered by our experts in the latest installment of the Baseball Tonight 100 (#BBTN100), a project to rank the top players across all 30 teams. We'll reveal a new position each day and unveil the overall 1-100 rankings March 27.
Do you agree with the experts' take on third basemen? Simply click on the images of the top 10 below to submit your ballot.


Rank: #BBTN100 Top Third Basemen
Pedro Alvarez

Pedro Alvarez
Pittsburgh Pirates
BBTN Rank: 10
Adrian Beltre

Adrian Beltre
Texas Rangers
BBTN Rank: 3
Matt Carpenter

Matt Carpenter
St. Louis Cardinals
BBTN Rank: 6
Josh Donaldson

Josh Donaldson
Oakland A's
BBTN Rank: 4
Chase Headley

Chase Headley
San Diego Padres
BBTN Rank: 9
Evan Longoria

Evan Longoria
Tampa Bay Rays
BBTN Rank: 1
Manny Machado

Manny Machado
Baltimore Orioles
BBTN Rank: 5
Pablo Sandoval

Pablo Sandoval
San Francisco Giants
BBTN Rank: 8
David Wright

David Wright
New York Mets
BBTN Rank: 2
Ryan Zimmerman

Ryan Zimmerman
Washington Nationals
BBTN Rank: 7
Your Rankings
1.

2.

3.

4.

5.

6.

7.

8.

9.

10.

There will be time to talk some more about Sammy Sosa. And there will be time to talk about NFL players making the wrong kind of offseason news.
Maybe we'll even talk about USC showing new Los Angeles resident Conan O'Brien how comedy is done in California, by reportedly looking for a new men's basketball coach with professional experience (it worked out so well with the last guy).
But on what's frankly a dreary morning to be a sports fan, how about we start with something a little more fun? Who flashed the best leather in interleague play?