SportsNation Blog Archives

Josh Johnson
Information travels fast these days. At least, it does most of the time. When it comes to Cardinals ace Adam Wainwright, on the other hand, it feels a little like the information is still traveling out of the "Gateway to the West" via covered wagon.
Wainwright improved to 17-6 by giving the Cardinals sole possession of first place in the NL Central in Wednesday's win against the Reds. He also lowered his ERA for the season to 1.99, a number more familiar to the Taco Bell menu than MLB pitching statistics at this point on the calendar. And yet when the ballots, so to speak, went out to SportsNation this morning, Wainwright wasn't even in the same area code as first-half star Ubaldo Jimenez.
Then again, while Jimenez has fallen off the ERA pace recently (and here is where we mention perpetually overlooked Josh Johnson and his MLB-best 1.97 ERA), the Rockies ace does still spend half his time in Coors Field. Is that enough to offset Wainwright's surge?
Jake (Ottawa)
Rob, is Mat Latos in the running for the Cy Young? Take away his first 4 starts of the season and he has a 1.72 ERA, .170/.239/.247 slash line and .90 WHIP, all tops in the MLB. Not to mention he already leads the NL in OBA/OOBP/OSLG with all starts considered.
Rob Neyer
We're not allowed to take away those first four starts, are we? (If so, I'll take back my brilliant decision to release Latos from my fantasy team.) He's a dark horse Cy Young candidate, if only because of all the other viable candidates. Full transcript
Tags:

St. Louis Cardinals, Colorado Rockies, Florida Marlins, Josh Johnson, Ubaldo Jimenez, Adam Wainwright
Josh Johnson might just be the most overlooked superstar since some guy that we're probably overlooking.
It's not enough that the Florida Marlins ace is always overshadowed in the National League, in seasons past by the likes of Tim Lincecum and this season by the phenomena known as Ubaldo Jimenez and Stephen Strasburg. It's not enough that the Marlins seem intent on staging stunts that steal the spotlight from their ace -- selling tickets after the fact to a game in which they were the victims of perfection or importing vuvuzelas for a night.
No, even when he's making history by becoming just the eighth player in history to allow one or fewer runs in eight consecutive starts, Johnson cedes the headlines to the Tampa Bay Rays, the team that dropped out of first in the AL East after losing to Johnson.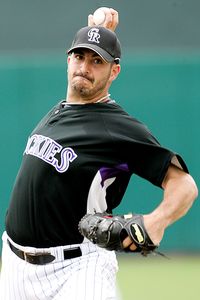 We salute NFL commissioner Roger Goodell for summiting Mount Rainier, although running a league that includes the Bengals does give him at least a little experience with things that tend to erupt and leave a swath of destruction in their wake. But as the MLB All-Star Game approaches, Goodell's trip takes second place to the high-altitude exploits of Rockies pitcher Jason Marquis.
Passing the still-frozen bodies of Mike Hampton and Denny Neagle (proverbially speaking, of course) on his way to the summit, Marquis is a legitimate Cy Young contender with 11 wins. We get that the humidor makes Coors Field slightly less ominous than the setting for the next "Saw" for pitchers these days, but there's still not exactly a line forming to go face batters a mile above sea level.
"

Vazquez is, and has been, an over-rated bum his whole career. Can't win with run support, can't win without it. There's a reason why his career numbers hover around .500, and its nothing to do with the rest of any team he's been on.

"

-- JeffSigmaChi
"

Start Tim Lincecum for the NL. The man is a serious freak of nature and an amazing picture. Just ask the last 3 teams he has pitched against.

"

-- jaws2355
Tags:

San Francisco Giants, St. Louis Cardinals, New York Mets, Milwaukee Brewers, Los Angeles Dodgers, Florida Marlins, Colorado Rockies, Atlanta Braves, Arizona Diamondbacks, Dan Haren, Javier Vazquez, Jason Marquis, Josh Johnson, Chad Billingsley, Yovani Gallardo, Tim Lincecum, Matt Cain, Adam Wainwright