SportsNation Blog Archives

Jim Thome
For a guy who will go down in history as one of the most patient hitters ever to pick up a bat, currently ranking eighth in career walks, Jim Thome seemed to be in a hurry to get to a milestone. Blasts in back-to-back plate appearances against the Tigers made Thome the eighth player to reach 600 career home runs. But does that make him one of the greatest sluggers of all time? Rank 'Em: Who rules the 600-HR club?
"It's tough to say he should definitely be a Hall of Famer. He was never one of the dominant players of his era (just look at his salary over the years), and he was never the best hitter in the league. Don't get me wrong, he is great, but isn't the HOF for players that dominate the game?" -- SN commenter niromdarb
"Take into account many of his contemporaries were obviously juicing, skewing statistics, and getting big contracts because of it. Yes, he didn't "dominate" the league during his prime (only hitting 40-plus homers SIX TIMES!) because cartoonish roided freaks were "dominating." For his career, he's on base 40 percent of the time! With 600 homers! And no trace of roids! Longevity should have some factor in voting for the Hall and Thome obviously has that." -- SN commenter 80watt
---
Will Cooperstown call quickly?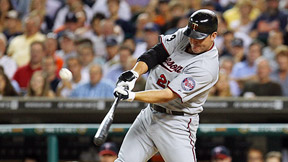 Every player with 600 home runs who appeared on a Hall of Fame ballot reached Cooperstown on the first try. Then again, that list currently consists of Hank Aaron, Willie Mays and Babe Ruth.

---
What's in a label?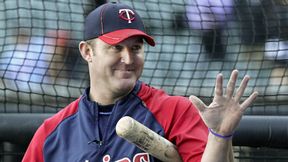 What do you think of when you think of Jim Thome? It probably isn't that he's eighth in career walks or second in strikeouts, but is it his slugging?

---
Is 600 bigger than 3,000?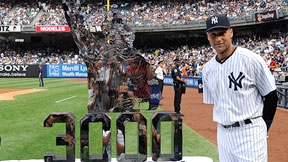 If you go by scarcity, eight members of the 600-HR club trumps 28 members of the 3,000-hit club. But has the homer's stature taken a big enough hit to overcome that math?

Jim Thome has 17 home runs, 44 RBIs and a robust .984 OPS for a team that leads the AL Central by four games in the middle of August. He checks in with 581 career home runs, ranking him behind just nine players in baseball history and ahead of names like Reggie Jackson and Mickey Mantle. But until Thome provided the walk-off heroics in his team's 7-6 win in 10 innings against the White Sox on Tuesday night, how many people were even aware he was with the Twins?
As it turns out, only about half of SportsNation.
Thome's zeitgeist fate seems to sum up the Twins. Fantastic new stadium, more wins at the moment than all but four teams in the majors and about as much attention as hits allowed by Kevin Slowey. But is this a team that could actually win the World Series? And can we get some stock tips from ESPN Chicago's Nostradamus-like Bruce Levine?
Peter (Twin Cities)
Have you heard anything on a timeline for Justin M. coming back, Sox get pretty lucky to avoid him twice and even though it has worked out so far he is missed.
ESPN Chicago's Bruce Levine (before Tuesday's game)

Right now the Twins seem to be the hottest team in baseball. Ironically, Jim Thome has had some of the biggest hits for them over the past two weeks. I think they can live without Morneau for a short time. Full transcript
Not since fantasy baseball owners haggled through the summer of 2003 have Jim Thome, Jose Contreras and Billy Wagner mattered this much in a trade market.
Of course, even as Thome and Jon Garland headed to the Dodgers and Contreras made his way to the Rockies, their old employer was left with a smoldering reminder of the perils of trading. Alex Rios? Hitting worse than .200 with the team. Jake Peavy? Might not pitch until 2010.
A month ago, voters picked the White Sox to win the AL Central. As recently as three weeks ago, SportsNation still had them neck and neck with the Tigers. Now? Well, at least 58 percent of voters think Ozzie Guillen should keep his job in the Windy City.
"

I think Williams intended to go for the win, but Guillen's mouth and attitude killed this team. In the end, Williams decided to get something for two players that would not have returned next season. Let's hope Guillen goes too.

"

-- GSaggese
"

I really believe John Kruk when he says the Dodgers signed Thome so the Giants wouldn't get him. It makes absolutely no sense for Thome to go to the National League on a team that has a solid firstbasement who should be an everyday player. So my thinking is there going to have Thome play every here and there to give Loney a rest and be available in the 8th or 9th inning off the bench when there down by one and need a homerun.

"

-- AjP_
Tags:

Chicago White Sox, Colorado Rockies, Los Angeles Dodgers, San Francisco Giants, Jim Thome, Jose Contreras, Jon Garland, Billy Wagner, Brad Penny, Jason Giambi, Freddy Sanchez