SportsNation Blog Archives

Kansas City Royals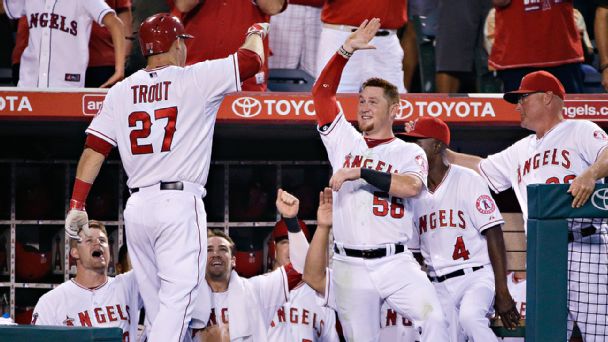 AP Photo/Jae C. Hong
Early MLB playoff predictions
MLB playoff-clinching season is here. The Los Angeles Angels snagged a playoff spot Monday and are close to sealing the AL West. The Baltimore Orioles and Washington Nationals cemented their respective division titles Tuesday. Meanwhile, it appears the wild-card races are the most competitive, with each league seemingly embroiled in a three-way scrape for two spots. How will it all play out?
Jamie Squire/Getty Images

Royals in 1st; playoffs next?

Do not adjust your Internet settings. The Kansas City Royals really are in first place on Aug. 11, after beating the Oakland A's for their eighth straight win -- their 16th win in the past 19 games -- while the Detroit Tigers lost their third in a row. The Royals, in first at the latest point in a season since 2003, once again are aiming to end their nearly three-decades-long playoff drought. The Tigers, meanwhile, were eight games ahead of the Royals less than a month ago and saw their onetime ace leave after just one inning Monday. What will happen?

Jim Rogash/Getty Images

Are Royals a sleeper in AL?

As pointed out on SweetSpot, the past five World Series winners missed the playoffs the previous season. One team dreaming of a sixth straight such occurrence: the Kansas City Royals. Of course, K.C. must get past division rivals Detroit and Cleveland first -- and MLB's longest postseason drought (the Royals last reached it in 1985). But with some savvy additions, many believe this could be the franchise's year. Is it?