SportsNation Blog Archives

New England Patriots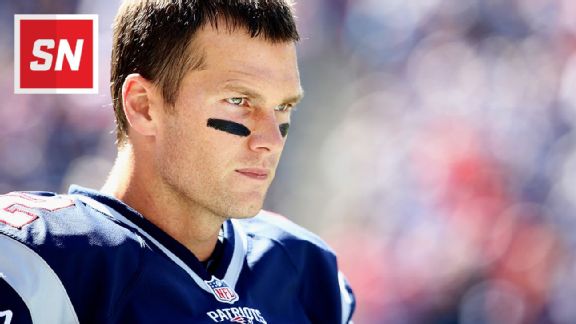 Maddie Meyer/Getty Images
After a critical Boston Magazine article about his trainer, Alex Guerrero, was published last week, Tom Brady appeared on local radio and responded, giving a lengthy defense of Guerrero's techniques.
As part of that defense, Brady advocated for an alternative approach to nutrition and training. (You can read a full recap on WEEI's website.) And Brady disagreed with the things many Americans eat and drink.
"That's not the way our food system in America is set up," Brady said of his own approach. "It's very different. They have a food pyramid. And I disagree with that. I disagree with a lot of things that people tell you to do. You'll probably go out and drink Coca-Cola and think, 'Oh yeah, that's no problem.' Why? Because they pay lots of money for advertisements [so you] think that you should drink Coca-Cola for a living. No, I totally disagree with that. And when people do that, I think that's quackery. And the fact that they can sell that to kids? I mean, that's poison for kids. But they keep doing it. And obviously you guys may not have a comment on that, because maybe that's what your belief system is. So you do whatever you want, you live the life you want."
Coca-Cola's response, per Fox Business: "All of our beverages are safe and can be enjoyed as part of a balanced lifestyle. ... We offer more than 200 low and nocalorie beverages in the U.S. and Canada and a wide variety of smaller portion sizes of our regular drinks. As a responsible beverage company and marketer, we prominently provide calorie and sugar information for our beverages so people can choose what makes sense for them and their families."
Brady also went after Frosted Flakes -- "[Americans] believe that Frosted Flakes is a food," he said -- and Fox Business had Kellogg's' response.
H/T WEEI / CBS Sports
Courtesy Jane Rosenberg
While a federal court takes the next step in resolving Deflategate, a courtroom sketch emerged Wednesday of NFL commissioner Roger Goodell, New England Patriots quarterback Tom Brady, and the duo's assorted legal counsel.
The sketch, by artist Jane Rosenberg, lit up the Internet for its rough and approximate portrayal of Brady.
It features, from left, Jeff Pash, NFL executive vice president and general counsel; Goodell; Gregg Levy, NFL counsel; Adolpho Birch, NFL executive VP; Don Yee, Brady's agent; and Brady.
To be fair, Brady's face is one of the most recognizable in sports. Anything but pure photorealism would have provoked comments. And a courtroom artist's job is to capture the scene quickly. They aren't intending to emulate the Dutch masters.
But social media doesn't care about that. It cares about memes.
August 12, 2015
Brady Krueger. DON'T GO TO SLEEP. pic.twitter.com/ChF4C1jtYA

— Complex Sports (@Complex_Sports) August 12, 2015
their tinder pic vs real life pic.twitter.com/ob78RrWaBE

— samir mezrahi (@samir) August 12, 2015
For the record, I have been working on LSU football all day so this is not me but an imposter at Tom Brady hearing. pic.twitter.com/xYpWKYa95Q

— Les Miles (@LSUCoachMiles) August 12, 2015
What's he thinking? pic.twitter.com/AF1lqiS3HS

— Steve McPherson (@steventurous) August 12, 2015
Here's how Brady actually looked today, soaking up cheers as he entered the federal courthouse.
As of Wednesday afternoon, there was no settlement in the case.
By
SN Staff
| Tory Barron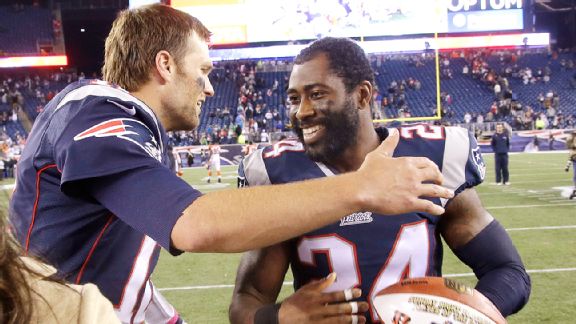 AP Photo/Stephan Savoia
Darrelle Revis might have won a Super Bowl ring with New England Patriots, but that doesn't mean he's displaying undying devotion to his now-former team (he's back with the their archrivals, the New York Jets, after a two-season hiatus, one spent with the Patriots).
Specifically, he has no sympathy for Tom Brady. Revis spoke to Manish Mehta of the New York Daily News, suggesting the franchise's history of rule-breaking likely played a part in Brady's punishment:
"Everybody's blowing it [Deflategate] up because it is Tom Brady. I understand that. But if [the NFL] feels he did the crime or he did something and they want to penalize them, then that's that. [The Patriots] have a history of doing stuff. You can't hide that. ... Tom was there when they did that stuff in the past. ... Stuff repeatedly happened through the years. You got Spygate, you got this and that and everything else."
Spoken like a true Jet (or at least someone who has wiped his hands of his former team). Revis certainly has no responsibility to defend the Patriots, but it does make us anticipate the two matchups between the storied foes this coming season even more than usual.
(H/T New York Daily News)
The punishment is here. For the Deflategate scandal, the NFL is suspending Tom Brady four games, while fining the New England Patriots $1 million and docking them two draft picks (a first-rounder in 2016, a fourth-rounder in 2017).
Naturally, NFL players current and former had some thoughts.
His teammates were not happy:
THIS IS ABSOLUTELY RIDICULOUS!!! SMH =! #PATSNATION STAND UP!!!!!

— LeGarrette Blount (@LG_Blount) May 11, 2015
=!

— Chandler Jones (@Chan95Jones) May 11, 2015
.....=

— Dont'a Hightower (@zeus30hightower) May 11, 2015
Wow

— Chimdi Chekwa (@ChimChek) May 11, 2015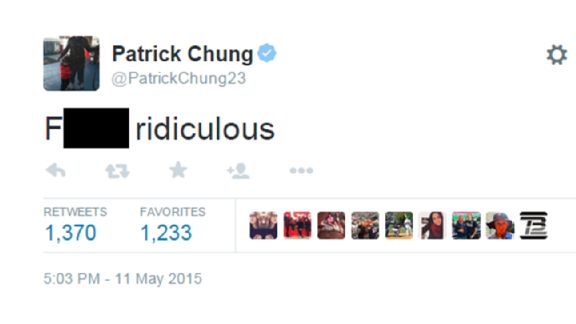 @PatrickChung23/Twitter
Others reacted with a mixture of surprise and outrage:
May 11, 2015
Ouch

— Marcus Gilbert (@MarcusGilbert88) May 11, 2015
Did not see that one coming a milli and 4 games=

— Jameel McClain (@JameelMcClain) May 11, 2015
I honestly feel bad for Tom Brady!! I know first hand the type of competitor he is & how much work he puts in... Came down too hard on him!

— DonteHitner (@DonteWhitner) May 11, 2015
To win four Super Bowl is outstanding. I know Tom Brady is a great competitor and leader. I feel sorry for him and patriots nation!

— Jerry Rice (@JerryRice) May 11, 2015
Tom Brady suspended 4 games.... That's just ridiculous. They are comparing it to steroid use. Preposterous! What are your thoughts?

— Steve Weatherford (@Weatherford5) May 11, 2015
If the NFL is so worried about the integrity of the game then the league should issue all balls for all games. #DeflateGate #BaseballDoesIt

— Antonio Garay (@antoniogaray71) May 11, 2015
T. Brady suspended 4 games for violating integrity of the #NFL. T.Pryor suspended 5 games in NFL for Tattoos while in college. AMAZING!

— Charlie Batch (@CharlieBatch16) May 11, 2015
Apparently "probably" deflating footballs is worse than DV...? https://t.co/oQdgh7tzVI

— Brady Quinn (@3rd_Goal) May 11, 2015
4 games?? What a joke! Tom Brady's getting the same suspension as PED users... Crime does not match the punishment #lostmorerespectfortheNFL

— Jake ballard (@TheJakeBallard) May 11, 2015
While some felt it was the right call, or at least the cost of doing business:
Well done @NFL ..........#DeflateGate

— Patrick Peterson (@RealPeterson21) May 11, 2015
It's a good thing the @nfl suspended Tom Brady now everyone knows that NOBODY is above the system #NFL #FairGame

— Shawne Merriman (@shawnemerriman) May 11, 2015
I think the suspension is warranted, they came down hard on the organization though. #Deflategate

— Sean Weatherspoon (@SeanWSpoon56) May 11, 2015
The Patriots are habitual rule breakers, and that's why they win championships.

— Phillip Buchanon (@PhillipBuchanon) May 11, 2015
They lose a million dollars, which is nothing to an NFL franchise, and a first round draft pick but they still got a championship haha..

— Phillip Buchanon (@PhillipBuchanon) May 11, 2015
You have to the love the patriots . They do anything to win a Super Bowl . #mytypeofteam=

— DARNELL DOCKETT (@ddockett) May 11, 2015
Our own Damien Woody? Fresh off a debate on our airwaves with former teammate and ESPN colleague Tedy Bruschi, the ex-Patriot simply posted this:
May 11, 2015
AP Photo/David J. Phillip
Patriots win; did Seahawks blow it?
The New England Patriots won the Super Bowl, but it was no easy feat. The Seattle Seahawks led 24-14 in the fourth quarter, then had a second-and-goal at the 1-yard line trailing 28-24. But a questionable play call -- pass instead of run -- kept the defending champs from repeating. What do you make of the big game?