SportsNation Blog Archives

Tom Brady
Tom Brady will be a New England Patriot for life. That wasn't really in question before Monday, but the three-time Super Bowl champ reportedly agreed to a three-year contract extension that keeps him with the only organization he's ever played for through the 2017 season. Brady also took less money in the deal, lowering his cap charge from a league-high $21.8 million to approximately $13.8 million in 2013. Can the Patriots now use the savings to surround Brady with a team capable of winning the Super Bowl for the first time since 2004?
Justlaugh1990: "Smart move on both sides, brady gets a good chance at getting what he needs to win it all, and the pats get a steal. I'd retire after winning atleast 2 superbowls between now and 2017 at a comfortable age 40."
nhraven5200: " Hes taking less because hes not worth big money anymore."
jclance777: "How about that Joe Flacco?"
WaxedBrain: "Never been a fan of Brady or the Patriots, but this is a class move to help an organization. He makes plenty off the field, so taking less on it to put a better team around him is awesome. I wish more athletes in his type of situation would do the same thing!"
Ray Finkle. 40: "Brady is the greatest system QB of all time (behind Joe Montana)"
Join the conversation or respond by signing in or creating a profile and blogging.
---
Leaving money on the table?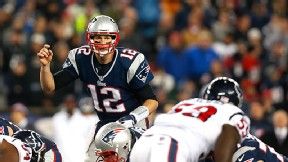 Tom Brady took less money to stay with New England in 2005, and he's doing it again, lowering his cap hit by about $8 million.

---
Brady or Flacco?
Joe Flacco was looking for "Tom Brady money" in free agency. But now "Tom Brady money" is a lot less than it was before Brady's new deal.

Bernard Pollard has delivered some big hits in his career, but what concerned him on Sunday was really more of a kick than anything else. The Ravens safety said he believes Tom Brady deserves a fine for his cleats-up slide into Ed Reed in Sunday's AFC Championship Game. The NFL is reviewing the play to determine whether Brady deserves a fine, but do you think the play was dirty?
Interstate20GA: "NFL review: We've come to the conclusion that Brady did no wrong, but Ed Reed will be fined for making contact with Brady's leg."
ride em fishboy: "He slid into the off-season, and that's good enough for me."
pcapitelli: "One more example of why everyone outside of Massachusetts hates the current rendition of the Patriots. Belicheck and Brady need to go for the betterment of the game. "
johnny not football 2.0: "it took a whole day of debate whether to look at this or not. dont want to upset the poster boy. "
DJONPOINT: "Brady's kick was dirty, but his name is Tom Brady so I doubt there will be any action. "
jimicorcoran: "Obviously was a dirty move on Brady's part. Fine him and move on. The ultimate punishment is that he played like garbage and has the whole offseason to wonder why the Pats choked again."
Join the conversation or respond by signing in or creating a profile and blogging.
For the eighth consecutive season, the New England Patriots' season ends with a loss. That may not seem like much, but it's a far cry from the glory years of the Tom Brady-Bill Belichick dynasty that captured three Lombardi Trophies in a four-year span. Since then, the Pats have lost two Super Bowls and two more conference championship games. Brady, once the definition of clutch, threw a pair of fourth-quarter interceptions Sunday, and will have to wait another year to join Joe Montana and Terry Bradshaw as the only quarterbacks to win four Super Bowls. But will he ever get there?
masterjoe712: "Crazy that the Patriots are the franchise in Boston that has gone the longest without winning a championship."
ScottyB1994: "Does anyone think the Pats can get another SB before Brady retires.. in all honesty."
luckyej09: "Nonetheless great season Patriots. Your time isn't up yet."
txlitespeed: "Belichick needs to get over this feeling that the Patriots are ordained to win the Bowl every year; and figure out why they haven't won anything since 2004. They are far from the best team and typically pad their regular-season records by playing in a very weak division. The team has serious holes to address, and wouldn't measure up to any of the top-5 teams in the NFC so even had they won it would have been another Super Bowl loss."
MrLucky075: "Brady was bad and they were missing 2 of their most important players. Recipe for disaster."
rand_the_fin: "Pats washed up ... Brady 36 yrs old. Not the same player. The Dolphins will establish themselves as a rising, young team in the AFC East. Pat window closing fast."
Join the conversation or respond by signing in or creating a profile and blogging.
We may not have the Tom Brady vs. Peyton Manning matchup in the AFC Championship Game much of SportsNation wanted to see, but both championship games are loaded with talent. Ravens linebacker Ray Lewis and Falcons tight end Tony Gonzalez are hoping to end their careers on top, 49ers quarterback Colin Kaepernick is two games away from winning a Super Bowl in his 10th career start, and Falcons quarterback Matt Ryan's 0-for-3 record in the playoffs is history after a thrilling 30-28 victory over the Seahawks. How do the best players remaining in the NFL playoffs stack up? Click the images to vote.


Super Bowl XLVII players
John Abraham

Anquan Boldin

Tom Brady

Michael Crabtree

Vernon Davis

Joe Flacco

Tony Gonzalez

Frank Gore


Julio Jones

Colin Kaepernick

Ray Lewis

Brandon Lloyd

Jerod Mayo

Dennis Pitta

Ray Rice


Stevan Ridley

Matt Ryan

Aldon Smith


Torrey Smith

Michael Turner

Wes Welker

Roddy White

Patrick Willis

Danny Woodhead

Danny Woodhead
Patriots RB
Your Rankings
1.

2.

3.

4.

5.

6.

7.

8.

9.

10.

11.

12.

13.

14.

15.

16.

17.

18.

19.

20.

21.

22.

23.

24.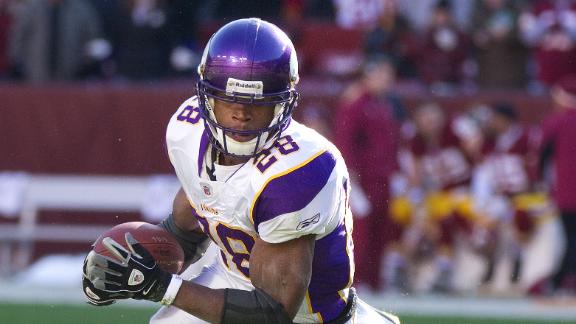 Adrian Peterson and Peyton Manning had their doubters coming into this season -- Manning missed all of last season with a neck injury, while Peterson was carted off the field with a torn ACL and MCL in the final game of 2011. They've both responded incredibly well, however, and are in the running for MVP. We gathered some of the greatest seasons ever by players coming back from serious injuries. How do Peterson and Manning stack up?


Best seasons back from injury
P. Manning, 2012

P. Manning, 2012
Peyton Manning
Games missed: 16 (2011)
Stats (to date): 4,016 yards, 31 TDs, 10 INTs
A. Peterson, 2012

A. Peterson, 2012
Adrian Peterson
Games missed: 1 (2011)
Stats (to date): 1,812 yards rushing, 11 TDs
M. Stafford, 2011

M. Stafford, 2011
Matthew Stafford
Games missed: 13 (2010)
Stats: 5,038 yards, 41 TDs, 16 INTs
T. Brady, 2009

T. Brady, 2009
Tom Brady
Games missed: 15 (2008)
Stats: 4,398 yards, 28 TDs, 13 INTs
S. Smith, 2005

S. Smith, 2005
Steve Smith
Games missed: 15 (2004)
Stats: 1,563 receiving yards, 12 TDs

G. Hearst, 2001

G. Hearst, 2001
Garrison Hearst
Games missed: 32 (1999-2000)
Stats: 1,206 rush yards, 4 TDs

R. Woodson, 1996

R. Woodson, 1996
Rod Woodson
Games missed: 15 (1995)
Stats: 6 INTs, one INT TD return, 57 tackles
D. Marino, 1994

D. Marino, 1994
Dan Marino
Games missed: 11 (1993)
Stats: 4,452 yards, 30 TDs, 17 INTs

R. Cunningham, 1992

R. Cunningham, 1992
Randall Cunningham
Games missed: 15 (1991)
Stats: 3,324 pass yards, 19 pass TDs, 10 INTs
549 rush yards, 5 rush TDs
J. Stallworth, 1984

J. Stallworth, 1984
John Stallworth
Games missed: 12 (1983)
Stats: 1,395 receiving yards, 11 TDs
Your Rankings
1.

2.

3.

4.

5.

6.

7.

8.

9.

10.

Due to a quirk in the way our calendar works (which would take far too much time to go into here; suffice it to say they spent an awful lot of time figuring the whole thing out back in the late 1500s), today's day, month and year line up perfectly. Another repeating date like 12/12/12 won't happen until 2112, so you'd better enjoy it while it lasts. To celebrate this oddity, we've come up with a list of some of the greatest players in sports to wear No. 12. Who do you have as the best ever?


Top Number 12s on 12/12/12
12th Man

12th Man
Several football teams, notably Texas A&M and the Seattle Seahawks, consider their fans to be the 12th man on the team.
Roberto Alomar

Roberto Alomar
Wore No. 12 with six MLB teams

Wade Boggs

Wade Boggs
Wore No. 12 with Yankees and Rays; No. 12 jersey was retired by Rays
Terry Bradshaw

Terry Bradshaw
Wore No. 12 with Steelers
Tom Brady

Tom Brady
Wore No. 12 with Patriots
Dwight Howard

Dwight Howard
Wore No. 12 with Magic and Lakers
Jim Kelly

Jim Kelly
Wore No. 12 with Bills
Joe Namath

Joe Namath
Wore No. 12 with Jets and Rams
Ken Stabler

Ken Stabler
Wore No. 12 with Raiders and Oilers
Roger Staubach

Roger Staubach
Wore No. 12 with Cowboys
John Stockton

John Stockton
Wore No. 12 with Jazz
Aaron Rodgers

Aaron Rodgers
Wore No. 12 with Packers
Your Rankings
1.

2.

3.

4.

5.

6.

7.

8.

9.

10.

11.

12.

The Chiefs are a miserable 1-10. There is very little to get excited about these days, so maybe playing against a future Hall of Famer is as good as it gets. After Sunday's 17-9 loss to the Broncos, Chiefs running back Jamaal Charles waited around after the game to get Peyton Manning's autograph. Do you have a problem with this? Does it make a difference where it happens? And which superstar would get you to break out the Sharpie?
---
"Can you make that out to ..."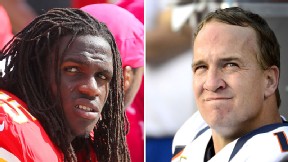 Charles had a good game with 107 yards rushing on 23 carries, but his team lost 17-9 and fell to 1-10. He got over it in time to catch up with Manning.

---
"I wouldn't ask, but ..."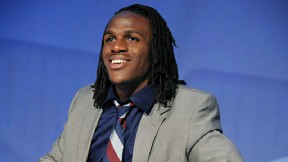 "My mom wanted this autograph," Charles said. Teammate Dwayne Bowe didn't get an autograph, but did manage to pose for a picture.

---
"Say cheese!"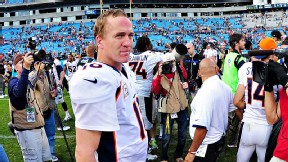 Charles waited until Manning was leaving the stadium to request an autograph, but would a quick picture on the field be over the line?

---
"Is it really you?"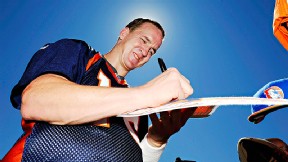 Manning has been asked to sign just about everything, including a prosthetic leg, so you probably won't shock him.

On Tuesday, "First Take" compared Aaron Rodgers and Tom Brady. Rodgers and Brady are at their usual spots at the top of the NFL's quarterback list, with Rodgers' 25 touchdowns and 5 interceptions contrasting with Tom Brady's 16 TDs and 3 INTs, although Brady has had one fewer game in which to put up stats. Stephen A. Smith gives the lead to Rodgers for leading the Packers to contention in one of the toughest divisions in football, while Skip Bayless thinks Rodgers is having a bit of an off year and gives the award to Brady.
On Friday, "First Take" debated Robert Kraft's comments about Tom Brady. In an interview, Kraft said he believes Tom Brady is better than Joe Montana and may be the best quarterback of all time. Skip Bayless isn't convinced, but he can see what Kraft was talking about. Stephen A. Smith, on the other hand, says the idea is ridiculous considering their relative record in Super Bowls. What's your take?
vicmo25: "If Brady is better than Montana then Eli is unrankable"
wayovatheyhead: "Tom Brady is the GREATEST QB in the history of the Sport... The special thing about him is that he was already in the conversation 4 years ago. Respect"
Sport_NorCal: "Brady is awesome, no doubt. Great QB, great leader. Like Joe he seems to be a good guy off the field, too. But come on. Anyone who saw Joe play ... just stop it."
Tony3177: "Tough call. I give the edge to Brady -- plus he still has time to add to his legacy. But after him, Joe's the greatest."
pohalleran287: "What a joke!! Montana 4-0 in Super Bowls.......11 TD's, ZERO Int's. Can Brady touch that? Of course note."
StarSlappers: "Brady has played in 10 seasons basically and has made it to the Superbowl 5 times... 50% of the time he makes it to the Superbowl. That is unheard of. Highest Winning percentage as a QB. The best statistical season by a Quarterback is Tom Brady, the best season by a WR is his own Randy Moss, the best season by a TE is his own Gronk, he was a dropped ball by assante from being 19-0. I didnt have the luxury of watching Montana, but how much more can you do?"



Join the conversation or respond by signing in or creating a profile and blogging.
Tom Brady, 35, says he wants to play at least until he's 40. Will he still be elite in five years?
Leaf in the Brees: "Those are nice thoughts that Brady has about longevity, but almost NOBODY lasts as long as Favre. His durability was off the charts. If Brady is effective at 37 he has a lot to be happy about. Things happen in those late 30s where the body starts to break down a bit. "
thechloisa: "When you add in all the playoff football Brady has played - it'll be amazing if he can be productive past 38 or so. However, he doesn't need to rely on being mobile which is a huge plus and he's always been pretty well protected over the years."
Jenks7000: "Not a Pats fan. But I think a strong argument could be made that Brady is the best QB (or at least the best pure passer) in the history of the league. I'm not saying he is the best, but he is clearly in the converstation, IMHO. That said, he has always seemed a bit contact-shy and that has become more apparent with age. I doubt he starts another three full years."
Carlito Bandito: "The MAJOR difference between the longevity of Favre and Brady is that Favre used to get hit more times in a single season than Brady has most of his career. The fact that he doesn't get hit greatly improves his chances of making it until he's 40. Also if the Pats keep him protected then he will continue to not get hit making it all the more likely that he can make it to 40."
patsfan987654: "Brady with the Pats till 40. Sounds good to me but don't think about stopping at 40 yet."



Join the conversation or respond by signing in or creating a profile and blogging.