SportsNation Blog Archives

New York Jets
By
SN Staff
| Tory Barron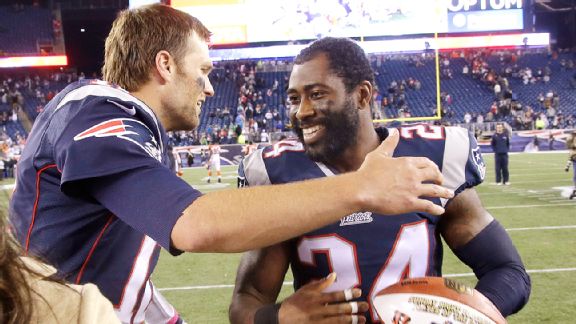 AP Photo/Stephan Savoia
Darrelle Revis might have won a Super Bowl ring with New England Patriots, but that doesn't mean he's displaying undying devotion to his now-former team (he's back with the their archrivals, the New York Jets, after a two-season hiatus, one spent with the Patriots).
Specifically, he has no sympathy for Tom Brady. Revis spoke to Manish Mehta of the New York Daily News, suggesting the franchise's history of rule-breaking likely played a part in Brady's punishment:
"Everybody's blowing it [Deflategate] up because it is Tom Brady. I understand that. But if [the NFL] feels he did the crime or he did something and they want to penalize them, then that's that. [The Patriots] have a history of doing stuff. You can't hide that. ... Tom was there when they did that stuff in the past. ... Stuff repeatedly happened through the years. You got Spygate, you got this and that and everything else."
Spoken like a true Jet (or at least someone who has wiped his hands of his former team). Revis certainly has no responsibility to defend the Patriots, but it does make us anticipate the two matchups between the storied foes this coming season even more than usual.
(H/T New York Daily News)
Getty Images
Your 2014 NFL predictions?
The 2014 NFL season kicks off Thursday night, with the Super Bowl-winning Seattle Seahawks hosting the Green Bay Packers in the first of what should be many intriguing games in this wide-open league. What will happen this year? Read our experts' NFL preview, then cast your votes below!
More: Predict: Over/unders | Your Power Rankings? | Rank: #NFLRank top 20
Jets sign Vick, release Sanchez

The Mark Sanchez era has officially ended in New York, with the Jets releasing the embattled quarterback and signing Michael Vick on Friday. Vick said that he expects to compete with Geno Smith for the team's starting job, and given Smith's struggles in his rookie season -- 21 interceptions and a 55.8 completion percentage -- he might get that shot. The choice of starter will be a key decision for Rex Ryan, who looks to be on the hot seat if the Jets miss the playoffs for a fourth straight season.

Jets extend Rex Ryan

Rex Ryan will get another shot at bringing a Lombardi trophy to New York, as the Jets extended his contract through the 2016 season on Thursday. Ryan has had moments where the Jets have seemingly figured it all out, but he's been unable to build them into a consistent championship competitor. His coaching acumen was on full display this season, however -- despite a number of injuries and the struggles of rookie QB Geno Smith, Ryan led the Jets to a .500 record. He'll have to do better than that in the seasons to come if he wants to remain in New York for too much longer.