SportsNation Blog Archives

Denver Broncos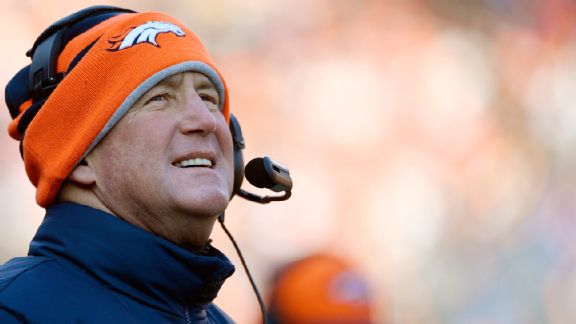 Tim Rasmussen/The Denver Post/Getty Images
Is coaching hazardous to health?
Recent health scares to Denver Broncos coach John Fox and former Houston Texans coach Gary Kubiak have shone a light on the job's rigors. And to little surprise -- this is, after all, a position that requires seemingly endless hours of work and amounts of stress, both of which are rewarded with constant public scrutiny. Then again, in today's working world, most students and professionals face a taxing level of stress at times. How bad do football coaches really have it?
Will Peyton struggle in the cold?

Peyton Manning is one of the finest quarterbacks to play the game -- that is, at least, until things get a bit nippy. Manning denied that he's a worse quarterback in cold weather, but when the temperature drops to freezing, he's tended to struggle, throwing 11 touchdowns to 12 interceptions in 10 such games. The Broncos may be favorites to make the Super Bowl in the AFC, but considering this year's game is outdoors, fans in Denver might have reason to be concerned about their franchise savior.

AP Photo/Ed Zurga

Broncos take control of AFC West

Fourteen days ago, the Kansas City Chiefs were 9-0 and leading the AFC West by a game. Now, the explosive Denver Broncos are 10-2 and have their own one-game lead -- complete with tiebreaker -- after Sunday's 35-28 win at Arrowhead Stadium. Peyton Manning (5 TD passes) and Eric Decker (4 TD receptions) led the way for Denver, which just might cruise to the division title. Will it? And what to make of K.C.?

NFL: Broncos at Chiefs

The Broncos ended the Chiefs' dreams of a perfect season two weeks ago, but Kansas City will get a chance at revenge this weekend. Both teams are coming off devastating losses -- the Broncos blew a 24-point lead against the Patriots, while the Chiefs' vaunted defense let the Chargers drop 41 points on them. This could be a statement game for both as the regular season enters the home stretch.

DEN-NE: AFC title preview?

What seemed like a runaway win for the Denver Broncos -- they led 24-0 at halftime -- turned into one of the season's more back-and-forth battles, with the New England Patriots forcing overtime and winning 34-31 thanks to a late muffed punt. New England now is 8-3, the third-best record in the AFC and three games up on their two closest division rivals. Denver (9-2) is tied with Kansas City for the AFC West lead, with those teams facing off in Missouri next Sunday. Will Tom Brady and Peyton Manning meet again with a Super Bowl trip on the line?