SportsNation Blog Archives

Pittsburgh Steelers
September 10, 2015
Sep
10
The Pittsburgh Steelers' Antonio Brown might be the best receiver in the league.
He might also have the wildest haircut in the league -- or at least he appeared to during an interview before the NFL's opening game between the Steelers and New England Patriots.
Great catch... Better haircut? #PITvsNE #Kickoff2015 pic.twitter.com/69sfwlc7Y0

— NFL (@NFL) September 11, 2015
We see you, Tony, paying homage to LEGO Man (or Devo).
(P.S. We love it.)
Statistically, two is not a trend. But we're calling it anyway:
2014 is the Year of the Jump-Kick.
First there was Antonio Brown of the Pittsburgh Steelers planting a foot on the face mask of Cleveland Browns punter Spencer Lanning (which, admittedly, drew a fine):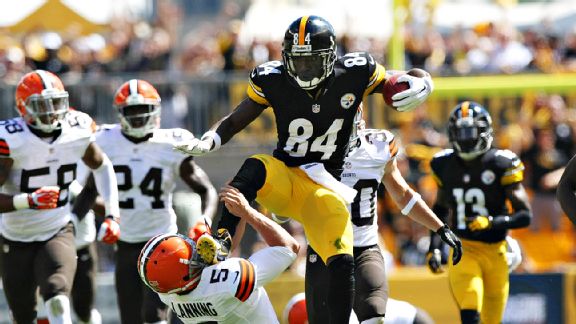 Jason Bridge/USA TODAY SportsSpencer Lanning found out what it feels like to be punted when he tried to tackle Antonio Brown.
On Sunday night, the Green Bay Packers' Jarrett Boykin (perhaps) one-upped Brown by getting a leg to the ball before Chicago Bears punter Pat O'Donnell could kick it: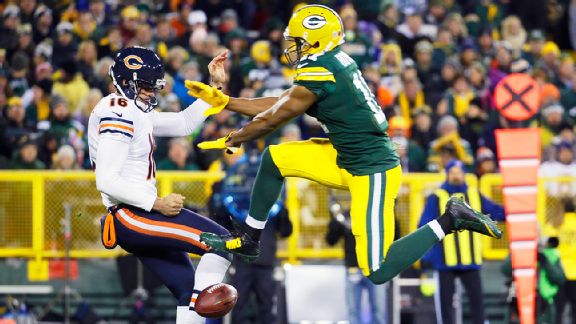 AP Images/Morry Gash
Tags:

NFL, Green Bay Packers, Chicago Bears, Pittsburgh Steelers, Jarrett Boykin, Antonio Brown, Cleveland Browns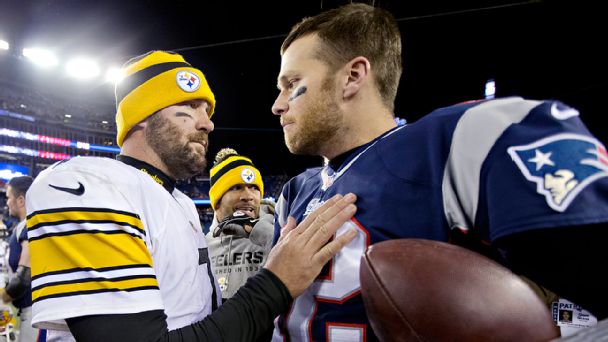 Matthew J. Lee/Getty Images
Big days for Ben and Brady
Sunday was a big day for multiple Super Bowl-winning quarterbacks from the AFC. Tom Brady went 30-for-35 with 354 yards and five touchdowns in the New England Patriots' 51-23 win over the Chicago Bears. Ben Roethlisberger had an even more memorable day, becoming the first QB in NFL history to notch a second 500-yard passing game (he went 40-for-49 with 522 yards and six touchdowns in a 51-34 win over the Indianapolis Colts). Not bad for a pair of players whose teams were considered done just weeks ago.
Thoughts on NFL's opening week?

The NFL is back! On the first Sunday, some teams (San Francisco 49ers, Denver Broncos) won as expected, others (New Orleans Saints, New England Patriots) suffered surprising defeats, and a few more (Dallas Cowboys, Kansas City Chiefs) were downright demoralized. On Monday, the Detroit Lions grabbed the headlines by routing the New York Giants. What's your take on some of the major questions from Week 1 action?