SportsNation Blog Archives

Calvin Johnson
Tags:
NFL, Buffalo Bills, Tennessee Titans, Miami Dolphins, Atlanta Falcons, Dallas Cowboys, Kansas City Chiefs, Chicago Bears, New England Patriots, Washington Redskins, Houston Texans, Pittsburgh Steelers, Cleveland Browns, Tony Romo, Antonio Brown, Jadeveon Clowney, Calvin Johnson, New York Giants, Detroit Lions
Every athlete dreams of the big stage. What bigger stage is there than the Super Bowl? Super Bowl halftime of course. ESPN The Magazine's latest music issue has paired seven hot athletes with seven even hotter music acts to create the fantasy halftime shows that we may never see, but will have fun thinking about. Which piques your interest the most? Click on the images below to rank your favorites!


Rank: ESPN The Magazine's Fantasy Acts

Capital Cities

Capital Cities
With Dustin Penner

Eminem

Eminem
With Calvin Johnson

Kendrick Lamar

Kendrick Lamar
With Chris Paul

Nicki Minaj

Nicki Minaj
With Kobe Bryant

Skylar Grey

Skylar Grey
With Hope Solo

Trombone Shorty

Trombone Shorty
With Kenny Stills and Cam Jordan

Yandel

Yandel
With Yonder Alonso and Manny Machado
Your Rankings
1.

2.

3.

4.

5.

6.

7.

On Wednesday, NFL Nation is releasing more results of NFL Nation Confidential, a survey of more than 320 players from across the league. The latest question: Which player would you most like to see in the Super Bowl? Click on the images below to rank 10 of the NFL's best players who have never appeared in the big game.


Rank: Most like to see in a Super Bowl?
Antonio Gates

Steven Jackson

Andre Johnson


Calvin Johnson

Andrew Luck

Cam Newton

Adrian Peterson

Adrian Peterson
Vikings RB
Philip Rivers

Tony Romo

Michael Vick

Michael Vick
Eagles backup QB
Peyton Manning is still on top in Dan Graziano's weekly MVP watch list. Some questioned Manning's ability to perform in cold weather after a sub-par performance against the Patriots, but a four-touchdown game in sub-20 degree weather against the Titans has put a temporary halt to any such doubts. Is Manning the NFL's best player this season?


2013 NFL MVP Watch
Tom Brady

Tom Brady
Patriots QB
3,685 yards, 21 TDs, 9 INTs, 60.8 CMP%

Drew Brees

Drew Brees
Saints QB
4,107 yards, 33 TDs, 8 INTs, 68.0 CMP%
Vontaze Burfict

Vontaze Burfict
Bengals LB
139 tackles, 1 INT, 1 sack
Jamaal Charles

Jamaal Charles
Chiefs RB
238 carries, 1,162 yards, 10 TDs
Karlos Dansby

Karlos Dansby
Cardinals LB
105 tackles, 6 sacks, 3 INTs

Calvin Johnson

Calvin Johnson
Lions WR
75 catches, 1,348 yards, 12 TDs

Peyton Manning

Peyton Manning
Broncos QB
4,522 yards, 45 TDs, 9 INTs, 67.9 CMP%

LeSean McCoy

LeSean McCoy
Eagles RB
261 carries, 1,305 yards, 7 TDs

Cam Newton

Cam Newton
Panthers QB
2,776 yards, 20 TDs, 11 INTs, 62.0 CMP%

Russell Wilson

Russell Wilson
Seahawks QB
2,871 yards, 23 TDs, 7 INTs, 64.5 CMP%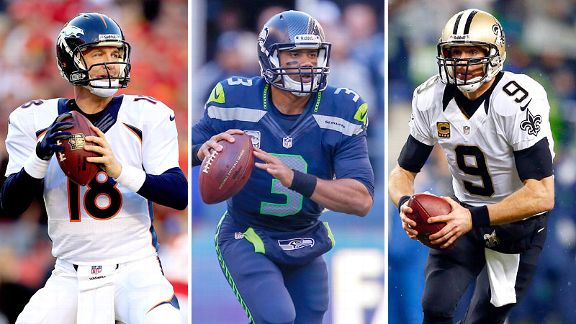 Peyton Manning remains on top in Dan Graziano's weekly MVP watch list. Manning's five-touchdown performance led the Broncos to a crucial 35-28 win over their AFC West rival Chiefs. With 41 touchdowns, Manning has a pretty good shot to break Tom Brady's single-season record of 50 TDs. Is he your choice for MVP?


2013 NFL MVP Watch
Tom Brady

Tom Brady
Patriots QB
3,267 yards, 19 TDs, 8 INTs, 60.7 CMP%

Drew Brees

Drew Brees
Saints QB
3,794 yards, 29 TDs, 8 INTs, 67.7 CMP%
Vontaze Burfict

Vontaze Burfict
Bengals LB
131 tackles, 1 INT, 1 sack

Nick Foles

Nick Foles
Eagles QB
1,791 yards, 19 TDs, 0 INTs, 63.3 CMP%

Calvin Johnson

Calvin Johnson
Lions WR
72 catches, 1,299 yards, 12 TDs

Peyton Manning

Peyton Manning
Broncos QB
4,125 yards, 41 TDs, 9 INTs, 68.1 CMP%

LeSean McCoy

LeSean McCoy
Eagles RB
232 carries, 1,088 yards, 5 TDs

Cam Newton

Cam Newton
Panthers QB
2,616 yards, 19 TDs, 11 INTs, 61.7 CMP%
Tony Romo

Tony Romo
Cowboys QB
3,140 yards, 24 TDs, 7 INTs, 64.8 CMP%

Russell Wilson

Russell Wilson
Seahawks QB
2,672 yards, 22 TDs, 6 INTs, 64.9 CMP%