SportsNation Blog Archives

Indianapolis Colts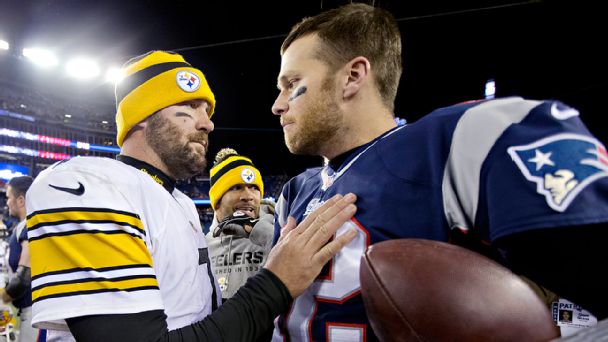 Matthew J. Lee/Getty Images
Big days for Ben and Brady
Sunday was a big day for multiple Super Bowl-winning quarterbacks from the AFC. Tom Brady went 30-for-35 with 354 yards and five touchdowns in the New England Patriots' 51-23 win over the Chicago Bears. Ben Roethlisberger had an even more memorable day, becoming the first QB in NFL history to notch a second 500-yard passing game (he went 40-for-49 with 522 yards and six touchdowns in a 51-34 win over the Indianapolis Colts). Not bad for a pair of players whose teams were considered done just weeks ago.
Three unbeatens left in NFL

We're three whole weeks into the 2014 NFL season, and only three teams haven't lost. The final unbeatens: Cincinnati Bengals, Arizona Cardinals and Philadelphia Eagles, all winning teams from 2013, but none exactly thought to be sure-fire contenders before the season. On the other end, a host of playoff teams from last season are just 1-2. What do you make of it all?

Getty Images

Your 2014 NFL predictions?

The 2014 NFL season kicks off Thursday night, with the Super Bowl-winning Seattle Seahawks hosting the Green Bay Packers in the first of what should be many intriguing games in this wide-open league. What will happen this year? Read our experts' NFL preview, then cast your votes below!

More: Predict: Over/unders | Your Power Rankings? | Rank: #NFLRank top 20

ESPN Illustration

Trading Places: Brady and Manning

What if Peyton Manning had come up under the coaching of Bill Belichick in New England with Randy Moss and Rob Gronkowski as targets? What if Tom Brady had been drafted in the sixth round by the Colts and formed a bond with Marvin Harrison and Reggie Wayne? Greg Garber reached out to several players and front-office personnel to get their opinions on just how much the coaching and supporting casts have meant to these two quarterbacks. We'll take it a step further and ask you: What if the players stayed put and the coaches switched sides? Cast your votes on all these scenarios and more below.