SportsNation Blog Archives

Illinois Fighting Illini
The Associated Press No. 1 team in men's college basketball has lost six times this season, with Thursday night's Illinois stunner of Indiana marking the fifth straight week in which the best team has fallen. We won't rag on the Hoosiers too much, although both times they've lost as a No. 1 team it's been to unranked squads. It's interesting to imagine what effect this will have on the NCAA tournament -- a 1-seed has never lost to a 16-seed, but if it were to happen, this year's as good as any.
mwindycolts: "This loss was inexcusable...plain and simple. IU has played down to their competition on several occasions. Not all have resulted in losses, but that is definitely the case in this game along with Wisconsin. Hopefully this will open their eyes up a little more and they will realize that you must bring their A game all the time."
ARodgersisJC: "Illinois is a tourney team after that win. Beat Penn State and Nebraska and you're in. Wins over Gonzaga, Indiana, Ohio State and Butler means you're in."
CarsonVanDC: "Nice D there at the end Indiana.... must have been a shocker that someone cut to the basket in that situation... no way you could have seen that coming."
cctsbuddy: "Big trouble for Indiana. They seem to not be able to finish games, they let Michigan back in and now they lost to Illinois. Same issue against Butler, the Hoosiers seem to not know what to do in the last 5 minutes of a game. "
Paul192623: "Can we please not rush the floor every time you beat a number one? It's getting old since there's no dominant team on top."
Join the conversation or respond by signing in or creating a profile and blogging.
---
Unranked surprise?
Neither of its losses as No. 1 has to sit well with Indiana. Both were incredibly close, with the Butler loss coming in overtime.

Ask not for whom the bubble bursts; it busts for you. But cheer up, Blacksburg, Va. Buck up, Champaign, Ill. Look on the bright side, Starkville, Miss. On second thought, if you live in aptly-named Starkville, we can't help you on the silver lining thing, sorry. The good news for basketball fans in those and a handful of other college towns is people are talking way more about your team this morning than they would have as another forgettable first-round loser with a No. 12 seed in the NCAA tournament.
And hey, at least you get a home game in the NIT.
The bracket of 65 is out, which means some team has to be No. 66 (and we're not talking about the NBDL's Tulsa 66ers). Bob Knight said the selection committee needed more basketball savvy. Virginia Tech coach Seth Greenberg proposed a set formula for awarding at-large bids. What's your take? Until the field expands to 96 teams, consider us your platform from which to rant about the unfairness of being squeezed off the bubble.
"

VT is still a second class citizen in the ACC. Same with Miami and BC. That should work itself out in another 7-10 years. All 10 win Big East teams are in, even carpet baggin ND. VT would have been if they could have won 10 in the Big East, no doubt.

"

-- wvu86psychrugger
"

Mississippi State and Virginia Tech should've gotten in over Florida. This years bracket seems too conspicuous and unbalanced to the point it looks like they forced matchups in hopes of getting the outcomes they want. RPI and seedings don't equate.

"

-- god_of_modesty
"

I agree with the mid-majors getting way too many at larges ... just because a George Mason or Gonzaga come by once every 5 years doesn't mean the others are worth a damn ... Big 6 had over 85% of the sweet sixteen over the last 5 years ... these chumps from mid-majors have all the opportunity to go on road or to nuetral site to scheduel top 100 teams...

"

-- ewolf22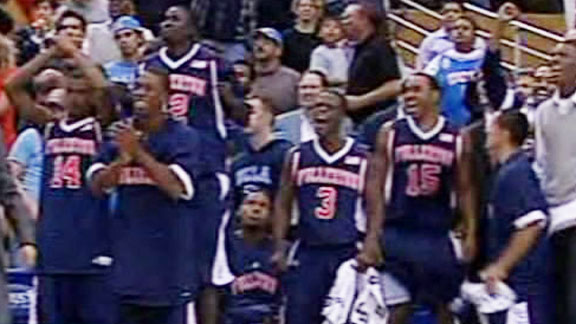 Any day with college basketball on television is a good thing. A day when college basketball is always on television is a great thing. With the march to the Final Four in Indianapolis underway (and the march to San Antonio for the women), ESPN is showing nothing but basketball Tuesday -- 12 games in 24 hours. And that doesn't even include the games going on ESPN2, ESPNU, ESPN360.com and ESPN Mobile. At this point, you've already missed the start of class (and Cal State Fullerton upsetting UCLA) but there's still time to salvage the day.
"

The benefits of working from home!

"

-- usf_football
"

I love the 24 hour marathon -- took Tuesday off from work. Good thing the Monday Night Fooball game is so terrible ... so I can get a nap in after work before the marathon tipoff.

"

-- bh4312