SportsNation Blog Archives

Boston Red Sox
September 28, 2014
Sep
28
Of all the tributes to Derek Jeter from fans, fellow athletes, celebrities and, really, everyone, this -- from Ashley Kelly, wife of Boston Red Sox pitcher Joe Kelly -- might be the best:
When I was 12, I thought I would marry Jeter. Instead I married the guy that took a selfie w/ him during his ceremony pic.twitter.com/3BrkWBQHgy

— Ashley Kelly (@ashleynicokelly) September 28, 2014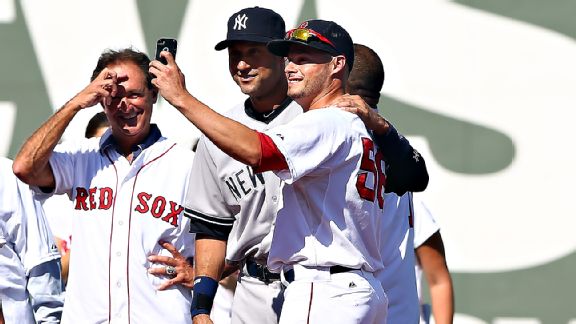 Elsa/Getty ImagesTake a guess as to which one is Derek Jeter.
So there you have it. This post goes out not only to Jeter, but to all the ladies who have had to settle for us non-Jeters. Our condolences.
Meanwhile, here is Kelly's selfie. Sorry, his #2ELFIE.
#RE2PECT #2ELFIE pic.twitter.com/s5ZfaVYSLf

— Joseph Kelly Jr. (@JosephKellyJr) September 29, 2014
H/T Bleacher Report
Red Sox trade Lester to A's
Billy Beane may be going all-in this season. The A's have just acquired Jon Lester and Jonny Gomes from the Red Sox, in exchange for slugging outfielder Yoenis Cespedes. Lester joins a stellar A's rotation, recently bolstered by the acquisition of Jeff Samardzija, but will he be enough to bring Beane and the A's a coveted World Series title?
AP Photo/Michael Dwyer

Hot Tigers sweep Red Sox

We're one-fourth of the way through the MLB regular season, give or take, and very few teams have asserted themselves dramatically. One that has: the Detroit Tigers, who moved to 27-12 after completing a three-game sweep of the Boston Red Sox at Fenway Park. The scary part? Two-time defending American League MVP Miguel Cabrera is only just now heating up, meaning the best could yet be in store for the runaway AL Central leaders. What is the future for Detroit? What to make of the defending-champion Boston Red Sox (20-23)? And what of MLB's other surprises?