SportsNation Blog Archives

Ichiro Suzuki
Ichiro reaches 4,000 career hits
About 1200 of Ichiro Suzuki's 4,000 career hits didn't happen in MLB, but that isn't stopping many people from celebrating his milestone achievement. Ichiro laced a line drive just past the third baseman in Wednesday's win over the Blue Jays, causing his teammates to meet him at first base as fans gave him a standing ovation. Suzuki has slowed down in recent years, but an even 3,000 MLB hits may still be in reach.
Branch Rickey always said it was better to trade a player a year early than a year late -- you might miss out on one more great season from said player, but at least his trade value would still be pretty high. The Mariners' trade of Ichiro Suzuki to the Yankees may be an example of this -- perhaps the finest pure hitter in Mariners history netted Seattle only two minor league pitchers. That might be commensurate with his current value, as he's a shadow of the player he used to be, but it's one more strange sight in a night that had Ichiro wearing an "NY" logo on his cap.

---

Too late?

Ichiro is hitting only .261 this season with an OBP below .300 and 16 stolen bases.

---

Haul for the Mariners?

Seattle will receive reliever D.J. Mitchell and minor league right-hander Danny Farquhar in the Ichiro Suzuki deal.

---

Outfield help?

Though the trade was a surprise, it's easy to see why the Yankees picked Ichiro up -- their outfield is hurting with Brett Gardner out for the remainder of the season.

Tags: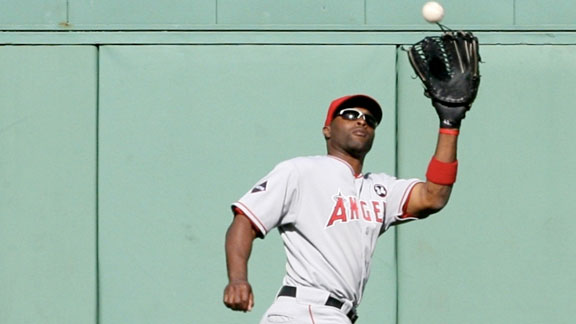 If you believe in the value of UZR ratings, as U.S.S. Mariner blogger Dave Cameron explains, Franklin Gutierrez had one of the best defensive seasons by an outfielder in recent memory -- and perhaps ever. If you're a Gold Glove voter, Derek Jeter is the best defensive shortstop in the American League.
You've got a better chance of building an elevator to outer space than bridging that gap.
In the most questionable use of gold outside of late-night infomercials, baseball's signature defensive awards were handed out for the American League Tuesday, based on the votes of the league's managers and coaches. Rob Neyer can't believe Orioles outfielder Adam Jones got the nod over Gutierrez, among other baffling decisions. And Jeter, who SportsNation thought didn't deserve the Hank Aaron Award as the AL's best offensive player, now has a second award voters don't think he earned.
"

Jeter winning is a joke.. He's not even the best Shortstop on his team. I guess you can't get errors on all the balls you can't reach.

"

-- hendu29
"

STOP LOOKING AT FIELDING PERCENTAGE AND EVEN ERRORS TO DETERMINE HOW GOOD A FIELDER IS. Try looking at actual range. A person who gets to more balls is of course more likely to have more errors and a slightly lower fielding percentage. Does that mean he's a worse fielder? NO. So stop saying "so-and-so had a good fielding percentage so he deserved it." You just make yourself look like an ignorant moron.

"

-- complexity.
Tags:

Franklin Gutierrez, Torii Hunter, Adam Jones, Ichiro Suzuki, Derek Jeter
We're sure the distinct lack of an American League lineup for the Home Run Derby has nothing to do with stars making like DeMarcus Ware on the sideline when asked to participate.
Sure, Josh Hamilton, Justin Morneau and Mark Teixeira already said they were out, and sure, the NL lineup was announced days ago. Yes, even Curtis Granderson has suggested it's not really his bag. But the delay is entirely coincidental; it's not as if the powers that be have been reduced to bribing Tim Wakefield to take some hacks. Right?
But if this year's Home Run Derby has all the makings of a dud (unless they wise up and make Ichiro do it), that won't stop us from wasting a few minutes on a Friday. How would things unfold if you put 10 of the greatest home run hitters (natural or otherwise) on the field for a power-hitting contest?
"

I dont blame the guy for not wanting to be a part of it. He won last years and espn decides to interview Josh hamilton. When they finally do interview Morneau he's asked about Josh hamilton's preformance. It was a joke how they treated this guy who won the damn thing.

"

-- socaliente
"

Baseball should have Griffey in it. I mean here's a guy who has the best swing in baseball and has won many of these before, in his prime. Now he is back home this season and the team and him individually have been god awful. In the past when he has won/entered into the Derby his swing has not been effected after, it's just that pure of a swing. Plus what's the worst that happens? his swing does slightly get affected? ohh well

"

-- Lil_Duece46
Tags: