SportsNation Blog Archives

Jared Allen
Should we offer a moment of silence for fantasy football owners coming to the realization that Saints safety Darren Sharper has scored more touchdowns this season than Steven Jackson, Brandon Jacobs or Anquan Boldin?
The Saints are just outside the top 10 in total defense at the moment, which is kind of remarkable when you think about how often their opponents have the whole field to work with after yet another Saints touchdown and yet another Saints kickoff. Sharper may not be the sole reason for the success, given that he shares the field with guys like Charles Grant and Jonathan Vilma, but as a newcomer with a league-best six interceptions and three touchdowns, he's becoming the face of it.
When push comes to shove, 67 percent of SportsNation prefers a great defense to a great offense. But are you ready to give a guy like Sharper MVP consideration?
Why didn't AIG have this kind of foresight? As recounted in the Wall Street Journal, Fantasy Sports Insurance launched this year to offer fantasy football owners some peace of mind on their high-dollar investments. Drafted Adrian Peterson but worried about an injury ruining your season? Buy insurance on him and recoup your league fees if he gets hurt (although in Peterson's case, based on his chat with SportsNation, Frank Gore insurance would have been a better investment).
One of the only 50 stars the company offered to insure? Cedric Benson. The same guy who averaged 3.5 yards per carry last season while rushing for a career "best" 747 yards. Forget insurance; we're going to these guys for our draft cheat sheet next year.
Thanks in no small part to Benson, who has 487 rushing yards in five games, the Bengals are 4-1. But does that make him a better MVP pick than Carson Palmer, let alone Peterson, Drew Brees, Peyton Manning or other standouts?
Where do Benson and Palmer rank on your MVP ballot?
Scott (Bakersfield, CA)
Which offseason add has helped their team more Dawkins or Sharper?
Gary Horton

That's almost a push. They are both great veteran players with tremendous leadership skills. Your first inclination might be to say Sharper because of his big plays and his instincts. He can turn around a game with those interceptions. My sources in Denver tell me Dawkins is like another coach on the field and is a huge part of the speed in which Denver has made the transition from a 43 to a 34. That may not show up in the box score, but it is a big factor in their success. Full transcript.
Random (Dude)
DO u have yourself on your fantasy team?
Adrian Peterson

Nope. Frank Gore. And Matt Forte. Full transcript.
Save for the Falcons, Eagles, Cardinals and Panthers, NFL teams are already a quarter of the way through the regular season. Most places, that means an opportunity for fans to take stock of what they've seen and set expectations for the remaining 12 games. In St. Louis, where the Rams have been voted the worst of the worst four weeks running, we don't recommend diverting your attention from the Cardinals. (Or the Blues, for that matter. In fact, if the Saint Louis Billikens have any halfway decent post players, you might just want to skip ahead to basketball season).
Through just a quarter of the season, we've already seen three teams trade the top spot in SportsNation's Power Rankings -- not to mention 15 teams ranked somewhere in the top 10 at some point. And as good as Drew Brees has been, his Saints have cracked the top 2 just once. Just imagine how messy this would be in the BCS.
"

NFC East is a hugely overrated conference at the moment. The Redskins and Cowboys appear to be actively bad teams; and both the Eagles and Giants have question marks as to the health of key players.

"

-- MNRyan55
"

The fact is, the Jets won't even be a part of the play-off picture, so why are we even bothering with them now. The AFC will come down to the Colts, Patriots, Steelers, Ravens and probably the Chargers and the NFC will most likely come down to the Saints, Giants, Vikings, Bears, Eagles and Packers.

"

-- MadMax1018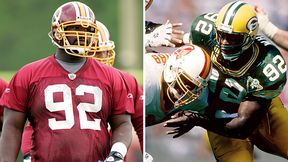 When a player who signed for $41 million in guaranteed money earlier in the year is sitting out practices and talking about normal "wear and tear" during the first week of August, well, it's not the kind of thing that will help comparisons to Reggie White. But Albert Haynesworth returned to practice earlier this week after sitting out a few rounds of training camp, averting the kind of health-care crisis that would capture D.C.'s attention more than anything on Capitol Hill.
Aside from Clinton Portis, Haynesworth is the player SportsNation feels the Redskins could least afford to lose to serious injury, no small feat of public recognition for a guy who plays on the defensive line. But if Haynesworth is the Redskins' best defensive player, is he the league's best defensive player? He's not a pure pass-rushing force like DeMarcus Ware, or a shut-down corner like Nnamdi Asomugha, but it's tough to put a guy who closes down the middle of the line anywhere other than No. 1.
"

Haynesworth is a Beast.. I don't know if I've seen one Person make such a diffeence on the defensive side of the ball, since Reggie White.

"

-- galyssa427
"

you guys paid way to much for big al watch out he's going to get injuryed right away.

"

-- titans_freak23