SportsNation Blog Archives

Miami Heat
The Miami Heat, no matter what a certain star once said, do not play on South Beach.
Still, it's hard to separate the NBA franchise and the neighborhood that's just a causeway away. So, as posted to owner Micky Arison's Instagram account this week, the team is considering these vibrantly colored uniforms -- in some capacity -- which would fit right in on Collins Avenue:
That color scheme look familiar? Many have noticed its similarity to the "Miami Vice" TV show's logo, but it doesn't stop there. The Washington Post noticed that a number of Reddit users have proposed "Miami Vice" theme nights, with one creating the uni design that Arison ultimately shared.
Who knows what will come of these (this writer would offer a "Yes" vote), but it does seem Arison is feeling the "Miami Vice" nostalgia, so ...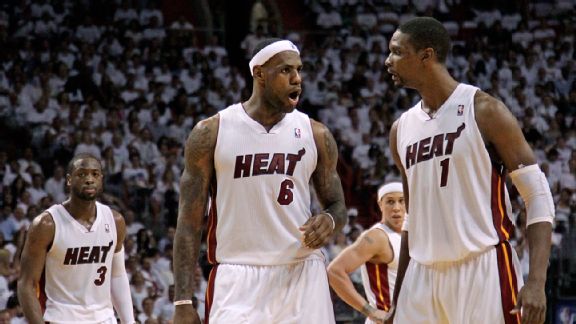 Al Diaz/Miami Herald/Getty Images
According to a source, Dwyane Wade has decided not to pick up his option with the Miami Heat for 2015-16, thus becoming a free agent.
This is a big move for the man who inspired "Wade County," and money supposedly is behind it. Wade stood to make $16.1 million next season, but he is said to want a three-year deal with an average salary of at least $16 million. The Heat, meanwhile, prefer to maintain future flexibility.
Wade is no longer the player he once was; his play, while still very good, has fallen off, and he has missed at least 20 regular-season games in three of the past four seasons.
Still, Wade surely knows he's an 11-time All-Star, won the 2006 NBA Finals MVP for what former ESPN analyst John Hollinger called the best Finals performance of all time ... and yet, he has never been the highest-paid player on his own team.
Per ESPN Stats & Info:
Will Wade buck this trend? That's to be seen. If he stays with the Heat, he'll once again be behind Bosh (due about $22.2 million next season). But as 2015 free agency begins, more than half the league is without a player who makes $16 million per year.
So it's possible ...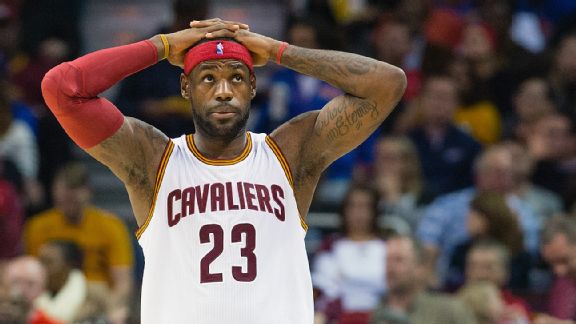 Jason Miller/Getty Images
LeBron James might have led the Miami Heat to two titles and a string of four straight NBA Finals appearances, but that doesn't mean the Sunshine State is entirely in the King's corner.
We asked two questions recently to SportsNation regarding LeBron, and while some states -- particularly the home of his Cleveland Cavaliers -- voted in his favor, Florida went the other direction on both (results as of 7:30 p.m. ET on Tuesday).
First, after Bill Russell beat out LeBron on a graphic as the "best player to wear No. 6" ...
SportsNation
Then, after Shaquille O'Neal said he would choose Kobe Bryant over LeBron in their primes ...
SportsNation
It must be said that the South Florida region accounts for less than one-third of the state's population, according to 2014 estimates. So a county-by-county breakdown might see LeBron carry Miami-Dade, Broward and Palm Beach but lose significantly elsewhere. Also, those are significantly small samples -- perhaps a few thousand more votes would change things.
Still, those are significant margins in both Russell's and Kobe's favor.
In other words: That's unseasonably cold, Florida.
Who are the best NBA players ever to wear each jersey number?
Apparel company Mitchell & Ness took this question and figuratively ran with it, creating a graphic that lists the best player to wear every number that's ever graced the front and back of an NBA uniform.
Mitchell & Ness
Some notes:
• There are a few incontrovertible choices: No. 23 for Michael Jordan (unless you're Kendrick Perkins or Bill Laimbeer), No. 45 for MJ (even if he wore it for just a few weeks in 1995), No. 00 for Robert Parish, No. 1 for Oscar Robertson, and a few others.
• There are heated debates for other numbers, particularly the overloaded No. 33, where Kareem Abdul-Jabbar edged Larry Bird, Patrick Ewing, Alonzo Mourning, Scottie Pippen and others. (This writer's opinion: Kareem was the absolute right choice).
• Late-career changes helped squeeze excellent players onto the list in numbers they're not always best known for. Karl Malone (No. 32 with the Utah Jazz) gets on for his one year as No. 11 with the Los Angeles Lakers, since he was never going to overtake Magic Johnson. Shaquille O'Neal wore 32 (Magic), 33 (Kareem) and 34 (Hakeem Olajuwon) at points in his career, but gets on the list with his Boston Celtics No. 36. And Kevin Garnett, who probably wouldn't have edged Tim Duncan out for No. 21, thankfully had the No. 5 spot all to himself for his post-Minnesota Timberwolves stint with the Celtics.
• The end of this list is absolutely wonderful, with Scot Pollard, Jason Kapono, Shawn Bradley, Vladimir Radmanovic and DeShawn Stevenson bringing back so many memories. But it also contains some great significance: Jason Collins, the NBA's first openly gay player, wore No. 98 as a tribute to Matthew Shepard.
• The Panda's Friend? More like The Oddball Jersey Number's Friend! Yes, Ron Artest, aka Metta World Peace, shows up a list-topping four times here, for Nos. 37, 51, 93 and 96, edging out equally eccentric talent Dennis Rodman (three: 70, 73, 91).
• Biggest omission from the list? LeBron James. Sure, he's not going to overtake Jordan (see above) for No. 23. But No. 6? That spot was given to Bill Russell, who wore his signature number for the Celtics while winning 11 championships. But some -- maybe even this writer (bring out the haters!) -- believe James, who wore No. 6 during his four-year stint with the Miami Heat, is/was the better player.