SportsNation Blog Archives

New Orleans Pelicans
Despite a rough start to 2015-16, Anthony Davis is still one of the top players in the NBA. He also has the third-highest rating in "NBA 2K16," behind only LeBron James and Stephen Curry.
Still, in a conversation with star gamer and fellow Chicagoland native NaDeSHoT, Davis revealed that when he sits down to play "2K16," he does not play as himself, but as a certain bearded star on a division rival and his teammates.
In addition to admitting he always plays as James Harden of the Houston Rockets, Davis goes on to describe why exactly he refuses to play as himself (he calls it "weird"), his favorite game of all time, and more.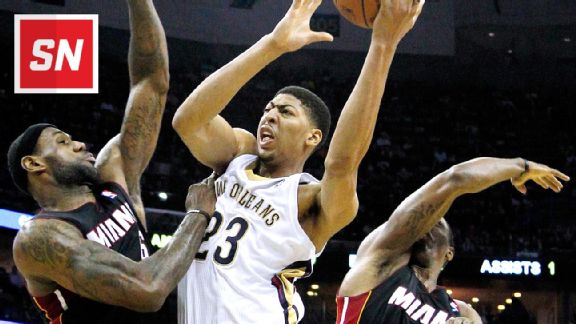 AP Photo/Jonathan Bachman
In case you hadn't noticed, the Anthony Davis era is here.
Sure, the 22-year-old New Orleans Pelicans big man already has made an All-NBA first team and two All-Star rosters. But 2015-16 likely will be the season Davis becomes widely considered one of the best, if not the best, player in the league.
Just ask general managers. The annual NBA survey did, and the results speak for themselves.
Q: If you were starting a franchise today and could sign any player in the NBA, who would it be?
A: Anthony Davis (86.2%), LeBron James (6.9%), Kevin Durant (6.9%)
Before last season, LeBron received 50 percent of the vote, with Davis and Durant sitting at 25 percent apiece. The year before? LeBron got 89.7 percent, Durant 6.9 and James' now-Cleveland Cavaliers teammate Kyrie Irving 3.4.
Now, this doesn't mean GMs would pick Davis over everyone to win a game tomorrow; Davis' age (eight years younger than LeBron, five years younger than Durant) makes a big difference. But it says a lot about how people around the league view Davis, and what he might become -- very soon.
Tags:

NBA, NBA, Cleveland Cavaliers, New Orleans Pelicans, Oklahoma City Thunder, Golden State Warriors, Houston Rockets
The 5-0 Carolina Panthers are one of the NFL's five undefeated teams, so you can't blame their fans for feeling a little cocky prideful.
That includes Panthers super fan and reigning NBA MVP Stephen Curry, who used the Panthers' Week 6 victory over the Seahawks to troll NBA rival and Seattle native Nate Robinson:
Before you go calling Curry a bandwagon fan, know this: He grew up in Charlotte, is tight with Panthers QB Cam Newton and was a special guest of the team in Week 2 to beat their signature "Keep pounding" drum.
#KeepPounding pic.twitter.com/9D1YUITOVy

— Carolina Panthers (@Panthers) September 20, 2015
Oh, and his signature shoe reflected his Panthers passion:
A FIRST LOOK AT THE UNDER ARMOUR CURRY ONE LOW "PANTHERS" pic.twitter.com/jClqmVydQI

— @£s¢ (@inthepaint6) June 5, 2015
But give it to Robinson: He took the troll in stride, and didn't hide from being put on blast. Instead, he called out his team (and coach) for their subpar play before offering an intriguing solution to their struggles.
Hey, when your team beats your friend's team -- and is undefeated -- you hold all the bragging rights in any football discussion. Of course, if Robinson wants to pull out the NFL trump card, he could always bring up Super Bowl wins -- but that may lead to an NBA MVP conversation he probably wouldn't enjoy.
Tags:

Stephen Curry, Nate Robinson, Carolina Panthers, Seattle Seahawks, Golden State Warriors, New Orleans Pelicans