SportsNation Blog Archives

Chicago Bulls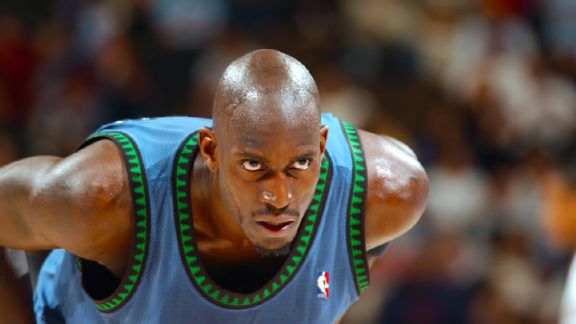 Nathaniel S. Butler/Getty Images
On Monday, Bleacher Report released an oral history of Kevin Garnett. Now, an oral history of one particular player might seem a little much, unless that player is a human anecdote machine -- which the former/current Minnesota Timberwolves and former Boston Celtics and Brooklyn Nets big man most certainly is.
We pulled some of the best quotes from the piece related to Garnett's infamous intensity and trash talk, but it really is worth the whole read:
Joe Abunassar, Garnett's personal trainer: "We had been working out and we went to Memorial Park [in L.A.], and he had forgotten his socks. It was him, [Chauncey] Billups, [Al] Harrington, Ty Lue, Michael Ruffin and a few others. He played every game. He was dunking on guys and blocking shots -- all with no socks on. Hours he was playing. When it was over, there was blood seeping through the front of his shoes. Part of his feet and toes were just bleeding. It was unbelievable."
Chris Bosh, Miami Heat/former Toronto Raptors forward: "Usually I don't talk back, but if he said something to me, I said something back. I had just a terrible game for me [against the Celtics in the 2011 playoffs]. He got me all off my game. He scored, like, four times in a row on me in the crunch. And I was so embarrassed and so upset, and he got in my head. Ever since that day, I never said anything else."
Paul Pierce, former Celtics and Nets teammate: "One time, he asked [Joakim] Noah if he could rub through his hair, like a female or something. ... And I know that kind of made [Noah] hot. And this was when Noah was a rookie, too. I remember Noah looked up to KG. He was like, 'Man, KG, I had your poster on my wall, I looked up to you, man.' And then [Garnett] just said something like that, and was like 'F--- you, Noah.' I was like, 'Whoa.' This kid fresh out of college, looks up to KG, just said he had his poster on the wall, and he tells him that! It crushed him. It crushed Noah."
Pierce again, recalling a light moment between himself (then with Boston) and Garnett (then with Minnesota): "We were both on losing teams at this point. This is probably around the last week of the season. We're talking [trash] at the free throw line. I'm like, 'Man, everybody needs to shut up, because we all going to the Bahamas next week.' And as intense as he was, he had to look up and just start laughing. ... I said, 'I'm going to Cancun. Where are you going, Ticket?' He said, 'I'm going to St. Lucia.'"
Tyronn Lue, former NBA guard: "A lot of people do all their howling on the court and they're faking just for attention, but what he does is genuine. So one day we were at his house and we were watching Puff Daddy's show 'Making the Band,' and in one of the scenes, some new guys came in and were trying to sing and were trying to compete against the guys who had been there. And KG just got so hyped: "M-----f-----, you've got to stand up for yours! You've got to fight! M-----f----, you've got to come together!" He's going crazy, he's sweaty. And he just head-butts the wall and put a hole in the wall of his house."
Check out the story here.
After trailing 2-1 in the series, you could say the Cleveland Cavaliers turned things around against the Chicago Bulls. LeBron James & Co. won three straight, including the clincher: Thursday night's emphatic 94-73 victory in Chicago.
Then someone had a little fun on Wikipedia (to you we-love-LeBron-so-much truthers, we promise it wasn't us):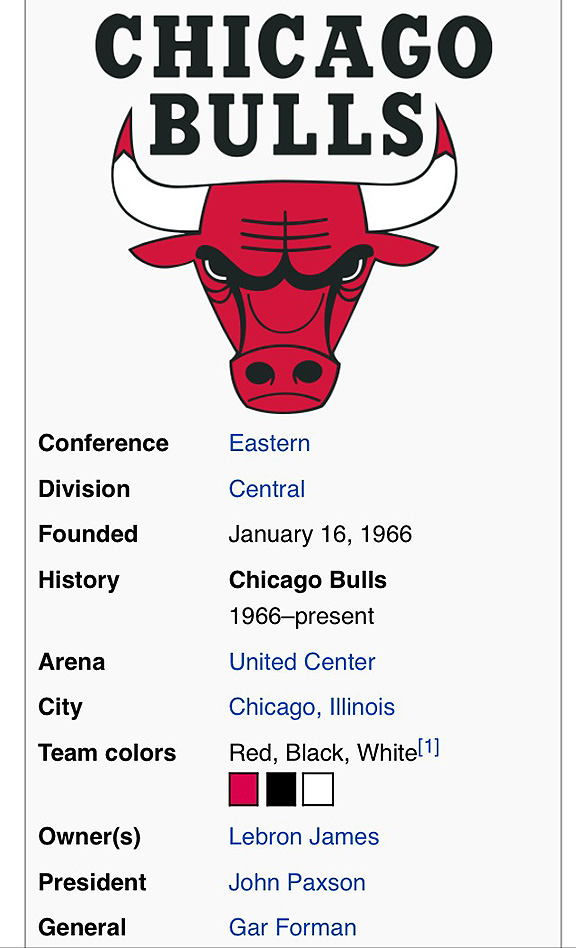 Wikipedia
LeBron James, owner of the Bulls. And while Jerry Reinsdorf (the real owner) isn't going to hand his franchise over anytime soon, we see why this Wikipedia jokester did what he or she did: A James team has eliminated the Bulls from four of the past six postseasons, while the Bulls have never done the same to James.
So yes, in web parlance, they've definitely being "owned."
(The page has since been changed back, by the way.)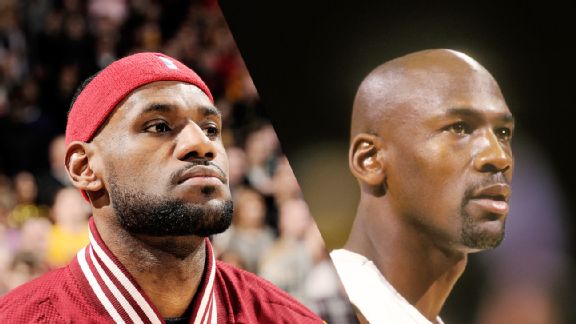 Getty Images
Americans' respect, reverence, love and outright worship of Michael Jordan might never end.
The latest evidence: In a recent survey of 1,471 registered voters conducted from May 7 to May 10, Public Policy Polling found that not only do 77 percent of people find Jordan to be the greatest NBA player of all time, but 34 percent said MJ would beat LeBron James one-on-one ... right now. Only 54 percent said LeBron would win the matchup.
Reminder: Jordan is 52, and retired from basketball 12 years ago after posting decent but very un-MJ-like stats (19.3 player efficiency rating and a pedestrian 6.2 win shares). James is 30, just finished third in NBA MVP voting, posted a 25.9 PER and 10.4 win shares, and scored 38 points and grabbed 12 rebounds in a playoff game.
Now, these being registered voters and therefore 18 and older, it's possible that their age and memories of vintage Jordan are influencing their opinion.
It's also possible that you agree with their assertion -- that MJ was just so good as to be unbeatable.
We don't agree; while we're on board with Jordan being the clear No. 1 all-time, today this matchup wouldn't even be close.
Now it's time for you to decide, then check out who is America's favorite NBA player (you can also read the full report here).
LeBron James hit quite the big shot Sunday, helping his Cleveland Cavaliers complete a comeback win against the Chicago Bulls to even their series 2-2.
The sports world, as it is wont to do, recognized greatness when it saw it -- none more emphatically than Odell Beckham Jr., the New York Giants wide receiver who is a known fan/friend of James.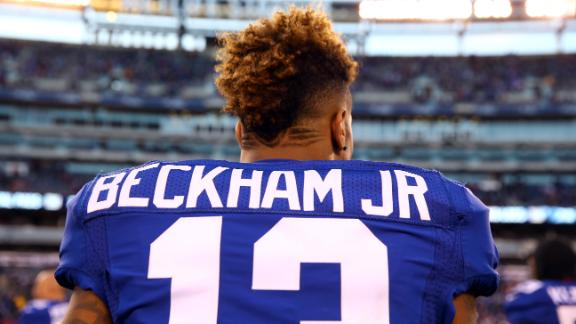 Absolutely classic.
Other athletes showed their enthusiasm, albeit via written word and not video. There were basketball players ...
Bang!!!

— DWade (@DwyaneWade) May 10, 2015
LEBRON JAMES!!!!!!!!

— Nik Stauskas (@NStauskas11) May 10, 2015
Crazy Game Winners

— BRANDON JENNINGS (@BrandonJennings) May 10, 2015
He is Nasty #cold

— Zach LaVine (@ZachLaVine) May 10, 2015
Tristan Thompson almost chocked him out! Lol GEESH! Tough shot by Lebron!

— Skylar Diggins (@SkyDigg4) May 10, 2015
Football players ...
Lebron !!!!

— Antonio Brown (@AntonioBrown84) May 10, 2015
Bron not playin with them boys!

— Le'Veon Bell (@L_Bell26) May 10, 2015
Damn!! #bronbron

— Matt Ryan (@M_Ryan02) May 10, 2015
.@KingJames does it again!! #NBAPlayoffs

— Larry Fitzgerald (@LarryFitzgerald) May 10, 2015
I love it!!! Dude put up with so much hate =ª<þ

— Mike Wallace (@Wallace17_daKid) May 10, 2015
LETS GOOOOOOOOOOOOOOOOOO @KingJames =¯=¯=¯=¯=¯=¯=¯=¯=¯=¯=¯

— Joe Haden (@joehaden23) May 10, 2015
Baseball players ...
Wow wow wow!! Thank you Lebron for allowing this clubhouse to WITNESS GREATNESS!!!! #tigersthankyou #jvknows

— David Price (@DAVIDprice14) May 10, 2015
What a win!! Wow! @cavs @KingJames

— Nick Swisher (@NickSwisher) May 10, 2015
Wow... Just wow. =3... D Rose did it and now LBJ does it right back! #whataseriessofar

— Jason Kipnis (@TheJK_Kid) May 10, 2015
At least one enthusiast from across the pond ...
Lebron James the Man himself!!! #NBAPlayoffs

— Bentekechristian (@bentekechris20) May 10, 2015
But, of course, some haters (or realists, depending on your perspective; a late review did in fact give the Cavaliers time to figure out a play).
Great shot, bad D...

— rudy gobert (@rudygobert27) May 10, 2015
that review was a free timeout tho.

— Solomon Hill (@solohill) May 10, 2015
No matter what you think, it was some shot.
The Chicago Bulls, aiming to strike an almost-crushing blow against the Cleveland Cavaliers in Game 4 of the Eastern Conference semifinals, got an assist from a rather famous Chicagoan on Sunday:
Mr. West is in the building. @kanyewest pic.twitter.com/dZCp7UBTEi

— Chicago Bulls (@chicagobulls) May 10, 2015
Kanye West, fresh off a Saturday night appearance at Wango Tango in Los Angeles, grabbed the mike before the player intros and got the fans hyped.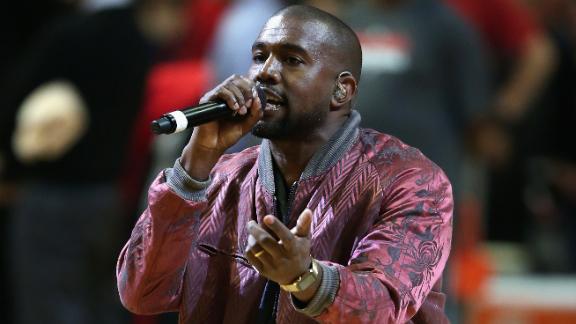 That's not all. During a break in the action, Kanye jumped onto the court for an impromptu performance of his song "All Day":
And that wasn't all ...
Always good to see Mr. West in the house pic.twitter.com/eMkD0FjnPH

— Scottie Pippen (@ScottiePippen) May 10, 2015
Now it's up to one prominent Cleveland musician/band to pump up the crowd for Game 5. We nominate ... Mushroomhead.