SportsNation Blog Archives

Chicago Bulls
The Bulls made a game of it, but in the end, their loss to the Heat might have been an inevitability. Chicago's a good team, but without Derrick Rose, it's just short of elite. Rose has come under fire for his playoff absence this season -- he seemed to be approaching full speed in practice, and he could have definitely helped the Bulls against LeBron James & Co. -- but the real question is what his future looks like. ACL injuries are no joke, and Rose is important enough to the Bulls that our experts don't fault him for sitting out, but that might be cold comfort to fans focused on the here and now.
---
Wasted potential?
Joakim Noah and the rest of the Bulls did their best, but without Rose's explosiveness, taking on the Heat was just too much for them to handle.

---
Back to basics?
You never know how a player will come back from a knee injury -- Bulls fans are likely hoping for an Adrian Peterson situation with Rose.

---
A ring for Rose?
Rose's résumé is sparkling -- he's been both Rookie of the Year and Most Valuable Player -- but it'll be incomplete if he never wins a ring.

It was supposed to be an unbroken chain of wins for the Miami Heat, one after the other until LeBron James came one title closer to fulfilling his initial promise to Heat fans. The Bulls, however, had other ideas, beating the Heat 93-86 in Game 1 of their series. Miami looked rusty after an eight-day layoff and was unable to overcome a patchwork Chicago team, which has found ways to win despite a host of injuries to rather important players. It's not panic time yet for the Heat, but a hungry Bulls team must make them feel less-than-secure about their championship chances.
jpm70127: "If Chicago can pull off another win wednesday, there's no reason why they can't take this series. Butler and Robinson repeating what they did tonight will be key"
ChiBulls92: "Forget the Heat's rust...the Bulls were coming off an exhausting 7 game series with a depleted team causing guys like Jimmy Butler and Noah to play HUGE minutes and still managed to take game 1. Don't know why so many people are focusing on the Heat's rust...Bulls have overcome much more..."
jrsam25: "Still think the Heat will win, but you have to respect the Bulls and their heart."
mestdogg: "This win doesn't make the Bulls favorites in the series by any stretch, but you have to think if this is what the Bulls can do without Deng and Hinrich, getting them back mid-series would be a huge lift still. So who knows?"
joeconstan: "They have a great coach that knows how to win with less. They beat the Heat twice this year with Henrich and Deng in the lineup. Without them they are a team that plays with role players and Thib's knows how to make it work."
mlopez_4: "Heat fan here. Hats off to the Bulls. Just here to give the Bulls credit. Having said that, it is only one game. 2 years ago the bulls also won game 1, and we know how that turned out. "
Join the conversation or respond by signing in or creating a profile and blogging.
---
Ominous portents?
The Heat were able to keep it close for three quarters, but a 10-0 run by the Bulls to close out the game was too much for them to overcome.

After a thrilling first round, Memphis and Golden State are the lone lower seeds to find themselves in the conference semifinals. Does either team have a legitimate chance of getting to the Finals? Did San Antonio's sweep of the Lakers convince you they are a bigger threat to the Heat than the Thunder? Click on the logos below to set your conference semifinal power rankings!


Rank: NBA conference semifinalists

Bulls

Grizzlies

Heat

Knicks

Pacers

Spurs

Thunder

Warriors
Your Rankings
1.

2.

3.

4.

5.

6.

7.

8.

You could have been excused for thinking that the Nets would sweep the Bulls after Game 1 of their playoff series. The 106-89 final score was an embarrassment to Chicago, made worse by being one of those blowouts that isn't even as close as the final score indicated. A superior effort from Joakim Noah & Co., however, evened up the series at a game apiece and dramatically altered the narrative. We're not totally sold on the concept of momentum, but if it does exist, the Bulls may very well have it.
battlehymn: "Thank you Noah for bringing back the pride to the team. Gm 1 was an embarrassment but your effort and heart erased the shame."
Internet Tough Guys Fear Me: "The NATION has spoken. It's going to be Bulls in 5 or 6!"
BK 1st Shift Manager: "Classic bounce back win by a team with too much pride and grit to just roll over. I like them to win the series in 6 but then lose to the Heat in 5."
Blackjack2592: "If the Nets don't get more offense from someone in the frontcourt not named Lopez, the Bulls will win this series. This isn't about Thibideaux vs. Carlesimo or even D-Will. This is about a wounded and hungry team trying to show it can win a big series without its reluctant superstar PG."
The Camby Man Can: "the Nets arent as good as they looked Saturday and they're not as bad as they looked Monday. This is going to be a close series."
capclip9: "Alright, Nets. If Saturday night showed us what you've got, now you get to show us what you're MADE OF. Like Henry Hill said in Goodfellas: "Sometimes, everybody takes a beating." If you truly are as good as you showed on Saturday, then this series gets back to BK, preferably with a lead. Last night you took a beating. That'll happen in a playoff series. Rise up and hit 'em back. Show us what you're made of."
Join the conversation or respond by signing in or creating a profile and blogging.
The Heat's streak is over, but we're not mourning it. Second-longest NBA winning streak ever is not an accomplishment to be ashamed of, right? We're more concerned about the beating LeBron James is taking, apparently without officials calling flagrant fouls. LeBron said he felt at least two plays on Wednesday night -- by Kirk Hinrich and Taj Gibson -- went beyond acceptable hard defensive strategy. The only flagrant foul called last night was on LeBron after a play in which he drove his shoulder into Carlos Boozer.
That typical fair weather fan: "This is why Lebron will never be like Jordan. Jordan had to go up against rough nosed defenses like the Bad-boy Pistons, and Jordan never cried about it. If Lebron played in the early 90s, he would not have the same success and stats he has right now."
Brodie Anderson: "You hear announcers say all of the time that if you are going to foul a guy, make sure you do not let him score. Lebron is nearly unstoppable, so mild slaps on the wrist are not going to stop him, but will likely give him an extra point. He should take it as a compliment that players feel the need just to wrap him up to stop him. Hinrich and Gibson made good hard fouls and they worked."
middledd: "It doesn't matter how big Bron is... tackling is a part of football not basketball... clotheslines are wrestling moves not defensive plays"
D-nice991: "LeBron gets HACKED and doesn't get called. He is not complaining about hard fouls, he is complaining about the lack of proper officiating. There is no reason that Kevin Durant should be averaging more free throw attempts per game than LeBron. It's because LeBron is bigger so ppl just overlook the contact which isn't fair."
scanlan20: "I think its about 50/50. He gets away with a lot because he's LeBron and the league needs him to be amazing. He gets a lot of fouls and gets away with traveling half a dozen times a game (Wade also). He also gets away with more than his fair share of offensive calls. However, I do feel much of it is the Shaq effect in that he's so much bigger/stronger than everyone else that the refs will let him get mugged some of the time."
Mark-Dysinger: "Lebron has tipped his hand here on how to frustrate and beat him....play tough, physical basketball. "
Join the conversation or respond by signing in or creating a profile and blogging.
---
No flagrants?
Players often cite LeBron's rare combination of speed and strength when describing how difficult it is to guard him.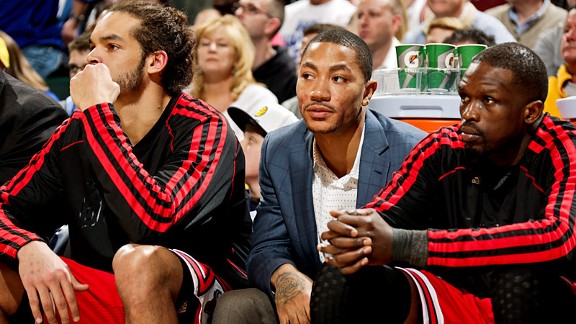 Bulls fans must have been heartened to see Derrick Rose in the arena for Sunday's game against the Pacers, even if he was only on the bench and wearing slacks and a blazer. This is Rose's first time on the bench with his teammates this season as he recovers from his ACL injury. Is this a sign that he's coming back sooner than expected?
VandyLC13: "Anyone else see that smirk DRose had on his face walking off the court when the Pacers were celebrating their W? Swear he was saying to himself 'enjoy it while it last'"
Double A 191: "Whenever he comes back, the key is for his teammates to not rely solely on him like they used to. Everyone has to step up so there isn't that much pressure on Rose to do everything."
NBAFrenchGuy: "You look at the Heat in 2010-2011, and you look at the Heat now, what a big difference!"
Bulls7106: "Rose was on the bench like 'I can't wait to play them in the playoffs'"
wcassassin106: "Nothing to do with Rose on the bench but I had predicted last December that Rose comes back between March 10 and March 20. I really hope I'm right, because I just don't see the Bulls easing him in during the playoffs. He needs a few games at least to come back. If its March 20 and D Rose isn't back, I'm afraid we will have to wait until next season."
ahamilton605: "So about Rose on the bench....my guess is he'll be back VERY SOON now. He was really getting into the game and wanting to be out there."
Join the conversation or respond by signing in or creating a profile and blogging.
On the opening day of the 2012 NBA playoffs, both Derrick Rose and Iman Shumpert went down with torn ACLs. Shumpert returned to action for the Knicks on Jan. 17. Rose, the former league MVP, has yet to play this season and said Wednesday that he still isn't sure when he'll return to action. Should Bulls fans be concerned about Rose's extended absence? And will he be the player he once was when he does come back -- whether it's this season or 2013-14? Cast your votes!
---
An extended absence
Derrick Rose has been out since April 28, when he tore his ACL in Game 1 of the first-round series against the Sixers. Is it time to start worrying that he's not back yet?

---
Beasts of the East?
The Bulls were the top seed in the East each of the past two seasons. Would a healthy Derrick Rose make them the Heat's top challenger?

---
Back and better than ever?
Adrian Peterson set a new standard for comebacks from a torn ACL. Can Bulls fans expect the same level of production from Derrick Rose?

Flip Saunders joined SportsCenter this morning to discuss whether some teams in the middle of the Eastern and Western Conference playoff standings were contenders or pretenders. Now it's your turn to weigh in. Where do you think the Bulls, Nets, Pacers, Grizzlies and Warriors stand in relation to the elite teams at the top of the standings? Are any of them a real threat to go deep in the playoffs or even win the title?
---
Running of the Bulls?
All-Stars Joakim Noah and Luol Deng have kept the Bulls afloat until they get Derrick Rose back.

---
Where Brooklyn at?
Since the Nets replaced Avery Johnson, P.J. Carlesimo has had the team rolling, going 11-3 in January.

---
Right on pace?
The Pacers have been without Danny Granger all year, but Paul George has stepped up.

---
Walking out of Memphis?
The Grizzlies are all smiles now, but will they still be winners if they trade Rudy Gay?

---
Golden State of mind?
Andrew Bogut's return could be just the thing to take the Warriors to the next level.

Friday night's Bulls-Knicks game brought back memories of the teams' classic rivalry in the 1990s. Both teams are in playoff contention? Check. Things got a little chippy? Check. The Bulls won? Check, with Luol Deng and Joakim Noah leading the way. And now that Chicago is 2-0 against the Knicks this season without Derrick Rose, it makes us wonder: Will the Bulls be contenders if Rose returns from knee surgery in time for a playoff run?
louiedajet: "Good job Bulls, defeated a tough NY team. Rose is getting better, Bellineli is starting to shine."
iamthegreatestankur: "The Bulls are playing with a incredible amount of "ugly" right now and mixed with the finesse game of Rose coming on the horizon....Its going to be a good spring if this keeps up for the Bulls."
JWayMac42: "Got to say my Bulls look good very competitive without Rose, but if one trade could be made I would like to see them trade for Tyreke Evans for Rip (expiring contract) or Taj and a draft pick!?!."
bullsaretherealdeal773t: "We need a better back up center in the worst way."
WelcomeToMyCityTheWindyCity23: "Proud to be a Bulls fan right Now! No team has as much heart as our squad."


Join the conversation or respond by signing in or creating a profile and blogging.
LeBron James has been trying to get better since last season, but Charles Barkley might say that LeBron is aiming low. Barkley said in an interview that LeBron could be better than Michael Jordan when it's all said and done. Is Barkley predicting the future, or is he pulling our collective leg?
FatherTres 1.7: "If he does become better, cool, but people who saw Jordan play in his prime (not based on hype) know, no one was better than Jordan! He was years ahead of his time. Unfortunately, you cant convince the younger generation, because they believe what they see NOW."
nj2Portugal: "It's a beautiful thing to see the old school guys like Barkley Pippen Bird and Magic all agree that Lebron is or could be better than MJ. These guys all played with him so they know what they are talking about."
antistratfordian: "LeBron is great because of his genius basketball mind. His athleticism is only a small part of his greatness. If you removed his athleticism he'd just be a better version of Magic Johnson."
Jumpman11071985: "Oh Charles you should know better than that. I can agree that LeBron is bigger, he might be even stronger (but as we all know Jordan was freakishly strong, for sure stronger than any other 6.6 guard) however LeBron is not faster than Jordan, he is not even close in terms of speed and quickness to MJ. Young Jordan was just cat quick, the quickest first step I've seen from any player so Charles is simply mistaken"
keithboogie: "I am a Michael Jordan fan for life and he made me enjoy pro basketball but I agree with Barkley nobody can score like michael jordan but no one plays a more complete game than Lebron James and Lebron is faster than mike and strength is in the eye of the beholder. If lebron needed too he could score at will but he has stars with him and he gets everyone involved. Jordan knew he needed to score and thats what he did."

Join the conversation or respond by signing in or creating a profile and blogging.