SportsNation Blog Archives

Indiana Pacers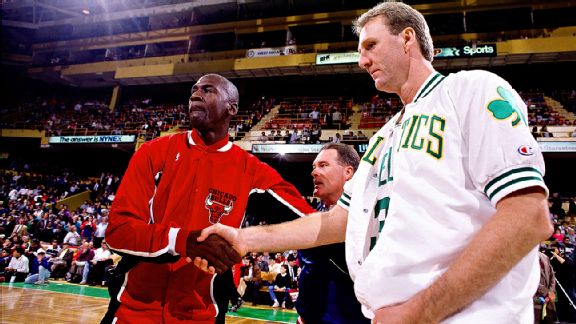 Nathaniel S. Butler/NBAE/Getty Images
Today in Hypothetical NBA Debates: Larry Bird vs. Michael Jordan in one-on-one!
No, we're not asking who'd win a battle in their primes, nor a real-life version of those Bird-Jordan McDonald's commercials. We're talking about a question posed to the Indiana Pacers' president of basketball operations Monday on the Dan Patrick Show.
That question: Could Bird, 58, take Jordan, 52, right now?
"Could I take Jordan? Where's this going? Can I wear my Hickory uniform? Boy, that'd be a good game," Bird said, before offering the goods:
"I hate to admit this, but he'd kill me. ... I'm 40 pounds more than I was when I played, I'm broken-down, I really don't care like I used to, I have a fight in me but it's not the fight that I once had ... but it'd be a pretty close game."
Ah, there's the trash-talker we know and love, unable to fully commit to the idea of getting killed on the court by a rival.
This came as part of a larger conversation based on Jordan's comments from June, in which he said he was "pretty sure" he could beat the members of his Charlotte Hornets one-on-one.
Bird was having none of that, by the way. When he heard Jordan said he could beat his players now, Bird offered a big laugh.
"Now?" he said. "Oh, gee. Come on.
"He can believe whatever he wants. ... He'd have to prove that to me. Man, [star athletes have] to let this stuff go. ... That's just ridiculous."
Bird was also asked if he was ever better than someone who was on his roster while he coached the Pacers (from 1997 to 2000, when he was 40-43).
"I don't know about that," he said. And what about shooting?
"Oh yeah. Oh God yeah. Standing still, shooting? Ain't no problem."
Still, he said, he was never the best shooter while he coached the Pacers.
"Nah, Reggie [Miller] was here, Chris Mullin, Sam Perkins; they had some pretty good shooters."
And speaking of shooting, Bird weighed in on another debate: Is, as a number of sharpshooting legends have suggested, Stephen Curry the best shooter of all time?
"I don't know about that," Bird said. "Chris Mullin was pretty good. ... [But] deep shooter, Curry is about one of the best."
Are you in the conversation, Bird was asked?
His answer, without hesitation: "Yep."
For more from Bird -- including talk of his high school days, whether he could have gone pro at 18-19 and more, check out the full interview here.
Andy Lyons/Getty Images

Pacers stay alive vs. Heat

Things looked bleak for the Indiana Pacers in Game 5 of the Eastern Conference finals. They trailed the Miami Heat by 11 in the third quarter, having scored just 37 points in 28 minutes. Then they charged back, took a lead after three frames and held on to win 93-90 thanks to Paul George (who scored 21 of his 37 in the final period). Does this give the Pacers new life? Is George a superstar? Do you like Lance Stephenson, who continued his push to get under LeBron James' skin?

Al Diaz/Miami Herald/MCT/Getty Images

Heat win Game 2 to even series

For a minute there, it appeared the Indiana Pacers would leave Indianapolis up 2-0 on the two-time defending-champion Miami Heat. But LeBron James, Dwyane Wade & Co. dug in, and managed to even the series with a strong fourth quarter in a 87-83 win. Will Miami go on to take the East for a fourth straight year?