SportsNation Blog Archives

Dallas Mavericks
It's no secret there has been some drama between the Los Angeles Clippers and the Dallas Mavericks franchises lately.
If you followed along during the NBA offseason, you know that they played a game of tug-of-war over a certain DeAndre Jordan.
Mavs owner Mark Cuban hasn't made an effort to hide his displeasure over the matter. On Thursday night, he seized the opportunity to set the record straight, saying:
"I mean, I don't hate the Clippers ... I just don't give a s--- about the Clippers."
But lucky for us, the Kiss Cam doesn't discriminate:
So this just happened on the Kiss Cam = https://t.co/BHFiOLg5lY

— LA Clippers (@LAClippers) October 30, 2015
Nothing to see here, just a few NBA owners forced to "kiss and make up."
With the NBA preseason nearly done but still time to kill before the first official tipoff, NBA players are now turning their minds to the important questions.
Specifically:
Had this debate the other day in the locker room: Who wins a 40 yard dash between me and Peyton Manning???

— Dirk Nowitzki (@swish41) October 23, 2015
Our money would be on the 37-year-old German, whose sport forces him to run more than the 39-year-old Denver Broncos quarterback.
And we just might get to find out! Or at least Chandler Parsons and Von Miller are trying to make it so:
Yo @Millerlite40 make this happen! https://t.co/m0tHNSoweH

— Chandler Parsons (@ChandlerParsons) October 23, 2015
That would be epic! Over/under 5.7? I got Peyton by 1.5yds lol= https://t.co/2fc227hDvQ

— Von Miller (@Millerlite40) October 23, 2015
H/T SB Nation
September 21, 2015
Sep
21
Brandon Armstrong does spot-on impressions of NBA players, but that's not all. Another game of Armstrong's is impersonating "those guys" you see in pick-up hoops.
His target Monday: point guards who never, ever, ever ever ever, seem to shoot.
It's perfect: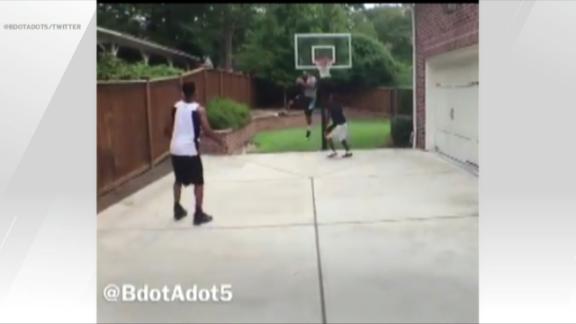 Now, this might remind you of certain NBA players, too. When sharing the post on Twitter, Armstrong dropped the name of a certain Sacramento Kings ball-handler who once won a ring with the Boston Celtics (and, oh yeah, whose name is in the headline of this post).
That one PG who NEVER shoots the ball aka @RajonRondo = w/ @That_Guyy23 @Doitlikederrick #NotTheOfficialRondoBeLike pic.twitter.com/YrCiXpwH2j

— B.A. (@BdotAdot5) September 21, 2015
Note, though, this isn't his official impersonation of Rondo. After all, he didn't do this.
Days ago, DeAndre Jordan agreed to leave the Los Angeles Clippers for the Dallas Mavericks. But with players unable to officially sign until Thursday, Jordan had time to change his mind. He apparently did, telling Clippers players and officials after a meeting at his house Wednesday evening that he would indeed return.
But that wasn't good enough for L.A. Sources told ESPN that the team stayed at his house after their meeting, refusing to leave until midnight Eastern when the signing could become official -- and, in effect, keeping him from speaking with Mavs owner Mark Cuban, his agents, or anyone else.
In the middle of it all, Blake Griffin appeared to confirm the entire scenario with this tweet from (apparently) inside the house:
Don't agree with the furniture layout but I'm not an interior designer. pic.twitter.com/23PNgQB88z

— Blake Griffin (@blakegriffin32) July 9, 2015
Then, 30 minutes later:
Alright everybody goodnight! pic.twitter.com/cME0rFR5LC

— Blake Griffin (@blakegriffin32) July 9, 2015
Funny! However, you're not going to put this one past us, Blake Griffin.
A Google Images search of "tent in backyard" turns up this strikingly familiar image, pulled from a camping blog post.
A cursory search for "chair against door" couldn't find anything that looked like Griffin's first photo, which leads us to believe it might be real. (And if you are at the house, it would be a lot easier to stage than the tent image.)
Either way, it's just another element of perhaps the craziest offseason day in NBA history -- one that started with emojis, included Kobe Bryant inventing a hashtag, and came to this.
UPDATE: At least Doc Rivers and (if he took the photo) Paul Pierce appeared to stay with Jordan until he officially signed.
That's why they brought me here lol pic.twitter.com/Z64Tkiyp01

— Paul Pierce (@paulpierce34) July 9, 2015
In case you've been living under a rock that doesn't have Wi-Fi or a cell signal, the NBA Internet has spent Wednesday embroiled in an emoji fight.
It started when, after word spread of DeAndre Jordan possibly backing out of his agreed-upon deal with the Dallas Mavericks, Dallas' Chandler Parsons sent out a single-emoji tweet suggesting he was traveling to meet his would-be teammate. A torrent of emoji-based Los Angeles Clippers tweets followed, then the Internet got hold of it, and emojis started flying to all corners of the Web -- some players doing it correctly, others incorrectly, some teams nailing it, others missing the mark, Baron Davis posting a toilet, and much more.
Then, when it seemed like it all was over, Kobe Bryant chimed in to see what was happening:
Emoji battle?

— Kobe Bryant (@kobebryant) July 8, 2015
After an assist from ESPN's own Jemele Hill ...
All the kids are doing it, apparently RT @kobebryant: Emoji battle?

— Jemele Hill (@jemelehill) July 8, 2015
The Los Angeles Lakers star did his best to shut down the game:
Ah ok .. I see .. =<Æ<Æ<Æ<Æ<Æ==¤ #mambaout https://t.co/sdx5kpqWwY

— Kobe Bryant (@kobebryant) July 8, 2015
And thus, #mambaout was born.