SportsNation Blog Archives

San Antonio Spurs
NBA impersonator extraordinaire Brandon Armstrong has won scores of fans this summer with his crazy-good takes on LeBron James, James Harden, Kobe Bryant, Russell Westbrook and more. Westbrook even tweeted his support of Armstrong.
Well, it looks like the Oklahoma City Thunder guard isn't the only NBA player who likes Armstrong's work. On Wednesday, the former D-Leaguer dropped a Manu Ginobili impression: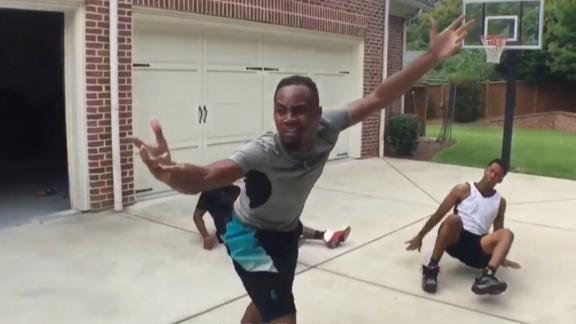 ... and Ginobili responded:
=.=.= = = ==== Great job man! Loved it! https://t.co/UFNvw9rYvS

— Manu Ginobili (@manuginobili) September 2, 2015
Armstrong is quickly becoming the James Adomian (look him up, kids) of the NBA.
Can't wait to see what's next.
The Los Angeles Clippers took down the San Antonio Spurs in a seven-game series that players sure loved.
But the Clippers weren't exactly favorites to advance to the second round of the NBA playoffs. In fact, before the series, coach Doc Rivers handed players one sheet of paper as motivation (read more about it here):
The sheet of paper Clippers players were given before their series against the Spurs. pic.twitter.com/QPSUOvQc3M

— Arash Markazi (@ArashMarkazi) May 3, 2015
Yes, those are predictions from nationally known analysts, including many of ESPN's own.
Guess the Clippers might be paying attention to this page a little more closely than we thought ...
Joe Murphy/NBAE/Getty Images
2014-15 NBA schedule released
The 2014-15 NBA schedule is here, with some pretty sweet matchups highlighting the season's big days. The opening-night slate comprises Dallas Mavericks-San Antonio Spurs and Houston Rockets-Los Angeles Lakers. On Christmas, the Cleveland Cavaliers make their first trip to Miami since LeBron James left the Heat, while Western Conference titans Oklahoma City Thunder and San Antonio Spurs square off in Texas. It's all part of a regular season that promises to be compelling.
Five weeks after the infamous "air conditioner game" -- you know the one -- the Spurs posted the following job to NBA.com:

Courtesy of NBA.com

What is a senior operations manager? Well, the job requires myriad duties. But one of them in particular stands out:

Courtesy of NBA.com

Yes, experience with HVAC (heating, ventilation, air conditioning) units is a must for this post. Now, one might think that this job is in direct reaction to the incredible outage in Game 1 of the NBA Finals. However, notice how it doesn't say the applicant must be experienced at keeping them running. Hmmmm ...

AP Photo/Eric Gay

Soobum Im/USA TODAY Sports

Andy Lyons/Getty Images

Bob Donnan/USA TODAY Sports

Note: SportsNation does not actually believe the outage was a conspiracy.

Christopher Trotman/Getty Images

End of the Big Three in Miami?

The Miami Heat's Big Three set out for a three-peat this season. Instead, they got hammered by the San Antonio Spurs in the NBA Finals, leading many to speculate that this might be the end of LeBron James, Dwyane Wade and Chris Bosh all together in South Florida. Then again, there are some suggestions all three could stay -- and be joined by Carmelo Anthony. What do you expect to see?