SportsNation Blog Archives

Los Angeles Lakers
September 21, 2015
Sep
21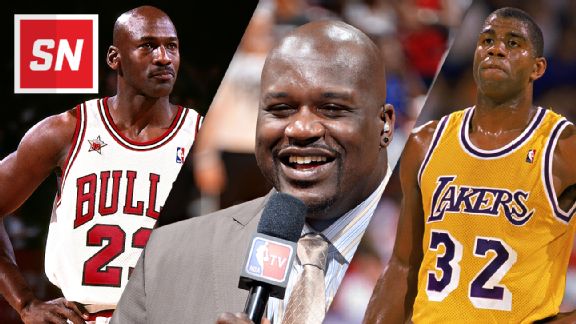 Getty Images
NBA top fives are in the air. Kevin Durant gave his list two weeks ago, and now, one of Durant's picks has made his own choices.
In an interview with The Times-Picayune of New Orleans, former Los Angeles Lakers (and Orlando Magic ... and Miami Heat ... and a few other teams) big man Shaquille O'Neal was asked his all-time starting five. His answer:
"Bill Russell won 11 championships. Charles Barkley is my guy, but I like Karl Malone. Then there's the guy who made me who I am -- Dr. J [Julius Erving]. I've got Michael [Jordan] at the two. Then, I'm going to go with the big guard with Magic Johnson at the one."
Now, O'Neal made sure NOT to put an exclamation point on his list, saying:
"I see a problem with answering these questions. A lot of people get their feelings hurt. Then some of you guys [reporters] be trying to start trouble, like Shaq leaving Kobe [Bryant] off. Then it's Shaq and Kobe.
"But that's my top five for playing reasons and what they did. Russell doesn't have high [statistical] numbers, but with 11 championships, nobody is beating that."
We're not doing that, Shaq! We know you're mending fences with former teammate Kobe Bryant and certainly wouldn't leave him off as a dig. Heck, he wouldn't be on this writer's top five, either -- not because Kobe hasn't been great (he has), but when you get to the upper reaches of the NBA's all-timers list, it's really, really, really competitive.
Having said that, O'Neal did make some interesting choices; Malone and Erving, in particular, don't appear on a great deal of these lists. So we ask you: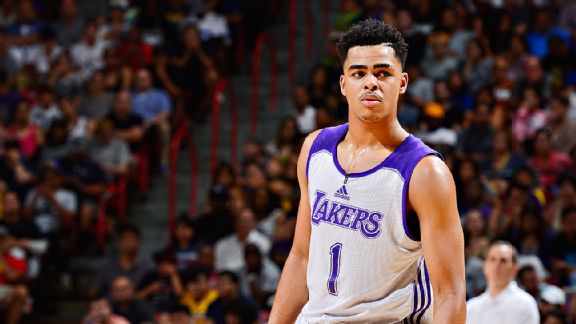 David Dow/NBAE/Getty Images
D'Angelo Russell sent out a since-deleted tweet earlier this month, claiming that the talented-but-oft-injured Tracy McGrady "might have been the GOAT."
This raised eyebrows; after all, Russell's new Los Angeles Lakers teammate is Kobe Bryant -- himself an all-time great who gets labeled by some fans as the "best ever" (despite, you know, this guy).
Kobe himself responded, leading to a good-natured exchange between rookie and legend that has seemingly quashed any thoughts of bad blood.
All good in Laker Land? Well ...
This weekend the No. 2 overall pick spoke with the Los Angeles Daily News about his first offseason as a Laker, and that infamous tweet. Here's the key McGrady-related quote in a story that covers much more:
"There's a lot of spoiled Lakers fans. I wasn't downgrading Kobe at all. I was just watching a highlight tape of Tracy McGrady and I got excited. I tweeted and the whole state of California went crazy."
(Insert flushed emoji here.)
Now, it's hard to deny that fans of this franchise -- winner of 16 overall titles, 11 since moving to Southern California, five in the Kobe era and at least two during the lifetimes of pretty much anyone who's reading this -- have had it just a little bit good.
But if some Lakers fans went after him for the McGrady tweet, this might not exactly endear him to those same fevered supporters.
Then again, if he lives up to the hype, we're guessing they'll forgive it all.
First he imitated Kobe Bryant ... by traveling.
Then, on Thursday, new Los Angeles Lakers guard D'Angelo Russell did Kobe like this:
Honestly Tracy McGrady might have been the GOAT!

— D'Angelo Russell (@Dloading) August 13, 2015
All right, all right, we're almost certainly exaggerating. The Kobe move was all in good fun. Meanwhile this could be interpreted in multiple ways: 1) simply enthusiastic hyperbole from someone who was just watching impressive Tracy McGrady highlights; 2) a lamentation of the injuries that kept McGrady from reaching his heights; or 3) OMG Russell thinks McGrady was better than Kobe!
We're guessing it's a mix of 1 and 2; after all, who hasn't tweeted outrageous things based on a single moment/video, and who doesn't wish McGrady had been able to fulfill his potential?
But hey, this is the Lakers and this is Kobe, so it's fun to imagine his locker-room reaction to the No. 2 overall pick's offseason shenanigans.
Or, before then, he could just shut it down with:
Ah ok .. I see .. =<Æ<Æ<Æ<Æ<Æ==¤ #mambaout https://t.co/sdx5kpqWwY

— Kobe Bryant (@kobebryant) July 8, 2015
Brandon Armstrong isn't the only basketball player with impressive impression skills.
OK, so these NBA rookies might not impersonate quite at a B.A. level. But in this video for SB Nation, the likes of Willie Cauley-Stein, Frank Kaminsky, Jahlil Okafor and more try their hand at mimicking LeBron James, James Harden, Allen Iverson and others ... with Los Angeles Lakers rookie D'Angelo Russell doing a surprisingly honest Kobe Bryant, as well.
Not bad! Although Kobe might take issue with that pivot foot, rook.
Personal other favorites: Kelly Oubre's swag-filled Nick Young, R.J. Hunter crawling across the floor as Matthew Dellavedova, Russell's herky-jerky Harden and Trey Lyles asking former Kentucky teammate Cauley-Stein, "Do you watch basketball?"
James Harden isn't always the flashiest, but he's nothing if not methodical and effective.
Even in a game that doesn't count in the NBA standings, and even after he gets dunked on by a lesser (but still pretty good) player.
That's what happened Sunday in the final of Los Angeles' Drew League, when the Southland native was absolutely put on a poster by Compton's own DeMar DeRozan, a onetime All-Star with the Toronto Raptors:
But true to form, the Houston Rockets star and players' MVP waited for his moment to strike ... then did this, over fellow Angeleno Nick Young, for what was the eventual game-winner:
Harden's team, LAUNFD (L.A. Unified), eventually beat Most Hated Players 98-93 in the final to continue a strong run in the Drew League.
4 titles in 6 years! LAUNFD defeats M.H.P. 98-93 to win the 2015 Championship! #thedrew

— Drew League (@DrewLeague) August 9, 2015
And Harden wasn't just a one-play wonder. As he does, Harden had a game.
.@JHarden13 finished with a game-high 37 points (10/18 FGs, 6/13 3s, 11/12 FTs), 4 rebounds, 5 assists for LAUNFD #thedrew

— Drew League (@DrewLeague) August 10, 2015
Is it NBA season yet?
H/T Bleacher Report