SportsNation Blog Archives

Los Angeles Lakers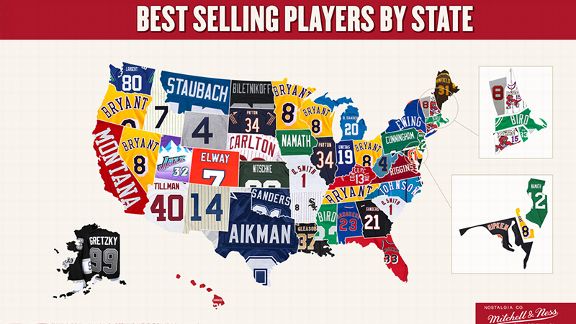 Courtesy Mitchell & Ness
Recently a vintage apparel company crunched its sales numbers for throwback pro sports jerseys, then created the fascinating map above (click here for a larger version).
Important note: These are numbers for specific jerseys (e.g. John Elway's 1994 authentic jersey), not all jerseys for a specific player. Now, some thoughts:
• The Kobe Bryant rookie-year No. 8 is the best-seller in seven states, and its popularity is the first thing that stands out ... especially when you note where it moves well (Oregon, Minnesota, Wisconsin and Ohio, which all have their share of successful retired pro athletes) and where it doesn't dominate (California, where Bryant's No. 24 is, shall we say, still a rather common sight).
• Another surprise: Michael Jordan did not win Illinois; instead, that honor goes to late and beloved former Chicago Bears running back Walter Payton, whose 1985 jersey outsold anything having to do with No. 23.
• Off-field factors clearly influenced Arizona and Louisiana. In the former, Pat Tillman, who left the Arizona Cardinals to join the U.S. Army and was later killed in Afghanistan, outsold Phoenix Suns legends such as Steve Nash and Charles Barkley. For the latter, Steve Gleason, the former New Orleans Saints safety/special-teamer who is battling ALS and raising awareness for the disease, beat out other ex-Saints and LSU/New Orleans Jazz star Pete Maravich.
• Our favorites: The seemingly random picks from states without major pro sports teams, such as Oklahoma-native New York Yankees legend Mickey Mantle in Idaho, New Yorker through-and-through Lou Gehrig in Wyoming, Pennsylvania native and Florida State/Oakland Raiders-tied Fred Biletnikoff in North Dakota, Pittsburgh-to-Tuscaloosa-to-New York-to-Los Angeles Super Bowl star Joe Namath in Iowa, and Minnesota native Dave Winfield's San Diego Padres jersey in Maine -- which is about as far from San Diego as you can get in the continental U.S. Perhaps there's a small-sample situation here?
Check out the map and full jersey breakdown on Mitchell & Ness' website.
H/T For The Win