SportsNation Blog Archives

Los Angeles Lakers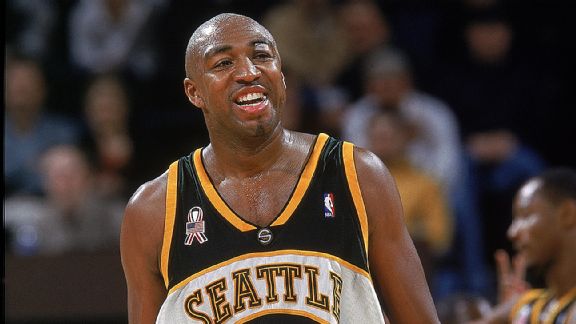 Rocky Widner /NBAE/Getty Images
The story of Vin Baker can be seen as a sad one: A former big man for the Milwaukee Bucks, Seattle SuperSonics and other teams -- he of four straight All-Star appearances and one 20-and-10 season -- fell into alcoholism and ended up losing nearly $100 million.
But that story is far from over, and it's taken a significant and positive turn.
As profiled by the Providence Journal, the 43-year-old Connecticut native is now living in North Kingstown, Rhode Island, and training to be a manager at the Starbucks for which he works.
"In this company, there are opportunities for everyone," the 6-foot-11 Baker told the paper. "I have an excellent situation here at Starbucks, and the people are wonderful."
As for the people who view his story as tragic, Baker was quick to downplay that notion. He isn't running away from it, either; he wants people to learn from his mistakes.
"When you learn lessons in life, no matter what level you're at financially, the important part to realize is it could happen," he told the Journal. "I was an alcoholic. I lost a fortune. I had a great talent and lost it. For the people on the outside looking in, they're like, 'Wow.'
"For me, I'm 43, and I have four kids. I have to pick up the pieces. I'm a father. I'm a minister in my father's church. I have to take the story and show that you can bounce back. If I use my notoriety in the right way, most people will appreciate that this guy is just trying to bounce back in his life."
There's much more in Kevin McNamara's piece on Baker, who recently worked with the Bucks coaching staff at the Las Vegas Summer League, thanks to an invite from Jason Kidd.
Check it out here.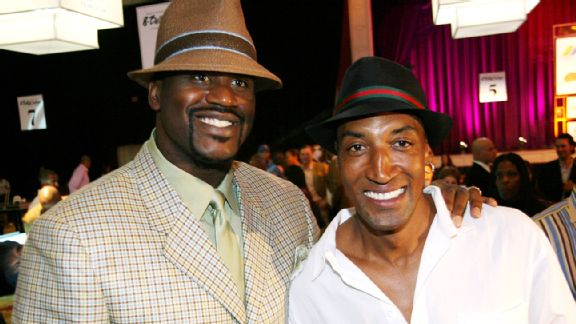 Johnny Nunez/WireImage
A week ago, Shaquille O'Neal and Scottie Pippen got into an Instagram feud over the former's suggestion that an all-time Los Angeles Lakers lineup would beat that of the Chicago Bulls ... by 50.
On Tuesday, Shaq talked about it on his podcast, The Big Podcast with Shaq ... and did nothing to dump water on the fire.
Instead, he poured gallons and gallons of gasoline.
It all started when he was asked if his Instagram post was meant to call out the Bulls.
"Of course not. ... I didn't even make the picture; some other little guy made the picture so I just took it. ... And I said we'd beat 'em by 50. And that's how I feel and I'm sticking to it. I didn't say: 'Hey at Scottie Pippen, we'll beat you guys by 50. Hey, at Rodman we'll beat you guys by [50].' I just said, 'I'll beat you by 50.'"
This is where Pippen went wrong, according to Shaq. O'Neal explains:
"He made it personal when he said, 'Oh, at Shaq, hey I don't believe in hypotheticals.' So he swung first, so I'm going to swing second, and I'm going to swing last. Because I don't let bums disrespect me.
"Yeah, he was a great player, but I'm the bridge, he's the water. He will always be under me. Every now and then he will rise to the occasion and get to the same level as the bridge. But when reality kicks in, I am bridge, he is water, he is under me. Scottie Pippen can't disrespect me. So he comes at me, I'm coming back. And we can do this all day, because I have nothing to do."
Shaq wasn't done.
"He made it personal when he put 'At Shaq, we've got six rings,' like he was the main focus of the six rings. You were not the main focus of the six rings. Don't make me put out the scouting report. He wasn't even a factor in the scouting report. It was all about [Michael Jordan]. ... You double Mike, Scottie was open, Scottie hit a couple shots."
Still not done.
"Let's just talk reality. When you say top 10 players, his name will never be mentioned. When you say top 20 players, his name maybe will be mentioned. So don't come to me like I'm not a player. ... You're a Benz, you're a 550. I'm a 600, V-12. OK?"
At this point, O'Neal was asked if he really meant "bum." His response?
"Bum."
Then:
"Think about why I'm saying 'bum.' Because I have the G-14 classification to say that. Everybody can't say that about a Scottie Pippen, but I can. ... I can say he's a bum."
G-14, if you were wondering, is from the movie "Rush Hour."
Now, does O'Neal have a relationship with Pippen?
"I don't. ... He was cool, respectful and all that. But he made it personal when he came at me, flashing his six rings like he was the main, main factor of the six rings. Stop it, Scottie. We all know you were second fiddle. You'll always be second fiddle. ... You're Robin. you're not Batman. You're not Puffy, you're Mase."
Was Shaq a Robin?
"Yeah, towards the end."
But ...
"Three Finals MVPs ain't got Robin on it. Robin Hood [maybe]."
Then O'Neal went back in on Pippen. At this point, if we'd been tagging these with fire emoji, we'd be out.
"When Michael left, you didn't do nothing. All you did was cry and whine when Phil [Jackson] didn't give you the last shot. He gave it to Toni Kukoc, who was a much better player than you. Toni Kukoc hit the game[-winning] shot. When you left and went to Houston, what did you do? Nothing. When you left and went to Portland, what did you do? Oh yeah, you took us to a Game 7 ... up by 17 in the fourth quarter, what happened? You lose."
For the unfamiliar, this is the infamous refusing-to-come-off-the-bench moment from during Jordan's first retirement, and this is the write-up for the Lakers' epic 2000 comeback (it was actually 16 points in the game and 15 in the fourth).
Shaq was just about done, but wanted to make one last point:
"Those are Mike's six rings."
Woof. Pippen has been invited to go on the podcast to debate; we'll see if that happens.
Click here to listen to the full podcast.
H/T Sporting News
There's a Nick Young quote that is one of the 21st century's greatest:
No tats on the right arm Strictly for buckets

— Nick Young (@NickSwagyPYoung) August 15, 2014
Now here is the Los Angeles Lakers guard, in a Drew League game, after an opponent had tied up the game with his own clutch shot: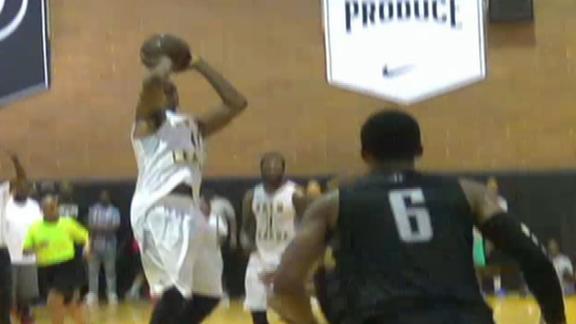 The behind-the-back dribble. Then the bucket.
Swaggy P's words in action.
Just how he likes it.
Great game !!!!! https://t.co/2R9ig8HPTL

— Nick Young (@NickSwagyPYoung) July 26, 2015
H/T For The Win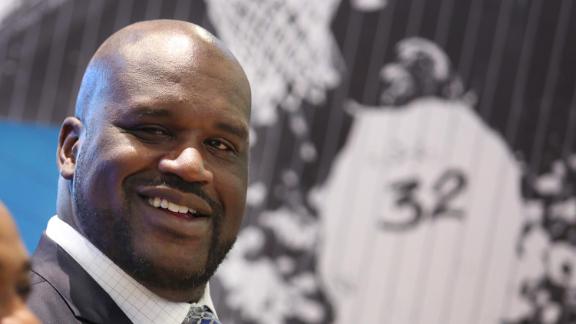 Poor Scottie Pippen. For one of the greatest players ever to dribble a basketball, the man takes a whole lot of flak. The culprit behind today's dose of disrespect? None other than The Big Aristotle.
On Sunday, Shaquille O'Neal took to Instagram to make a random (and bold) claim that the best players ever to don a Lakers uniform would embarrass a potent Bulls squad by 50 points:
The next day, the Bulls legend answered Shaq's taunt with a slight jab:
That's all it took to provoke the former Lakers big man to fire shots at Mr. Pippen (complete with some crafty Photoshop):
OH NO HE DIDN'T. Not a day goes by that the man isn't reminded he's not Michael Jordan. All courtesy of a classic Batman-and-Robin, Puffy-and-Mase analogy brought to social media by Shaquille O'Neal ... cold-blooded.
But don't cry for Pippen just yet. Right when it appeared it was over, Scottie fired back.
Scottie didn't stop there.
Two points for Pippen!
As anticipated, Shaq Daddy retaliated. Not once, not twice, but three times ... first with the unpleasant visual of what he dubbed Pippen's "sidekick edition" shoes:
Then he introduced the world to "Scottina Pippen":
The final dagger? This simulation of a Jordan-less Pippen (as a Trail Blazer) getting schooled on defense, because tape doesn't lie:
After that, it appeared Scottie Pippen had had enough as he flashed his bling, posting: "Game over, @shaq. All that's ever mattered to me is winning and we did plenty of that in Chicago..."
Not. So. Fast. Shaq was unimpressed with his foe's attempt to squash the beef, as he responded with this:
Two takeaways: 1. Don't get into social media warfare with Shaquille O'Neal, unless you want your head to be Photoshopped on an eclectic mix of images. 2. Shaq has way too much time on his hands.
In case you've been living under a rock that doesn't have Wi-Fi or a cell signal, the NBA Internet has spent Wednesday embroiled in an emoji fight.
It started when, after word spread of DeAndre Jordan possibly backing out of his agreed-upon deal with the Dallas Mavericks, Dallas' Chandler Parsons sent out a single-emoji tweet suggesting he was traveling to meet his would-be teammate. A torrent of emoji-based Los Angeles Clippers tweets followed, then the Internet got hold of it, and emojis started flying to all corners of the Web -- some players doing it correctly, others incorrectly, some teams nailing it, others missing the mark, Baron Davis posting a toilet, and much more.
Then, when it seemed like it all was over, Kobe Bryant chimed in to see what was happening:
Emoji battle?

— Kobe Bryant (@kobebryant) July 8, 2015
After an assist from ESPN's own Jemele Hill ...
All the kids are doing it, apparently RT @kobebryant: Emoji battle?

— Jemele Hill (@jemelehill) July 8, 2015
The Los Angeles Lakers star did his best to shut down the game:
Ah ok .. I see .. =<Æ<Æ<Æ<Æ<Æ==¤ #mambaout https://t.co/sdx5kpqWwY

— Kobe Bryant (@kobebryant) July 8, 2015
And thus, #mambaout was born.