SportsNation Blog Archives

Oklahoma City Thunder
Rondae Hollis-Jefferson, who recently finished his sophomore season at Arizona, is considered one of the best athletes -- if not the best athlete -- in the 2015 NBA draft. His dunk on 7-foot-6 UC Irvine big man Mamadou N'Diaye was one of the slams of the year.
At the recent NBA draft combine in Chicago, RHJ was asked whom he wants to posterize once he gets to the Association. His answer, per The Oklahoman:
"I don't know if I should say this because he might be, like, looking for me if I come down the paint. But I know Serge Ibaka is a big blocked-shot dude. So if I can get him, I'm good."
Hollis-Jefferson also, according to the report, turned to the camera and (jokingly) said: "Serge, I'm coming for you, baby," before acknowledging, "He's a tremendous athlete or whatever, so it'll just be good if I can get one on him."
Well, the Oklahoma City big man heard the call:
Lol I will be waiting for you young fella! Good luck in the draft! https://t.co/wZehxXL2Ca

— Serge Ibaka (@sergeibaka9) May 18, 2015
We have beef! OK, we don't have beef.
@sergeibaka9 thanks man really appreciate it !!! See you soon = (Game Face)

— R.HollisJefferson (@RondaeHJ23) May 18, 2015
Also, there's the outside chance that -- with Hollis-Jefferson ranked No. 22 in
Chad Ford's Top 100
and the Thunder likely to select 14th overall -- they will be teammates.
That would make practices interesting ...
H/T The Oklahoman
Russell Westbrook had an incredible statistical day Sunday: 54 points, nine rebounds and eight assists.
But other things did not go as well for the Oklahoma City Thunder star. His team lost 116-104 at the Indiana Pacers, which kept them behind the New Orleans Pelicans for the final Western Conference playoff spot because of the head-to-head tiebreaker. And the guard was called for the following technical, which will have him suspended one game, per NBA rules:
Westbrook's injured teammate, Kevin Durant, was apparently not happy with the call: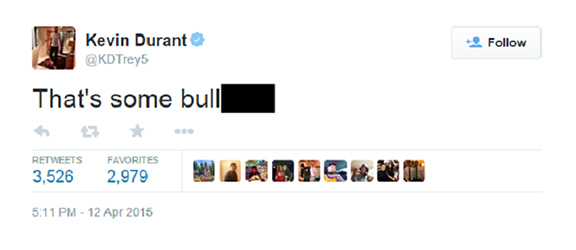 KDTrey5/Twitter
Durant, who has been rather outspoken of late, did not delete the tweet (at least as of this writing). He followed with another that showed how much it pains him to watch this playoff race from the sideline:
Good fight fellas! Love yall, let's get this one tomorrow!! #Imissgoingtobattlewiththemob

— Kevin Durant (@KDTrey5) April 13, 2015
If the technical isn't rescinded, Westbrook will miss Monday's home game against the Portland Trail Blazers. That game is followed by a visit to the Minnesota Timberwolves.
The Pelicans, meanwhile, also travel to Minnesota, then play host to the San Antonio Spurs.
Both teams are 43-37.
UPDATE: The NBA rescinded Westbrook's technical, meaning he will play Monday night.
On Wednesday we asked fans: Who, among the top four choices, is your pick for 2014-15 NBA MVP?
As of Thursday evening, the results were nearly unanimous: Stephen Curry, the prodigious point guard who has led the Golden State Warriors to be the best team in the NBA, is the one.
Unless you're an Oklahoman: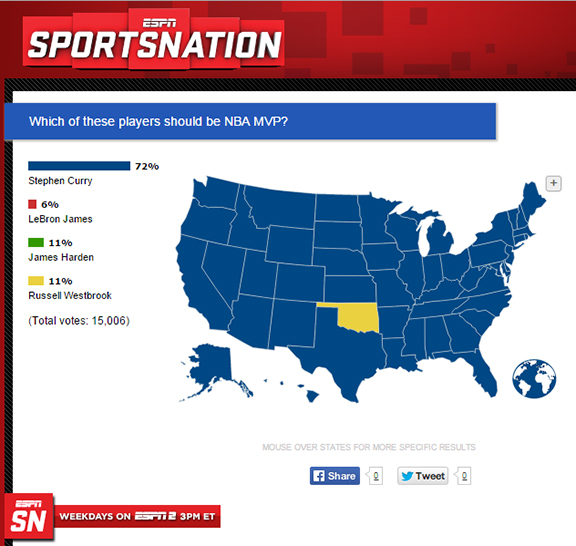 ESPN
Yes, Texas chose Curry over Houston Rockets star James Harden and, even more surprisingly, Ohio picked Steph over homecoming king LeBron James. But the Sooner State is standing with its own point guard: Russell Westbrook, whose recent triple-double binge has helped keep the Oklahoma City Thunder in playoff position despite the absence of Serge Ibaka and reigning MVP Kevin Durant.
If you haven't yet voted, now it's your turn: Do you stand with Oklahoma, or the rest of America?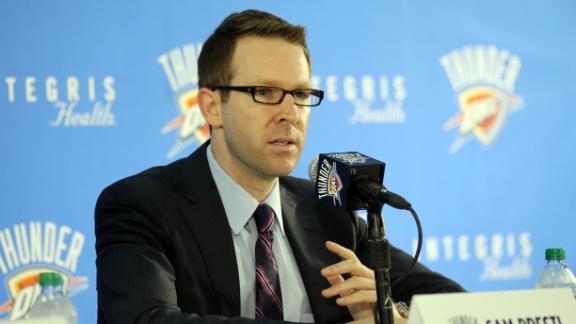 There's talk that the Oklahoma City Thunder possibly would trading Kevin Durant before he leaves in free agency. Thunder general manager Sam Presti has dismissed it. But should he be worried about losing the reigning NBA MVP?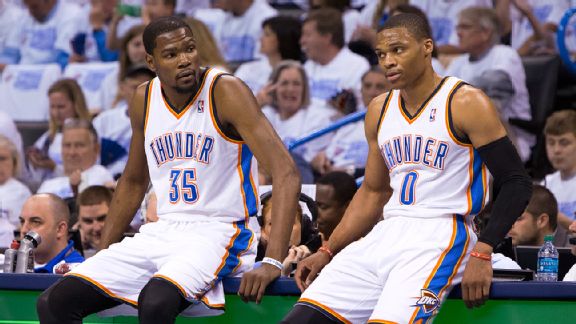 Richard Rowe/NBAE/Getty Images
Unless you've been separated from all technology for the past month, you're aware that Russell Westbrook is on an absolute tear -- five triple-doubles in six games, to be exact. But what you might not be aware of is that NBA analyst and former NBA executive Tom Penn thinks Westbrook's hot streak could have Oklahoma City Thunder management thinking about moving Durant next season:
"I think this burst from Westbrook makes it much more likely that Durant ultimately gets traded next year. ... Sam Presti has proven that he does not ever want to lose anybody for nothing. So he traded James Harden a year early to avoid a potential luxury tax problem a year later.
"The Kevin Durant drumbeat next year is going to be so loud because he will not commit early to Oklahoma City contractually because the rules are against that. He can't get the same contract if he signs early as if he just goes to free agency and resigns.
So if Sam Presti doesn't get that commitment, he'll look to to trade Kevin Durant. And looking at the performance of Westbrook and the team around Westbrook will make it easier for him to do that potentially."
Click here to listen to Penn's full appearance on "The Herd with Colin Cowherd."