SportsNation Blog Archives

Oklahoma City Thunder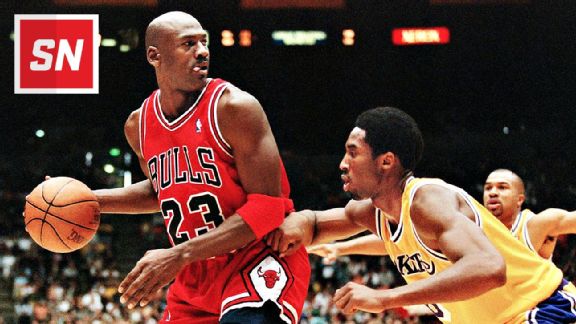 Vince Bucci/AFP/Getty Images
In his 20 NBA seasons, Kobe Bryant has faced a number of brilliant players: vets near the end of their careers, such as Karl Malone and John Stockton; fellow stars who entered the league around his time, such as Tim Duncan and Kevin Garnett; newer standouts such as Dwyane Wade and Stephen Curry.
None of those made his top five "toughest players to face" list. As relayed by our own Baxter Holmes, here it is:
Top five players Kobe says he has faced: Olajuwon, MJ, Kevin Durant, LeBron James, Clyde Drexler. Adds that it's hard to pick just five.

— Baxter Holmes (@BaxterHolmes) December 21, 2015
Michael Jordan? No surprise. LeBron James? Not really either. Kevin Durant? When he's healthy, he's electric. And Hakeem Olajuwon? There's a reason they call him The Dream. The biggest surprise, perhaps, is Clyde Drexler -- but no one is about to claim he wasn't great.
The key point is the second thing Bryant told Holmes: It is hard to choose a top five from 1996 to 2015.
Tags:

SportsNation, Kobe Bryant, Los Angeles Lakers, Chicago Bulls, Oklahoma City Thunder, Houston Rockets, Portland Trail Blazers, Cleveland Cavaliers, Miami Heat
Karl-Anthony Towns is a burgeoning double-double machine for the Minnesota Timberwolves and an early front-runner for rookie of the year honors, but before he cruised through a heralded one-year stint at Kentucky into the NBA, he was a Kevin Durant fan, just like everyone else.
In a clip that recently resurfaced on MSGVarsity.com, "Karl Towns" -- then just a talented high schooler from New Jersey -- got a chance to interview Durant, whom he called one of his "basketball idols."
TNT dug up the footage to air during the Warriors-Timberwolves game Thursday night in Minneapolis.
Towns, who turns 20 on Sunday, hides any nervousness pretty well, especially for a kid right in the middle of his awkward teen years. According to HoopsHype, the exchange left an impression on Durant as well.
"He was really sharp," Durant said. "He was wise beyond his years and that's something I picked up on really as soon as I started talking to him."
Towns, who is averaging 16.1 points and 10.5 rebounds a game this season, will get his first chance to share an NBA court with Durant, now 27, on Jan. 12, when Minnesota travels to Oklahoma City.
h/t r/NBA
Tags:
When will NBA players learn to acknowledge Lil B? Has James Harden's less-than-impressive start to the season and Kevin Durant's injury-plagued 2014-2015 season simply been written off as coincidence?
The proof is in the pudding, and in this case, the pudding indicates that The Based God's curse is bringing people down. OK, maybe it's not certain, but who wants to risk it?
Russell Westbrook, apparently. In an interview with Complex Sports, the Oklahoma City Thunder star was asked about the rapper, and he claimed he hadn't heard of him. It went like this:
How do you feel about Lil B's fashion choices?
Who?
Lil B.
Who is that?
You don't know the Based God?
Nah. I don't know who that is.
You've never heard of him?
Nope.
Funny, that is the exact response that got Harden, Westbrook's former teammate, cursed (again).
Needless to say, Lil B caught wind of the comment and wasn't about to let it slide:
NBA Russell Westbrook says he doesn't no who lil b is... Lol I no who he is looking like a sandwich on that tru religion commercial - Lil B

— Lil B THE BASEDGOD (@LILBTHEBASEDGOD) November 3, 2015
Yep, he compared him to a sandwich. If we had to guess, a Based God's curse is in the not-so-distant future if Westbrook doesn't come forth and recognize the rapper's existence.
It appears Lil B was so angered by this blatant disrespect that he is even willing to root for Harden and the Houston Rockets if it means serving the Thunder a loss:
Good job James harden for your first win of the season keep fighting through the curse young soul, Kevin durant and Westbrook lol - Lil B

— Lil B THE BASEDGOD (@LILBTHEBASEDGOD) November 3, 2015
Two curses seems like too much for one team to handle. The way Russell has been playing lately, it would really be a shame for him to become the next victim of the curse/subject of the next Lil B diss track.
We're just going to leave this here as a reminder ... Lil B is always watching.
.@LILBTHEBASEDGOD reminds the crowd who owns the cooking dance. http://t.co/EtJqVLk42c

— NBA on ESPN (@ESPNNBA) May 28, 2015