SportsNation Blog Archives

Oklahoma City Thunder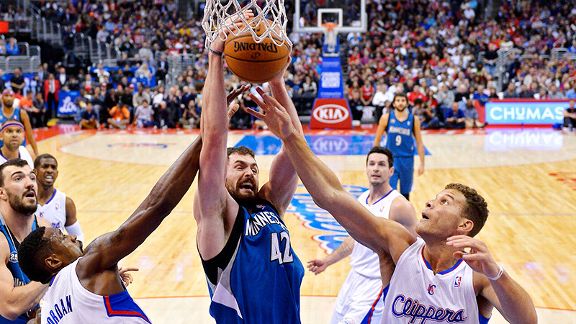 AP Photo/Mark J. Terrill
What's up in Western Conference?
If the Minnesota Timberwolves were in the Eastern Conference -- like, say, their neighbors the Milwaukee Bucks -- they'd be tied for third entering Friday, with an 11-11 record. Instead, the Kevin Love-led team is in the West ... where it's 10th. And just half a game out of 13th. Tough conference, eh? So, with a number of intriguing West battles -- the Wolves at San Antonio Spurs, Los Angeles Lakers at Oklahoma City Thunder (8 p.m. ET, ESPN), Houston Rockets at Golden State Warriors (10:30 p.m. ET, ESPN) -- set for Friday night, let's guess what will happen come playoff time.
It was a big night for home fans in Oklahoma City, as the Thunder topped the Los Angeles Clippers on Thursday. One fan, though, had an especially memorable evening. Brad Brucker nailed his half-court shot at halftime, earning a $20,000 payout and a handshake from Jay Z, who was watching courtside with Beyonce. He was the second OKC fan this week to win the midcourt contest; Cameron Rodriguez drained his shot Monday night. Have you ever had your name called at a game? If so, did you pull a Brucker?

---

Shot at glory?

From preps to pros, fans like Brucker get to show their stuff in front of packed houses nightly.

---

Bigger payoff?

Would you prefer the cash, or an encounter that would impress your friends?

---

Don't leave your seat

The Ohio State band steals the spotlight in Columbus -- but is this your favorite type of show?

What to make of Western Conf.?

A week after the now-infamous Matt Barnes-Serge Ibaka scuffle and aftermath, the Oklahoma City Thunder exacted revenge against the Los Angeles Clippers. Thanks to Kevin Durant's 28 points and Ibaka's 17 (on 8-of-10 shooting), OKC beat the Chris Paul-led Clippers 105-91. This leaves the Clippers (8-5) closer to the ninth spot in the Western Conference than the first, while keeping the Thunder (8-3) in third, two games back of the soaring San Antonio Spurs. In second? The surprising Portland Trail Blazers (10-2). What do we make of the early developments out West?

Clippers, Thunder scuffle

Serge Ibaka and Blake Griffin have a bit of a history, so it's no surprise that an innocuous bit of contact between the two turned into a dust-up during the Clippers' win over the Thunder on Wednesday night. As scuffles go, it wasn't terribly vicious -- the worst that happened was Ibaka bringing his hand back like he was going to throw a punch but never actually throwing said punch -- but it did result in ejections for Ibaka and Matt Barnes and a technical foul for Griffin. Barnes actually tweeted during the third quarter after being ejected, but we can't repeat what he said.

Christian Petersen/Getty Images

When will Russ return to form?

Expected to miss all of November, Oklahoma City Thunder point guard Russell Westbrook might not miss any of the month. The All-NBA ace returned Sunday against the visiting Phoenix Suns, giving OKC a boost after an uninspiring 1-1 start (OKC won 103-96). Westbrook was hit-or-miss, going 5-of-16 but scoring 21 points. How quickly will he shake off the knee injury he sustained in last season's playoffs?