SportsNation Blog Archives

Olympic Sports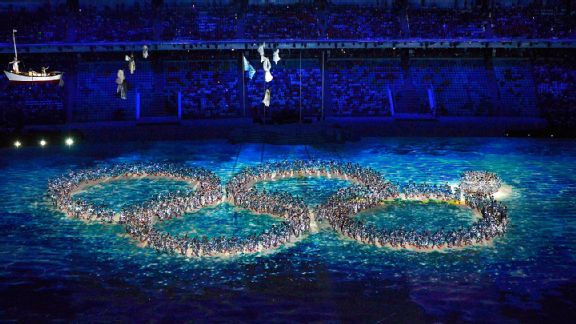 Richard Mackson/USA TODAY SportsUnlike the opening ceremonies, this part of the closing ceremonies was actually planned.
Let it never be said that Russia doesn't have a sense of humor about the Olympics. An embarrassing malfunction at the opening cermonies resulted in only four of five rings actually opening, which led to widespread mocking on social media. For the closing ceremonies, however, organizers decided to form the Olympic rings out of human performers, and rather cheekily decided to reference the original mistake. Not bad, Sochi.
US falls to Canada
One loss to Canada in Olympic hockey is bad enough for Team USA, but two? We're totally not looking forward to the annual North American family picnic this year. One day after Canada's women's team came back in dramatic fashion to win gold against the U.S., Canada's men's team continued its defensive dominance by shutting the U.S. men's team out in a semifinal match. The U.S. can still win bronze if it beats Finland, but the damage is already done; now we have to keep Justin Bieber.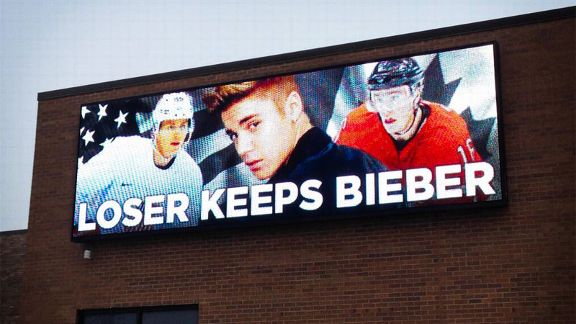 @commandsignNo, seriously. You guys can totally keep him. Really, it's no big deal. We insist.
As if the stakes weren't high enough at the USA-Canada men's hockey semifinal matchup today, an Illinois company has thrown down the gauntlet. Command Transportation, a freight broker in Skokie, proposed that Justin Bieber should be the prize -- the prize for the loser, that is. Far be it from us to give advice on political relations between otherwise-friendly neighbors, but the Bieber situation is perilous enough as is. We don't want a repeat of the Great Alanis Morissette Conflict of the late 90s.
Will Team USA win hockey gold?
What a weekend for U.S. men's hockey. On Sunday, Phil Kessel reached a hat trick just past the midway point in a 5-1 win over Slovenia. That came a day after a much more resonant victory, as T.J. Oshie propelled the Americans to a 3-2 shootout victory over Russia. Now, with preliminary play over, the U.S. owns the No. 2 seed -- Sweden is No. 1, Canada No. 3 and Finland No. 4 -- with the quarterfinals coming Tuesday. Will USA go all the way? Or will one of the other powers take the gold?