SportsNation Blog Archives

Kevin Durant
Russell Westbrook had an incredible statistical day Sunday: 54 points, nine rebounds and eight assists.
But other things did not go as well for the Oklahoma City Thunder star. His team lost 116-104 at the Indiana Pacers, which kept them behind the New Orleans Pelicans for the final Western Conference playoff spot because of the head-to-head tiebreaker. And the guard was called for the following technical, which will have him suspended one game, per NBA rules:
Westbrook's injured teammate, Kevin Durant, was apparently not happy with the call: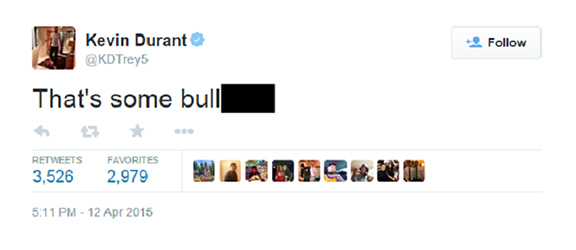 KDTrey5/Twitter
Durant, who has been rather outspoken of late, did not delete the tweet (at least as of this writing). He followed with another that showed how much it pains him to watch this playoff race from the sideline:
Good fight fellas! Love yall, let's get this one tomorrow!! #Imissgoingtobattlewiththemob

— Kevin Durant (@KDTrey5) April 13, 2015
If the technical isn't rescinded, Westbrook will miss Monday's home game against the Portland Trail Blazers. That game is followed by a visit to the Minnesota Timberwolves.
The Pelicans, meanwhile, also travel to Minnesota, then play host to the San Antonio Spurs.
Both teams are 43-37.
UPDATE: The NBA rescinded Westbrook's technical, meaning he will play Monday night.