SportsNation Blog Archives

Russell Westbrook
When will NBA players learn to acknowledge Lil B? Has James Harden's less-than-impressive start to the season and Kevin Durant's injury-plagued 2014-2015 season simply been written off as coincidence?
The proof is in the pudding, and in this case, the pudding indicates that The Based God's curse is bringing people down. OK, maybe it's not certain, but who wants to risk it?
Russell Westbrook, apparently. In an interview with Complex Sports, the Oklahoma City Thunder star was asked about the rapper, and he claimed he hadn't heard of him. It went like this:
How do you feel about Lil B's fashion choices?
Who?
Lil B.
Who is that?
You don't know the Based God?
Nah. I don't know who that is.
You've never heard of him?
Nope.
Funny, that is the exact response that got Harden, Westbrook's former teammate, cursed (again).
Needless to say, Lil B caught wind of the comment and wasn't about to let it slide:
NBA Russell Westbrook says he doesn't no who lil b is... Lol I no who he is looking like a sandwich on that tru religion commercial - Lil B

— Lil B THE BASEDGOD (@LILBTHEBASEDGOD) November 3, 2015
Yep, he compared him to a sandwich. If we had to guess, a Based God's curse is in the not-so-distant future if Westbrook doesn't come forth and recognize the rapper's existence.
It appears Lil B was so angered by this blatant disrespect that he is even willing to root for Harden and the Houston Rockets if it means serving the Thunder a loss:
Good job James harden for your first win of the season keep fighting through the curse young soul, Kevin durant and Westbrook lol - Lil B

— Lil B THE BASEDGOD (@LILBTHEBASEDGOD) November 3, 2015
Two curses seems like too much for one team to handle. The way Russell has been playing lately, it would really be a shame for him to become the next victim of the curse/subject of the next Lil B diss track.
We're just going to leave this here as a reminder ... Lil B is always watching.
.@LILBTHEBASEDGOD reminds the crowd who owns the cooking dance. http://t.co/EtJqVLk42c

— NBA on ESPN (@ESPNNBA) May 28, 2015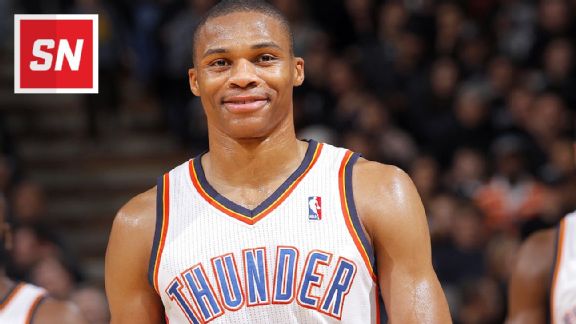 Rocky Widner/NBAE/Getty Images
Russell Westbrook has quickly become one of the NBA's most entertaining players, with his often-unstoppable playing style, his knack for fashion and his sense of humor.
So naturally, the Oklahoma City Thunder guard was called upon to do a Reddit "Ask Me Anything," and again showed why it's hard not to love Russ.
Here's the best of his lengthy Q&A:
Hi Russell! I'm a huge fan of the Thunder. My question is, if you could posterize anyone in the world, who would it be?
You
Who was one NBA player you looked up to as a kid?
Magic Johnson was my favorite player growing up
Bestbrook! You are the man homie! Where did you get your fashion sense from?
My mom
Russell, I grew up in small town Oklahoma and cannot tell you what the Thunder has meant to the state, especially in times of difficulty. What, if anything, have you gotten out of Oklahoma that you never expected?
How nice, supportive and good the people are and the fans are here
Russ, huge fan here. What are you favorite basketball shoes of all time?
Pro models
Hey russell, What music do you listen to to get you pumped for a game?
I listen to all types. T. Swift is on the playlist. I mix it up - old school/new school rap/ R&B/Pop...everything
Russell!!!!! If you could give me one tip on fashion what would it be? I love your sense of fashion
Be yourself
Russell, if you were one type of kitchen utensil what would it be and why?
Shredder
Have you ever looked back on an outfit that you wore and regretted it?
I have not
Read the rest of his AMA here.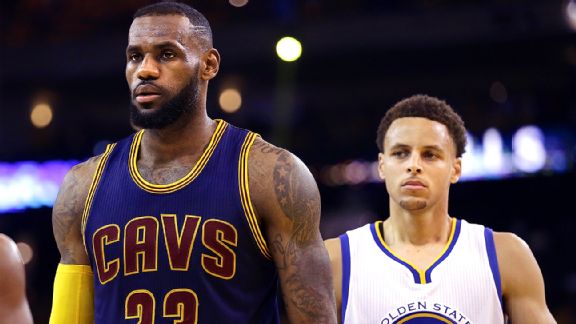 AP Photo/Ben Margot
Recently we brought you the top 10 players, as rated by the latest "NBA 2K" game.
The ratings for "NBA Live 16" also are here -- and they're quite a bit different.
Here's the top 10 (and ties):
1. LeBron James (97)
2. Kevin Durant (96)
T-3. Anthony Davis (95)
T-3. Marc Gasol (95)
T-3. Blake Griffin (95)
T-3. James Harden (95)
T-3. Chris Paul (95)
T-8. LaMarcus Aldridge (94)
T-8. DeMarcus Cousins (94)
T-8. Stephen Curry (94)
T-8. Russell Westbrook (94)
That's right: LeBron James (no surprise) is No. 1, 2014 NBA MVP Kevin Durant is No. 2, and a handful of talented stars across positions come in tied for third.
Meanwhile, the reigning NBA MVP is tied for eighth -- definitely an eye-opening number for a player many consider the best in the league. Then again, perhaps "NBA Live" is drawing upon more than just last season for its ratings; few before 2014-15 had Curry in that top-player-overall conversation.
Tags:

NBA, NBA, LeBron James, Cleveland Cavaliers, Kevin Durant, Anthony Davis, Marc Gasol, Blake Griffin, James Harden, Chris Paul, LaMarcus Aldridge, DeMarcus Cousins, Stephen Curry, Russell Westbrook, Oklahoma City Thunder, New Orleans Pelicans, Memphis Grizzlies, Los Angeles Clippers, Houston Rockets, Sacramento Kings, San Antonio Spurs, Golden State Warriors