SportsNation Blog Archives

Allen Iverson
The Celtics and 76ers will match up in a Game 7 after Philadelphia pulled off an 82-75 win at home. Allen Iverson's presence energized a crowd that Kevin Garnett had earlier criticized as lackadaisical and fair-weather, but that likely won't be a factor when the series returns to Boston. What might be a factor is the possible absence of Avery Bradley, whom the Celtics could lose for the remainder of the playoffs because of a shoulder injury. We'll find out what all of this means Saturday night.
---
Which team wins?
The Celtics missed several opportunities to put this series away, as their horrible shooting percentage doomed them in Game 6.

---
Contenders without Bradley?
Avery Bradley has been the Celtics' secret hero on more than one occasion this season. His absence could be huge.

---
Could Iverson come back?
Allen Iverson's most recent stint playing basketball in Turkey ended when he underwent calf surgery. Could he still play in the NBA?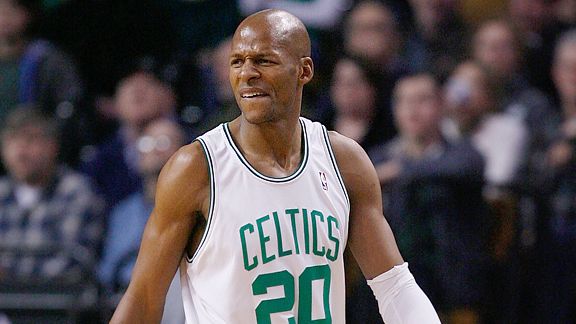 Ray Allen has never been one for controversy -- the last time we can recall him doing something out of the ordinary was when he starred in He Got Game. That's why it's such a surprise that one of the league's most businesslike players is taking on an unusual target: the fans.
Allen is of the opinion that fans have too much influence in voting for the All-Star game. Specifically, Allen takes issue with the likely inclusion of Allen Iverson and Tracy McGrady, both of whom are in position to start the game despite having sub-par seasons. Is Allen suggesting that, just maybe, the fans don't know what they're talking about? Perhaps. More likely, there's an element of favoritism involved -- it's difficult to seperate logic from emotion when it comes to evaluating players. Does Allen have a point?
"

No the format doesn't need to be changed. Why? Because All-Star weekend is about just that. ALL STARS. If a player is having a great season in the NBA, sometimes he'll get voted to an All-Star game, HOWEVER, the real reward of recognition comes at the end of the season, with the All NBA voting. Being on the All NBA 1st, 2nd, or 3rd teams, or the All NBA Defensive 1st, 2nd, or 3rd teams is where you get recognized career wise moreso than All-Star appearances, but this obviously isn't just about performance, but also about MONEY.

"

-- vgametime
"

I agree guys like Iverson and McGrady aren't wothy to be All-Stars based on their play this season, but it's the fans' game. They should be able to vote for whoever they wanna see. Period.

"

-- steinhardt711
Alex Trebek would be proud. Philadelphia has its "Answer" back. Now we just need to figure out what the question is.
How much will Allen Iverson help ticket sales? Well, 20,664 people showed up at the Wachovia Center on Monday to watch the 76ers and the Nuggets, almost 8,000 more than typically show up there (then again, maybe they came for Arron Afflalo). Can Iverson lead the 76ers out of the doldrums on the court and to the playoffs? He took only 11 shots in Monday's loss, but SportsNation is relatively split as to which A.I. -- Iverson or Andre Iguodala -- will take more shots over the rest of the season.
Even at 5-16, the 76ers are just 3.5 games out of the final playoff spot in the Eastern Conference (or as we like to think of it, the R+L Carriers New Orleans Bowl) of hoops.
Peter (Montreal)
How do you foresee the Iverson situation playing out? What happens when Lou Williams comes back? Will Iverson really come off the bench?
Chad Ford

I think AI was humbled by the whole thing with Memphis and the resulting backlash. He's still a very good basketball player and I think you'll see him play well. The question is ... will he help them win? I'm skeptical. I love Andre Iguodala and think Thaddeus Young has a lot of promise ... but Elton Brand's a bad fit there and they really miss Andre Miller. Maybe they can get him back from Portland. So in short, AI will be fine. Not so sure about the Sixers. Full transcript
Shady (Philly)
over under 18.5 ppg for Iverson as a Sixer and will they make the playoffs
Chris Sheridan
That first number seems fairly safe assuming Lou Williams returns in January and they play him and AI together in the backcourt. I think Allen will need to be in the 20s until Lou returns to get this team back on track. Remember, they're carrying a nine-game losing streak into a tough game tonight. As for the playoffs? Only the Nets are out of it in the East -- and I can only say that with 95 percent certainty. Full transcript
It was a simpler time in 1996. The Yankees were winning the World Series. Bruce Springsteen was touring the country. And the Florida Gators were marching toward a national championship behind a Heisman-winning quarterback. All right, so maybe we're not quite talking Dickensian London in terms of difference.
But 1996 was a long time ago in the sports world, as Allen Iverson can attest. If reports are true of interest from the Knicks, Iverson's NBA career might not be over; however, getting released by the Grizzlies after a disastrous three-game tenure is a long way from being the No. 1 overall pick out of Georgetown.
The 76ers got pretty good return on that selection, but as it turns out, 1996 was a good year for finding franchise talent. Granted, some picks didn't quite work out (Lorenzen Wright probably just had bad luck), but the year produced the likes of Kobe Bryant and Steve Nash in the NBA, Marvin Harrison and Ray Lewis in the NFL, and Jimmy Rollins in MLB. So as Iverson looks for work, where does he rank among products of 1996?
Brandon (Gainesville, FL)
As bad as the Knicks are, do you see Donnie Walsh doing something to inject some life into the knicks. They can't afford to march this group out there game in and and game out. And as much experience as the younger guys need, they also can't afford to give the 2nd or 3rd pick in the draft to the Jazz. We know they're protecting the cap, does walsh do ANYTHING?
Chris Sheridan
Sadly, Brandon, Donnie is now having to defend his decision to take Jordan Hill over Brandon Jennings, and New Yorkers have already heard that Steve Alford-Reggie Miller tale one too many times. What the Knicks -- or more specifically, Walsh and Mike D'Antoni -- are fixated on right now is getting Eddy Curry back on the court and hoping he can produce a 12-14 game body of work that at least gets someone to consider trading for him. Curry remains the key to the treasure chest. If they move him, they can sign a second max free agent, or sign a max guy and keep David Lee. The focus is still on the summer of 2010, and this season is a sacrifice. Full transcript
It's forlorn former star day here in SportsNation. First, we had the suggestion Michael Vick might be wishing he was lucky enough to be Trent Edwards. Then it was Charlie Weis wishing we were a landlocked country. Now we turn to Allen Iverson, who it sure seems like is wishing he never signed with the Grizzlies. Iverson has been granted a leave of absence from the team, a perk what few season-ticket holders there are in Memphis would assuredly love to pursue. The owner says he'd know if Iverson was contemplating retirement, but will the guard's career in Memphis make Jerry Tarkanian's run with the Spurs look like FDR's time in the Oval Office?
"

Here's how to deal with the bench role: put up the numbers, make your coach take notice to the point where he has no choice but to put you in the starting lineup.

"

-- infamoss
"

Iverson continues to show the behavior that put the NBA in decline. Wade, Lebron, Bosh, are the New Skool now and they are doing it on the floor and off it with professionalism. Iverson is still holding onto to values of his era which had the NBA on the police blotter frequently. He didn't change with the times and this is already seeming like the end is going to sad instead of celebrated

"

-- chellowebb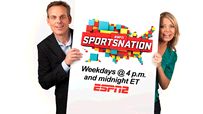 Michelle Beadle and Colin Cowherd are listed as probable on the "SportsNation" TV injured list. Go ahead and start them on your fantasy team this week.
Argue the hot topics of the day and vote on the biggest stories from the world of sports. The show airs on ESPNEWS at 4 p.m. and ESPN2 at midnight ET.
Note: Broadcast voting results as of this afternoon (ET).
Who has the better fist pump?
Does Rafael Nadal, king of clay and thorn in Roger Federer's side, or Tiger Woods, rival of Ernie Els, have the better celebratory gesture?
How many games will the Cowboys win this season?
More than nine? Fewer than nine? Nine exactly? Emmitt Smith pegs the team at seven wins if the coach and QB don't improve.
Is Memphis a good fit for Allen Iverson?
A.I., using that newfangled Twitter service, said Wednesday that he's going to play for the Grizzlies. One fan predicted a team that averages zero assists.
Will Brett Favre start 16 regular-season games?
The Vikings were quick to toss their other QBs under the bus for him, and he's only one game from a tie for the NFL's longest games played streak.
Which team will win the Titans-Steelers game?
LenDale White is unapologetic for stomping on the Terrible Towel last season, which has Steelers fans frothing at the mouth.
What is "SportsNation" TV, and how do you make your voice heard? Read about the new ESPN show that features fan opinions with calls, tweets, polls, rankers and more.
Let's get one thing straight: Linas Kleiza isn't exactly a household name. He's a good complementary piece, perhaps even a starter for a non-contender; one of those guys who are nice to have but aren't going to take over a game on a regular basis.
What he
is
, however, is one in an increasingly long line of trailblazers. Having established himself in the NBA, Kleiza is
leaving
for Greek team Olympiakos. He's not the first, of course. Europe is fast becoming a destination for midlevel NBA and college talents. Josh Childress is perhaps the most notable example, signing with the Greek powerhouse for big bucks. Brandon Jennings spent time in an Italian league in lieu of college, and Nick Calathes has chosen Greek team Panathinaikos instead of submitting to the vagaries of the draft. (Though Calathes was drafted in the second round and traded anyway. Go figure.) It seems like a matter of time before a European team springs for an A-level NBA talent, if for no other reason than the money can be surprisingly lucrative. Kleiza is getting paid more than triple his previous yearly salary, while Childress is pulling down a cool $10 million per year in Greece. Chris Webber
briefly flirted with the idea
of playing for Olympiakos, and rumors had Greek teams looking at Allen Iverson, but so far, no dice.
"

Good move for Kleiza! he will get more recognition over in Europe and will also get a better chance at proving himself! The NBA here is so bad now a days thats its almost unwatchable!

"

-- eric.cartman22
"

I never thought that we were in danger of losing our stars to the European leagues, but I see instances like this one becoming more and more common. It's going to be hard to keep European players here if they get an offer to go back home for more money. American born players will always prefer to play here, even if it is for slightly less than they could make in Europe, because they're slightly intimidated by the though of living abroad (with an exception for players like Kobe who spent significant time overseas when they were growing up). The same is true in reverse for the European players. If they can make the same amount of money back home as they can make here, they'll go home. The end result will be that NBA teams will have to overpay for international talent in order to keep them here.

"

-- jb1089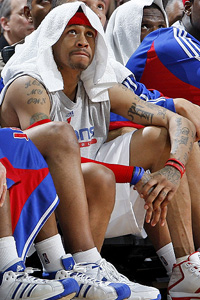 It seems safe to say Allen Iverson will someday find his way to Springfield and the Basketball Hall of Fame. He's already No. 16 all time in points in the NBA, and he's about one good season away from passing Patrick Ewing, Jerry West, Reggie Miller and Amazing Grace Smith. Heck, it was just a year ago that SportsNation ranked him on the cusp of its own Redeem Team (Joe Dumars begs to differ).
Now if only we could figure out what city will come before the not-so-gem of Massachusetts on his career itinerary.
Iverson is hardly alone in NBA circles in his current quest for employment, but with each Andre Miller and Lamar Odom signing, he's starting to stand out more and more. It's one thing for Jamaal Tinsley to need work; it's another for a Hall of Famer who is younger than Steve Nash.
A month ago, SportsNation thought the Heat would be the best fit of the teams rumored to be in the mix. Now the Knicks are in play and rumors have extended all the way to Greece (hey, at least SportsNation thinks he'd be as good an ambassador for basketball as David Beckham has been for soccer in the United States). Surely some team will give Iverson the mid-level exception and 18 shots a game, right?
"

AI/Mayo/Gay/Rando lph/Gasol. Not a bad starting 5 that can definitely run and put up some points. They would be a better team with this move. Warrick could still be good off the bench for them though. They need D with that lineup from somewhere.

"

-- XmanY
"

Iverson fans need to give it up. We're not saying he's not great. He's great. But you have to have a pretty bad team if he can do it more good than harm. And while this is something he could fix if he wanted to, it's getting very late for that dog to learn any new tricks. I'd love to see him do it. But even then, he wouldn't be proving the "haters" wrong - he'd be proving that he should have been listening to them all along.

"

-- The Pragmaticist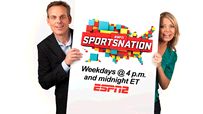 "SportsNation" TV's performance today won't determine home field for any playoff series, but Michelle Beadle and Colin Cowherd will run out every grounder and play as hard as they can, anyway.
Share your thoughts, vote on the biggest stories of the day and chat during the show on ESPN2 at 4 p.m. ET.

Whom did Jessica Simpson distract more?
Cowboys QB Tony Romo reportedly split with Simpson, with whom he vacationed in Mexico, during the bye week before the playoffs in January 2008.

Was Blake Griffin's Vegas performance a big deal?
The top draft pick, and latest Clippers chosen one, scored 27 points and grabbed 12 rebounds in his summer league debut Monday.

Would you throw a strike on a ceremonial first pitch?
President Obama, like Presidents Bush and Nixon before him, will toss out the first pitch at the All-Star Game in St. Louis.
Would Allen Iverson help or hurt the Clippers?
A.I. could be playing in Los Angeles next season, but first the team wants to know whether he'd be willing to come off the bench.

Would you watch more than one Home Run Derby event per year?
Prince Fielder won this year's Derby, but a one-night contest hardly settles who is the best home run hitter in baseball.

And our final question ...
Alex Rodriguez, slowed this season by a hip injury and various off-field scandals, is hitting only .256 with 17 home runs at the All-Star break.
What is "SportsNation" TV and how do you make your voice heard on the broadcast? Read about the new ESPN show that features fan opinions with calls, tweets, polls, rankers and more.
NBA Insider David Thorpe breaks down the NBA's summer leagues in the video above, including a very un-Olowokandi debut for No. 1 pick Blake Griffin. (Did you know Griffin has a low waist? Neither did we.) But as much or as little as we gain from summer league numbers -- Roy Hibbert has looked downright adequate, for crying out loud -- the real summer league comes with general managers and agents dueling over draft picks, luxury tax implications and free-agent offers.
The most recent news came Monday with the Magic matching the Mavericks' hefty offer to Marcin Gortat. Yes, we live in a world where Marcin Gortat's whereabouts for the next five years are a big deal. Get used to it. More than 90 percent of SportsNation feels like $34 million over five years might be a tad excessive for Gortat, but that's not really the question. When it comes to whether the Magic needed to pay it, voters are entirely divided.
So with many of the offseason's major addition and subtractions in the books, what do your NBA Power Rankings look like?
"

That premise might work if AI practiced with the team and could help Griffin in any way. He won't help or practice. Spending that kind of money for even 1yr. is a waste. They have enough wasted salaries as it is. They should get someone with a little character or desire who has enough talent to help. Not lead. AI will not lead. He is beyond that at this pt. in his career. When you practice with your team it is more about the act and not the effort.

"

-- paulc1955
"

LOL! Cuban and the Mavs went all in with 3 kings (casting aside a very good and young foward in Bass) and the Magic waited until the last second to play 4 aces. Now the Mavs only legit big man is Dampier. Better get to work Cuban and find a quality big if you hope to secure a shot at the 8th seed in the playoffs.

"

-- the_real_kman