SportsNation Blog Archives

Allen Iverson
He went too soon: Darryl Dawkins, aka Chocolate Thunder, aka Dr. Dunk, died Thursday at age 58.
His combination of personality and backboard-shattering dunks made him a player no hoops fan could forget. So it's only natural that a social media outpouring followed the news, featuring current and former Philadelphia 76ers, big-time dunkers, other stars past and present, and even those who never played in the NBA:
RIP Chocolate Thunder pic.twitter.com/WFFCPqeELk

— Allen Iverson (@alleniverson) August 27, 2015
Rest In Peace Darryl Dawkins aka Chocolate Thunder pic.twitter.com/0FPKTUel6I

— SHAQ (@SHAQ) August 27, 2015
R.I.P to Orlando florida's own "Chocolate Thunder" Darryl Dawkins. You will be missed my friend. You paved ... http://t.co/NXoiej1nDP

— Vince Carter (@mrvincecarter15) August 27, 2015
So sad to hear that my friend, NBA Legend Darryl Dawkins aka "Chocolate Thunder" passed away.

— Earvin Magic Johnson (@MagicJohnson) August 27, 2015
Darryl Dawkins' bigger than life personality will be missed by all. He was a good friend and I will miss him dearly.

— Earvin Magic Johnson (@MagicJohnson) August 27, 2015
I couldn't wait to see Darryl at every NBA All-Star Weekend. He was always the life of the party!

— Earvin Magic Johnson (@MagicJohnson) August 27, 2015
#RIP #ChocolateThunder pic.twitter.com/PsHPFl7UCO

— Chris Paul (@CP3) August 27, 2015
#RIPDarrylDawkins #ChocolateThunder

— Kobe Bryant (@kobebryant) August 27, 2015
RIP Darryl Dawkins #chocolatethunder! All my prayers to family.

— Isiah Thomas (@iamisiahthomas) August 27, 2015
I can't believe the news about my friend Darryl Dawkins. A fun spirited, loving and family man I hope you rest easy. Praying for your family

— Tyrone Muggsy Bogues (@MuggsyBogues) August 27, 2015
RIP to Darryl Dawkins aka "Chocolate Thunder" - a great man, entertainer, athlete and ferocious dunker. He will be missed but not forgotten.

— Kevin Johnson (@KJ_MayorJohnson) August 27, 2015
Darryl Dawkins was an icon, as a Sixer legend but more as a person. He will be truly missed by all. RIP #ChocolateThunder

— Jahlil Okafor (@JahlilOkafor) August 27, 2015
I'm going to miss you so much Uncle Darryl. There will never be another Chocolate Thunder. Love you so much and going to miss you so much..

— Karl-Anthony Towns (@KarlTowns) August 27, 2015
RIP Darryl Dawkins... Dr Dunk... Chocolate Thunder... one of THE nicest men... you will be missed. Prayers to his family, friends & fans

— Gabrielle Union (@itsgabrielleu) August 27, 2015
R.I.P Darryl Dawkins "Chocolate Thunder"

— Chad Johnson (@ochocinco) August 27, 2015
Rest in peace Darryl Dawkins. Wonderful memories of the 1980 Championships vs. Philadelphia. You had your own style. #ChocolateThunder

— Jeanie Buss (@JeanieBuss) August 27, 2015
The Celtics and 76ers will match up in a Game 7 after Philadelphia pulled off an 82-75 win at home. Allen Iverson's presence energized a crowd that Kevin Garnett had earlier criticized as lackadaisical and fair-weather, but that likely won't be a factor when the series returns to Boston. What might be a factor is the possible absence of Avery Bradley, whom the Celtics could lose for the remainder of the playoffs because of a shoulder injury. We'll find out what all of this means Saturday night.
---
Which team wins?
The Celtics missed several opportunities to put this series away, as their horrible shooting percentage doomed them in Game 6.

---
Contenders without Bradley?
Avery Bradley has been the Celtics' secret hero on more than one occasion this season. His absence could be huge.

---
Could Iverson come back?
Allen Iverson's most recent stint playing basketball in Turkey ended when he underwent calf surgery. Could he still play in the NBA?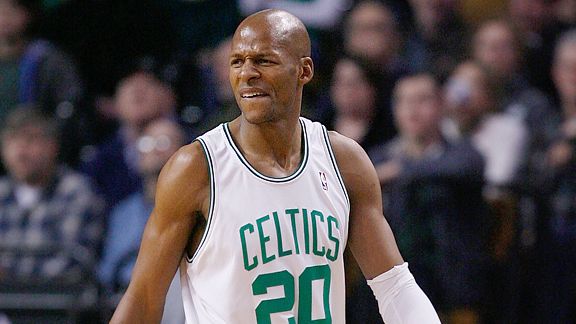 Ray Allen has never been one for controversy -- the last time we can recall him doing something out of the ordinary was when he starred in He Got Game. That's why it's such a surprise that one of the league's most businesslike players is taking on an unusual target: the fans.
Allen is of the opinion that fans have too much influence in voting for the All-Star game. Specifically, Allen takes issue with the likely inclusion of Allen Iverson and Tracy McGrady, both of whom are in position to start the game despite having sub-par seasons. Is Allen suggesting that, just maybe, the fans don't know what they're talking about? Perhaps. More likely, there's an element of favoritism involved -- it's difficult to seperate logic from emotion when it comes to evaluating players. Does Allen have a point?
"

No the format doesn't need to be changed. Why? Because All-Star weekend is about just that. ALL STARS. If a player is having a great season in the NBA, sometimes he'll get voted to an All-Star game, HOWEVER, the real reward of recognition comes at the end of the season, with the All NBA voting. Being on the All NBA 1st, 2nd, or 3rd teams, or the All NBA Defensive 1st, 2nd, or 3rd teams is where you get recognized career wise moreso than All-Star appearances, but this obviously isn't just about performance, but also about MONEY.

"

-- vgametime
"

I agree guys like Iverson and McGrady aren't wothy to be All-Stars based on their play this season, but it's the fans' game. They should be able to vote for whoever they wanna see. Period.

"

-- steinhardt711
Alex Trebek would be proud. Philadelphia has its "Answer" back. Now we just need to figure out what the question is.
How much will Allen Iverson help ticket sales? Well, 20,664 people showed up at the Wachovia Center on Monday to watch the 76ers and the Nuggets, almost 8,000 more than typically show up there (then again, maybe they came for Arron Afflalo). Can Iverson lead the 76ers out of the doldrums on the court and to the playoffs? He took only 11 shots in Monday's loss, but SportsNation is relatively split as to which A.I. -- Iverson or Andre Iguodala -- will take more shots over the rest of the season.
Even at 5-16, the 76ers are just 3.5 games out of the final playoff spot in the Eastern Conference (or as we like to think of it, the R+L Carriers New Orleans Bowl) of hoops.
Peter (Montreal)
How do you foresee the Iverson situation playing out? What happens when Lou Williams comes back? Will Iverson really come off the bench?
Chad Ford

I think AI was humbled by the whole thing with Memphis and the resulting backlash. He's still a very good basketball player and I think you'll see him play well. The question is ... will he help them win? I'm skeptical. I love Andre Iguodala and think Thaddeus Young has a lot of promise ... but Elton Brand's a bad fit there and they really miss Andre Miller. Maybe they can get him back from Portland. So in short, AI will be fine. Not so sure about the Sixers. Full transcript
Shady (Philly)
over under 18.5 ppg for Iverson as a Sixer and will they make the playoffs
Chris Sheridan
That first number seems fairly safe assuming Lou Williams returns in January and they play him and AI together in the backcourt. I think Allen will need to be in the 20s until Lou returns to get this team back on track. Remember, they're carrying a nine-game losing streak into a tough game tonight. As for the playoffs? Only the Nets are out of it in the East -- and I can only say that with 95 percent certainty. Full transcript
It was a simpler time in 1996. The Yankees were winning the World Series. Bruce Springsteen was touring the country. And the Florida Gators were marching toward a national championship behind a Heisman-winning quarterback. All right, so maybe we're not quite talking Dickensian London in terms of difference.
But 1996 was a long time ago in the sports world, as Allen Iverson can attest. If reports are true of interest from the Knicks, Iverson's NBA career might not be over; however, getting released by the Grizzlies after a disastrous three-game tenure is a long way from being the No. 1 overall pick out of Georgetown.
The 76ers got pretty good return on that selection, but as it turns out, 1996 was a good year for finding franchise talent. Granted, some picks didn't quite work out (Lorenzen Wright probably just had bad luck), but the year produced the likes of Kobe Bryant and Steve Nash in the NBA, Marvin Harrison and Ray Lewis in the NFL, and Jimmy Rollins in MLB. So as Iverson looks for work, where does he rank among products of 1996?
Brandon (Gainesville, FL)
As bad as the Knicks are, do you see Donnie Walsh doing something to inject some life into the knicks. They can't afford to march this group out there game in and and game out. And as much experience as the younger guys need, they also can't afford to give the 2nd or 3rd pick in the draft to the Jazz. We know they're protecting the cap, does walsh do ANYTHING?
Chris Sheridan
Sadly, Brandon, Donnie is now having to defend his decision to take Jordan Hill over Brandon Jennings, and New Yorkers have already heard that Steve Alford-Reggie Miller tale one too many times. What the Knicks -- or more specifically, Walsh and Mike D'Antoni -- are fixated on right now is getting Eddy Curry back on the court and hoping he can produce a 12-14 game body of work that at least gets someone to consider trading for him. Curry remains the key to the treasure chest. If they move him, they can sign a second max free agent, or sign a max guy and keep David Lee. The focus is still on the summer of 2010, and this season is a sacrifice. Full transcript