SportsNation Blog Archives

Francisco Rodriguez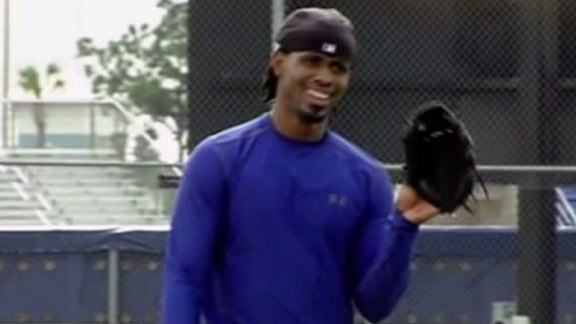 Hope springs eternal for the New York Mets, as Jose Reyes has been cleared for baseball activities. That's a fancy way of saying that he's healthy. For now.
Having Reyes -- not to mention Carlos Beltran -- healthy is a big deal for New York. Despite early predictions of contending last season, Reyes' 36-game season, plus Beltran's half-season and David Wright's sudden loss of anything resembling power led the Mets to a disastrous fourth-place finish in the NL East. Coming at the tail end of a recent history of collapses and disappointments, 2009 was just another psychological blow to a relatively long-suffering Mets fan base. Maybe Reyes' return will change early predictions regarding the NL East race; the current favorite doesn't have the word "Mets" anywhere in its name.
"

The Mets are handicapped with a right side of the infield that is basically non productive offensively!!! A lack of a #2 starter, a setup man in the BP and remaining healthy!!! Other than that.....!!! Hey, at least I'm honest!!!

"

-- openminded43
"

Which Met has the best chance to win the comeback player of the year? Oliver? Reyes? Can Beltran do it? Or does Maine put it all together and stays healthy? My guess is Reyes, as he smacks 25 triples all over Citi Field.

"

-- sludgeballa
"

Mets lineup going to rise and fall with Jose. We need him back good and healthy!

"

-- heyjacleu
As befitting a profession in which one must hurl a ball at ludicrous speeds toward gentlemen who could potentially send it hurtling back at even more ludicrous speeds, pitchers in major league baseball can be a bit emotional.
Witness Roger Clemens throwing a bat at Mike Piazza, or Carlos Zambrano destroying a water cooler, or Francisco Rodriguez pointing to the sky after a big strikeout. Or, if you want a more recent example, consider that of Matt "Big Game" Garza. Garza has seen Evan Longoria's tower buzzed before, so when Joba Chamberlain threw at the talented third baseman, Garza felt he had to respond. Down went Mark Teixeira in the next inning, and both benches were warned. Significantly, Garza admitted to
throwing at Teixeira on purpose
, which is either refreshing or dumb, depending on your temperament and affiliation. Beanball wars aren't a new thing in baseball, but they're usually couched in some semblance of denial ("My hand slipped"/"It just got away from me"/"I was distracted by a wave of ennui"). Garza's straightforwardness may be bold or dumb, but one thing is for certain: it'll cost him some spending money.
"

Overall, I love the affect this has on the AL East. We need to see more blood boiling rivalry.

"

-- jasonbye
"

IT IS NOT COOL TO THROW AT SOMEONE'S DOME PIECE...

"

-- rex_aau_coach
"

What a baby. If you he was going to throw in retaliation, he had ample opportunity to hit Jeter at the top of the inning. That pitch barely grazed Teixeira. If that was retaliation, perhaps that is the reason that the Rays are floundering in third place and look hapless, much like last night.

"

-- yankeejoe225
On the scale of epic disappointments, the modern-day Mets rank up there with jetpacks (with one possible exception), flying cars, Esperanto, and Ryan Leaf. The team is theoretically packed with talent, with dynamic players at third base, first base, shortstop, center field, ace, closer No. 1, and closer No. 2. Surround that core with even a few decent players, and you've got yourself a winning team.
Unfortunately for the Mets, average players seem to be a rarity in the vicinity of Citi Field. The injury bug has bitten the team, removing Jose Reyes, Carlos Delgado, and Carlos Beltran from the equation for long stretches of time. Their replacements -- such luminaries as Alex Cora, Daniel Murphy, and Fernando Martinez -- have not exactly covered themselves in glory during their tenures. The Mets have gone long stretches of the season without scoring runs, perhaps due to the fact that they have zero power. When your purported team MVP has exactly
four home runs on the season
, that's somewhat of a problem. Aside from Johan Santana, the starting rotation has been a disaster. Tim Redding, Livan Hernandez, and Mike Pelfrey have all logged major innings for a team that purports to compete for the World Series. For all the money the Mets spent upgrading their pitching staff, the team is 11th in the National League in runs allowed. There's a lot of blame to go around. The only question is, who will shoulder the most responsibility for the Mets' collapse(s)? Management is
safe
for now, but the end of the season could bring big changes.
"

Omar Minaya has assembled a roster chock full of older veterans and guys prone to injury. He has depleted and not refilled the minor league roster. He gave poor contracts to guys like Oliver Perez. He did not supply the minor leagues with adequate depth to deal with the inevitable injury, not to mention losing 1/3rd of the team to the DL. He made bad trades (Church, Bannister in particular). The injury bug only masks a much deeper problem. This is a poorly assembled roster with no depth. There is absolutely no question that Oman Minaya is to blame for assembling this pathetic mess of a team. Fire Minaya. That probably means that a new GM will want to hire his own guy, and I'm OK with that, too. Not quite sure about some of Manuel's moves this year anyway.

"

-- BirishB
"

Minaya AND Manuel should be fired. Keep Santana, Wright and K Rod and clean out the older broken down players like Sheffield and Delgado and the prima donas like Reyes and Beltran. I love listening to NY radio and hear the Mets clowns acting like it was some major blockbuster to get Jeff Franceur. LOL. Francuer = Church, an average player at best.

"

-- GIANTDAYNE34
"

As for Jerry Manuel, I don't think the Mets have the team chemistry (which is hard to achieve when you have a lot of injuries to key players) which works with a managing style like Manuel's. He seems to have more of a laid-back approach, similar to Charlie Manuel, but the clubhouse lacks the type of J-Roll player that spices things up a bit but also can demand respect and inspire teammates to play better. It probably doesn't help to be playing in NY either, where the fans seem to demand success a lot more and voice their opinions when things do not go well (similar to how Eagles fans are in Philly). As for Minaya, he seems to be stuck in that NY Yankee mentality of throwing money at big name free agents with the hopes of buying his way to a championship.

"

-- DaEagles4
"

This is preposterous and an outrage... This is remininscent of of Isiah Thomas destroying the Knicks. It's like they waiting to really finish depleting the farm system at the helm of this ID10T before they say enough. Please people don not support this team until a change is made at the top.

"

-- orbmega
A full weekend of interleague play produced plenty of talking points beyond basketball, including but not limited to, Brian Bruney and K-Rod talking celebrations of the non-championship variety, Luis Castillo needing to use two hands and Milton Bradley ... continuing to make everyone who isn't a Cubs fan thankful that he exists.
Then there is the case of the team that plays in the most famous launching pad this side of the Bronx. After the first week of the regular season, SportsNation tabbed the Rockies No. 22 in MLB. On May 26, days before manager Clint Hurdle was fired, they had slipped to No. 29.
Now the Rockies have won 11 in a row and are in striking distance of the wild card, even if they're having a tough time catching the Giants, let alone the Dodgers, in the NL West.
Rank all 30 teams (or all 29 teams and the Nationals) in this week's Power Rankings.
"

nice to see the giants crack the top 10. they have been pitching lights out and have been one of the 3 most dominant home teams in the big leagues so far. NL west is starting to pick up steam with dodgers staying hot, the giants really playing well over their last 20 games, and the rockies my god they just cant lose right now

"

-- vikg43
"

As a lifelong Giants sufferer, I am so happy that we are actually contending for a playoff spot in June instead of wishing our old players would just retire like we have for the last four years. The Giants have a little payback for '02 to give LAA this week. Oh, who am I kidding, it won't be enough ... I am STILL not over it.

"

-- cmurray3927