SportsNation Blog Archives

Raul Ibanez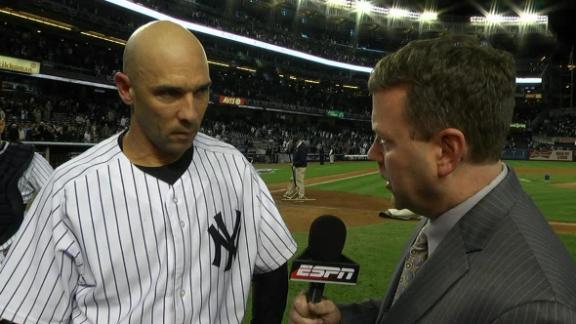 All of the talk about dropping Alex Rodriguez in the Yankees' batting order resulted in an unexpected outcome Wednesday night, as Joe Girardi's decision to pinch hit for A-Rod with Raul Ibanez paid off in grand fashion. Rodriguez is a sure-fire Hall of Famer and one of the greatest players of all time, but at this point in his career, he's not quite the player he once was. Should he expect to be replaced at critical junctures from now on, at least for the remainder of this postseason?
---
Which team wins?
The Orioles have come back from worse deficits than this in the regular season, but they can't be feeling good about their chances after Game 3.


LMAXmd: "The way these games were heading to the bottom of the 9th, the O's should have swept the series last night. But that's the beauty of baseball: just takes one swing to change everything."
Lapex004: "I don't see A-Rod playing through the next 5 years of his contract. If by chance he does, it's gonna get real ugly, he is already a shadow of his former self. "
lofty133: "If Ibanez iddn't tie the game, the story would be 'A-Rod benched'. Even now, the talk is about Arod being benched, rather than talking about Ibanez bailing out the Yanks."
godsent224: "Ibanez was great but Joe gets a lot of credit for the move"
soundadvice2k7: "Ibanez is a great weapon off the bench but I think he needs to be in the lineup all the time. I wonder if he can play 3rd?"

Join the conversation or respond by signing in or creating a profile and blogging.
Tags:

New York Yankees, Baltimore Orioles, MLB, MLB, Alex Rodriguez, Raul Ibanez
Sid Bream, Aaron Boone and Dave Roberts will attest that it's not always the biggest names who make the plays that get teams to the World Series. But it doesn't hurt to have the big guns on your side. The bad news is SportsNation's picks for the NL MVP (Albert Pujols), AL MVP (Joe Mauer), NL Cy Young (Tim Lincecum) and AL CY Young (Zack Greinke) are all home watching on television. At least we've still got one of the Molina brothers.
Colin Cowherd and Michelle Beadle are looking for your rankings on the best remaining players for Thursday's "SportsNation" (ESPN2. 4 p.m. and midnight ET), but voters have already made it known who they would least want to face with the game on the line.
Tags:

Kendry Morales, Torii Hunter, Vladimir Guerrero, Chone Figgins, Bobby Abreu, Manny Ramirez, Matt Kemp, Andre Ethier, Jayson Werth, Chase Utley, Jimmy Rollins, Raul Ibanez, Ryan Howard