SportsNation Blog Archives

New Jersey Devils
Kings fans must be feeling pretty good Tuesday, as their team won its first Stanley Cup on Monday night. The Devils made a good effort to come back from a 3-0 hole, but putting yourself in that hole to begin with leads to things like losing 6-1 in Game 6. Eight-seeds don't usually win the Stanley Cup, but the Kings had a couple of aces in the hole -- perhaps most notably Conn Smythe winner Jonathan Quick, who shut down the Devils in grand fashion.
---
Reason for triumph?
A lot of things went right for the Kings this season, as they were definitely not a favorite going into the playoffs.

---
Repeat performance?
Both teams seem poised to make repeat runs in next season's playoffs, but the Cup has gone to nine different teams in the past nine seasons.

---
Should Brodeur return?
Martin Brodeur is getting up there in years, but he performed well in the playoffs (save for Game 6).

---
2013 favorite?
An awful lot of high seeds experienced disappointing results in the 2012 playoffs.

Tags:

NHL, New Jersey Devils, Los Angeles Kings, Martin Brodeur, Jonathan Quick
We can understand if you don't want to take the time to grade your tech-support help on the other end of the telephone, but when we're talking about the dollars and emotion you've invested in sports, we think it's worth the effort. It's time for ESPN The Magazine's Ultimate Standings, in which SportsNation grades organizations on everything from ticket prices and stadium experience to the talent on the field, court or rink. Which team will end up on top this year? It depends on what you say.
Take part in the 2011 MLB survey
2010 MLB Ultimate Standings
1. Los Angeles Angels (Overall: No. 3)
2. Tampa Bay Rays (Overall: No. 6)
3. Colorado Rockies (Overall: No. 13)
4. Minnesota Twins (Overall: No. 14)
5. Atlanta Braves (Overall: No. 15)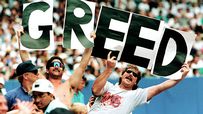 Take part in the 2011 NFL survey
2010 NFL Ultimate Standings
1. New Orleans Saints (Overall: No. 1)
2. Indianapolis Colts (Overall: No. 4)
3. Green Bay Packers (Overall: No. 9)
4. Arizona Cardinals (Overall: No. 19)
5. Baltimore Ravens (Overall: No. 20)
Take part in the 2011 NBA survey
2010 NBA Ultimate Standings
1. Orlando Magic (Overall: No. 2)
2. San Antonio Spurs (Overall: No. 7)
3. Cleveland Cavaliers (Overall: No. 10)
4. Dallas Mavericks (Overall: No. 24)
5. Oklahoma City Thunder (Overall: No. 25)
Take part in the 2011 NHL survey
2010 NHL Ultimate Standings
1. Pittsburgh Penguins (Overall: No. 5)
2. Detroit Red Wings (Overall: No. 8)
3. Washington Capitals (Overall: No. 11)
4. San Jose Sharks (Overall: No. 12)
5. Chicago Blackhawks (Overall: No. 16)
Tags:

Washington Wizards, Utah Jazz, Toronto Raptors, San Antonio Spurs, Sacramento Kings, Portland Trail Blazers, Phoenix Suns, Philadelphia 76ers, Orlando Magic, Oklahoma City Thunder, New York Knicks, New Orleans Hornets, New Jersey Nets, Minnesota Timberwolves, Milwaukee Bucks, Miami Heat, Memphis Grizzlies, Los Angeles Lakers, Los Angeles Clippers, Indiana Pacers, Houston Rockets, Golden State Warriors, Detroit Pistons, Denver Nuggets, Dallas Mavericks, Cleveland Cavaliers, Chicago Bulls, Charlotte Bobcats, Boston Celtics, Atlanta Hawks, Washington Redskins, Tennessee Titans, Tampa Bay Buccaneers, St. Louis Rams, Seattle Seahawks, San Francisco 49ers, San Diego Chargers, Pittsburgh Steelers, Philadelphia Eagles, Oakland Raiders, New York Jets, New York Giants, New Orleans Saints, New England Patriots, Minnesota Vikings, Miami Dolphins, Kansas City Chiefs, Jacksonville Jaguars, Indianapolis Colts, Houston Texans, Green Bay Packers, Detroit Lions, Denver Broncos, Dallas Cowboys, Cleveland Browns, Cincinnati Bengals, Chicago Bears, Carolina Panthers, Buffalo Bills, Baltimore Ravens, Atlanta Falcons, Arizona Cardinals, Washington Capitals, Vancouver Canucks, Toronto Maple Leafs, Tampa Bay Lightning, St. Louis Blues, San Jose Sharks, Pittsburgh Penguins, Phoenix Coyotes, Philadelphia Flyers, Ottawa Senators, New York Rangers, New York Islanders, New Jersey Devils, Nashville Predators, Montreal Canadiens, Minnesota Wild, Los Angeles Kings, Florida Panthers, Edmonton Oilers, Detroit Red Wings, Dallas Stars, Columbus Blue Jackets, Colorado Avalanche, Chicago Blackhawks, Carolina Hurricanes, Calgary Flames, Buffalo Sabres, Boston Bruins, Atlanta Thrashers, Anaheim Mighty Ducks, Anaheim Ducks, Washington Nationals, Toronto Blue Jays, Texas Rangers, Tampa Bay Rays, St. Louis Cardinals, Seattle Mariners, San Francisco Giants, San Diego Padres, Pittsburgh Pirates, Philadelphia Phillies, Oakland Athletics, New York Yankees, New York Mets, Minnesota Twins, Milwaukee Brewers, Los Angeles Dodgers, Los Angeles Angels, Kansas City Royals, Houston Astros, Florida Marlins, Detroit Tigers, Colorado Rockies, Cleveland Indians, Cincinnati Reds, Chicago White Sox, Chicago Cubs, Boston Red Sox, Baltimore Orioles, Atlanta Braves, Arizona Diamondbacks